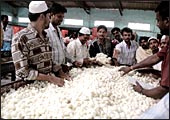 White gold? Poor quality of cocoons is a common lament among reelers at the auction house
OCTOBER 10, 2006
11 a.m., Government Silk Market, Ramanagaram,
South Karnataka
On the face of things, there shouldn't be any cause for concern over the state of the local silk industry in Ramanagaram, a small town on the congested Mysore Road, some 50 km from the bustling technopolis that is Bangalore. The government-run silk market and auction house is a beehive of activity, as farmers bring in their cocoons and patiently wait for an auction to be completed and their produce to be auctioned to reelers from the neighbouring localities. Assistants sling large sacks of cocoons onto their heads and stagger out of the market to nearby reeling units. It is estimated that some 50 tonnes of cocoons, valued at Rs 60 lakh, are traded every day and more than 7,000 people (across farming, reeling, and other operations) are employed in the local silk industry. Government officials, including B.C. Kempegowda, the Deputy Director of Sericulture, are quick to intercept this writer at the entrance of the silk market, insisting on giving us (the photographer follows close behind) a guided tour of this facility and "helping out" with any other requirements.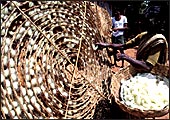 Hard work and minimal returns: Many reelers are reported to have moved to Bangalore or other jobs
India currently is a distant second to China in the global silk market, producing some 16,000 tonnes of silk annually, with over 60 per cent of this amount coming from units in Ramanagaram and other small towns in Karnataka. "Ramanagaram is the silk capital of the country and this is the largest silk market in Asia," Kempegowda says over a piping hot glass of almond (badaam) milk in his corner office. Outside, however, the mood is not so genial, as farmers and reelers claim that the government is interfering too much with prices and facilities are inadequate at this market. "The quality of cocoons is very poor at this market, since farmers are greedy and want to dump their produce in this market. You need at least a week for the cocoons to mature, but they bring it here in two-three days itself," says Pyaare Jaan, a local reeler. Farmers, however, are quick to retaliate, contending that reelers and their buyers lower prices, creating artificial surpluses or claiming that cocoons are of inferior quality. "Prices can vary from Rs 130-140 per kg on one day to Rs 90-100 the next," says one aggrieved farmer.
At Naalbanwadi Mohalla, the sense of discontent is evident, with some former reelers reportedly reduced to daily wage earners in Bangalore and others resorting to running kiraana stores or scrap yards. "We would like the government to take a more active role to help the industry," says one farmer. Government officials admit that as larger towns such as Bangalore and Mysore offer more lucrative opportunities, an involuntary migration seems inevitable.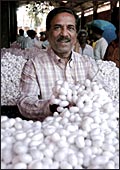 The government view: Kempegowda (above) blames the recession on failed monsoon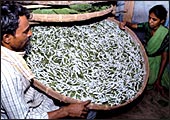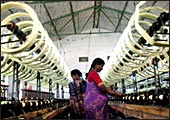 Kempegowda, however, insists that the government has a handle on things and hasn't let the situation spiral out of control. "There was a recession two-three years ago when the monsoons failed and the entire industry went through years of struggle," he tells this correspondent as we walk through the section selling pale yellow multivoltine grade, towards the snow white (higher quality) bivoltine variety. An industry struggling to recover from a near fatal recession over the last couple of years (according to some unofficial estimates, 500 of the 2,000-odd reelers in town shut shop) means that banks are saddled with debts of at least Rs 5 crore and are unwilling to lend any more. "Reelers over-stretched themselves four years ago and when the downturn hit, many of them defaulted on their loans," an official with the local State Bank of India branch claims. Because of these defaults, many of the reelers have remained saddled with outdated production equipment that has only widened the chasm between them and their Chinese counterparts. "Ramanagaram is just about managing to survive today, but urgently needs to upgrade to semi-automatic or automatic reeling equipment and larger production facilities to stay competitive," says M. Imitiaz Pasha, Proprietor of SIM Silks and the President of the Local Reelers Association.
Aside from internal problems, Ramanagaram's silk industry has been affected by dumping by Chinese manufacturers. "Dumping has affected this industry tremendously over the last 18-24 months and only the imposition of a stiff anti-dumping tax has helped recently, since it brought prices to near parity," claims Kempegowda. The issue of dumping gets some high-profile support, with Karnataka's Chief Minister and, incidentally, the local MLA, H.D. Kumaaraswaamy, promising to lend a helping hand to the industry. "Because of dumping by Chinese players, our silk industry has been hit hard. My government is taking all measures possible to help sericulturists, be they mulberry farmers, silk twisters, yarn traders or silk producers," says Kumaaraswaamy.
Meanwhile, Kempegowda points out that expansion and modernisation plans are afoot for the Ramanagaram Silk Market and work will proceed as soon as the green signal is received. "We have sent the government a Rs 50-crore development plan for this market and hope to receive their approval soon," he claims. Part of this amount, will be used to expand the existing auction space and to set up automated machines (on the lines of an ATM) to deliver cash to farmers," says Kempegowda. While the 5,000-year old silk industry has managed to rapidly convert itself from a cottage industry into a large-scale operation, it remains to be seen which silk route Ramanagaram's units take.