When C.V.L. Srinivas, CEO, Maxus India and Asia-Pacific, quit recently, wagers were placed on who would succeed him. The results are in: Martin Sorrell's WPP-owned Group M has snagged Madison Media Infinity's 34-year-old COO Ajit Varghese as the new head of the media buying agency. Traditionally, Group M has tapped people within the system to fill vacancies, and if it has opted to poach this time around, it's because of some key departures, including that of Delhi head Debraj Tripathi. Maxus isn't the biggest media buying outfit within Group M (Mindshare is), but the soccer-and-cricket-loving young man, who joins on November 10, knows what he's in for. "My brief is to consolidate growth, which has been at a phenomenally fast pace, and take it to the next level," he says. He also wants to make Maxus a "dream place" for professionals. Given the churn in media buying, that's a good idea.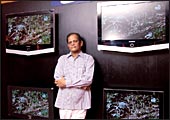 Better Late Than Never
Back in the late 60s when organised retail meant something like the Super Bazaar, Viveks' B.A. Kodandarama Setty was already turning a 'category killer'-that is, a dominant retailer of one type of goods, and in Setty's case, consumer durables and electronics. But being a family-owned business, Setty's Viveks never ventured out of Chennai until 1995, when a store was opened in Bangalore. It would take another three years for Viveks to consolidate in the southern states before venturing North. But now, with the retail sector booming and big corporates such as the Tatas and the Ambanis preparing to muscle into Viveks' turf, Setty is moving post-haste. For one, he is busy talking to venture capitalists to sell stake in the company for money to add another 100 stores in the South to the existing 54. "We have always been innovative," says Setty, who's also done three acquisitions so far. All he needs now is for a VC to think so too.
The Man About Tatas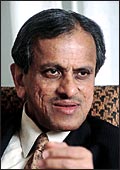 R.K. Krishna Kumar, 68, has always had a significant role to play at the Tata group, but over the years he seems to have carved out a larger role for himself. Most recently, Krishna Kumar, or KK, was the man tapped by Chairman Ratan Tata to drive the tie-up with Australia's Woolworths for consumer electronics and durables retail. Earlier, the ace dealmaker, who's spent more than three decades with the Tatas, was involved in some big-ticket acquisitions, including that of the Pierre in New York last year and (a 30 per cent stake) Energy Brands, another NY-based flavoured water marketer, this year. With the Woolworths tie-up, KK's plate, which already has the hospitality and tea businesses on it, seems full. But, then, you never know.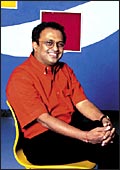 Rewinding
Eight years ago, Jaithirth 'Jerry' Rao left Citigroup to start MphasiS, a Bangalore-based it services start-up, and grew it to a 12,000-person company before it was acquired by the Plano, Texas-based EDs for $380 million (Rs 1,748 crore) in July this year. After handholding the MphasiS team through the transition, Rao, 55, will now make the transition from entrepreneur to employee, when he becomes Vice President and General Manager for EDs in India. "I look forward to the opportunity of working with my new colleagues and building on EDs' strong services heritage," Rao said in a statement. The IIM Ahmedabad alum and published poet will have his task cut out. EDs in India has revenues of just $78 million and a headcount of 3,000. Therefore, it has a long way to go before it catches up with the big it players in India.
The Real Bottom Line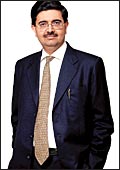 His vision to build an Indian financial institution of world-class scale, size and quality notwithstanding, 47-year-old financial whiz Uday Kotak, is now planning to set up a foundation with a Rs 10-crore corpus to take up the cause of educating underprivileged children. While Kotak did not respond to an e-mail eliciting details about his plans, media reports suggest that the initiative will be handled by Shivaji Dam, a board member of Kotak Mahindra Bank. Known to be a lover of Indian classical music, Kotak's decision, says Nirvik Singh, President of Grey Global Group (South and South East Asia), who has known Kotak for nearly 15 years, is very much in line with Kotak's persona. "He is a man with an intense desire to achieve things," says Singh. That explains the success of his businesses-banking, life insurance, investment banking, stockbroking, mutual funds, auto finance, private equity and real estate venture capital. One hopes he is able to make a difference to the lives of poor children as well.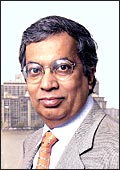 Stuck In The Doldrums
US-based NRI investor Purnendu Chatterjee's rough patch seems to be continuing, with the Centre shooting down his special economic zone plans, even as the government's ally in West Bengal continues to drag the 54-year-old through the Company Law Board over management control at Haldia Petrochemicals, where Chatterjee and the state are partners. In what seems to be a case of mixed fortunes, the Chatterjee Group's two other projects-a 135-acre biotech park in Pune and a 60-acre biotech-cum-BPO park in Cochin-have been approved. As for the group's proposed refinery at Haldia, Chatterjee's only hope is that there has been no official communication as yet. It's a strange love-hate relationship that Chatterjee seems to have with the Left. But don't expect any happy ending to the story yet.