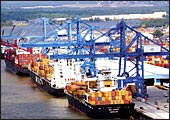 Dubai Port Worlds
What is common between Orascom, the leading telecom operator in Egypt, Dubai Port Worlds, a port operator, and Huawei, a Chinese telecom equipment manufacturer? All three firms do business in the country-Orascom holds equity in Hutchison Essar, Dubai Ports is an operator of container terminals in Chennai, Visakhapatnam and Mundhra, while Huawei has an R&D centre in Bangalore. The apex security wing of the Government, the National Security Council Secretariat (NSCS), believes they should not be allowed to do so.
"Late Yassir Arafat's organisation has funded Orascom and the company also happens to be a leading operator in Pakistan and Bangladesh. Hence it is not in our security interest," feels the NSCS. In the case of Dubai Port Worlds, the port operator has won contracts from Pakistan (Gwadar Deep Sea Ports). Huawei has been established by a former member of the People's Liberation Army (PLA) and a member of the Chinese communist party.
PARANOID SUGGESTIONS?

FDI in "sensitive" sectors will be filtered
» Sectors under scanner include ports, airlines, oil and gas, pharmaceuticals.
» Bad news for foreigners with a large presence in Pakistan, China and Bangladesh
» Apex security wing suggests Act to restrict investments
» Orascom should not be allowed into India because Yassir Arafat's organisation has funded it
» Dubai Port Worlds' entry is not in India's security interest because it has won contracts from Pakistan
» Huawei too is not in India's interest because it has been established by a former member of the People's Liberation Army in China.
In a recent discussion paper, the NSCS has suggested a series of measures to 'filter' foreign direct investment (FDI) in sensitive sectors. The objective is to restrict investments from Pakistan, Bangladesh, China and screen unverifiable investments from tax havens. The NSCS has proposed a legislation, National Security Exception Act, that would "empower the government to suspend or prohibit any foreign acquisition, merger or takeover of an Indian company that is considered prejudicial to our national interests."
The apex security arm of the government has also suggested that the Reserve Bank of India or the Securities & Exchange Board of India should screen the security aspect of all mergers and acquisition activity involving foreign equity. Furthermore, "existing firms should be required to take approval before starting any new activity in sensitive sectors or locations". And, the definition of sensitive sectors envelops a good part of industry-airports, seaports, aviation, telecom, internet service providers, drugs and pharmaceuticals and metallurgy. The NSCS has cautioned against the entry of Great Wall Airlines, a subsidiary of China Great Wall Industry Group, which plans to enter the cargo operations business in Chennai and Mumbai. Trade specialists point out that such suggestions, if adopted as policies, are more likely to be misused. And such restrictions don't do any good to the FDI numbers.
---
Wanted: Code of Justice
Better to put BPO fraudsters in jail than make the office one.
It's a crime that would have been termed as an "open and shut" case in a Mickey Spillane novel. In 2002, an ex-employee of the Mumbai-based Geometric Software Solutions, sent emails to several companies in the us offering to sell the source code of a software package; Geometric was debugging the software for a us client, SolidWorks. Another us company, Solid Concepts, responded to the former employee's mails. Solid Concepts also informed the Federal Bureau of Investigation (FBI) that SolidWorks' source code was up for sale. The ex-Geometric employee agreed to sell the source code for $200,000 (the software was worth $60 million that year). A down-payment of $20,000 was wired to his bank in Mumbai.
The dubious transaction was caught on tape in a joint operation of the FBI along with the Central Bureau of Investigation (CBI). FBI agents, key witnesses from Solid Concepts and SolidWorks flew down to India and deposed in the courts. Four years later, the ex-employee is out on bail. Manu Parpia, Vice Chairman and Executive Director of Geometric, is angry and frustrated. "Over the past four years, I have spent nearly Rs 15 lakh. Despite being the CEO of a company, I have spent the time shuttling between Mumbai and Delhi and have spent two weeks of my time just on this case. It's agonising," says Parpia.
Indeed, periodic security breaches threaten to punch huge holes in the great Indian outsourcing story. But, as Parpia elaborates, the sore point may not be the breach itself but the fact that the perpetrator walks away unscathed. "I am very aggrieved that this guy is free today. People are citing this as a case against outsourcing. At the rate at which this case is proceeding it might take 5-10 years to get over," adds Parpia.
To be sure, the Indian judicial system when it comes to disposing cyber crime cases is extremely tardy. Take the high profile case of former employees of BPO firm MphasiS, who were arrested for allegedly siphoning off $300,000 from Citibank customers after stealing account details in Pune in April 2005. More than a year has passed and even though the police have completed their investigations, the case is yet to come up to trail. Says Pawan Duggal, an expert in cyber-laws and a practicing Supreme Court advocate: "No conviction has happened even in the first case of cyber theft that was registered in 2000." So, where does industry go from here? Says Vivek Kulkarni, Chairman and CEO of Bangalore based b2k Corporation: "Data security is a test of character for the industry. At the same time, you want your office to be a beautiful place to work and not a jail."
-T.V. Mahalingam
---
Supply And Rule
Is Mukesh Ambani set to re-enter the power sector?

RIL's Ambani: Reserve power
Rescuing a crippled space shuttle in outer space would probably be an easier task than salvaging the 2,184 mw Ratnagiri Gas and Power Private project. Last fortnight, the Group of Ministers (GoM) sowed the seeds of a solution that could well see Reliance Industries (RIL) enter the power sector. The GoM first reviewed ownership of the LNG terminal, presently in the hands of NTPC and Gail; and also opened negotiations with potential and existing gas suppliers.
Gail, which was entrusted with procuring gas for the project, failed to do so. Petronet LNG (PIL) managed to secure gas for the project. Over the last few weeks, a consensus was emerging to transfer the LNG terminal to PLL and provide a minority share in the terminal to Qatar Gas, a supplier to PLL. Then came along another option-that of piped gas from domestic sources. Leading the pack in commercialising new discoveries is Reliance, which has reserves in excess of 7 trillion cubic feet (TCF), enough to power three times the capacity of the Ratnagiri plant. Piped gas will be cheaper than LNG. The government may well decide to sell the integrated project to the company that provides the cheapest gas. Industry observers, however, argue "Reliance will have little interest in the LNG terminal given its domestic gas reserves." Watch this space.
---
For Mutual Benefit
Canbank is the latest MF to offload a stake to a foreign major.
The action in the mutual funds space just doesn't stop. In the past couple of years, at least three foreign players flagged off their Indian operations by buying into an Indian asset management firm. And there are many more in the wings, with a host of names including JP Morgan, Goldman Sachs, UBS, Nikko, Sumitomo and Schroeder rumoured to be eyeing the Indian mf market. What's more, speculation persists that Standard Chartered mf is up for sale and, on another front, Shinsei of Japan has roped in Sanjay Sachdev, formerly with Principal PNB AMC.
For the moment though it's the turn of a Rabo Bank subsidiary, Rabeco, to go the same way. The Netherlands-based firm is said to be acquiring a sizeable stake (between 40 and 50 per cent) in Canbank Mutual Fund, a wholly-owned subsidiary of Canara Bank. Says B. Sukumaran, Managing Director, Canbank Mutual fund: "We are in the final stage of roping in a foreign strategic partner for our mutual fund business. The deal will be finalised in the next 2-3 months and we may place a maximum 49 per cent stake with them." Advisors KPMG and Ernst & Young have already started the due diligence process at the state-run mutual fund. Industry experts reveal that Canbank mf, which manages assets to the tune of Rs 2,800 crore, would command a valuation in the range of Rs 40 and Rs 60 crore. That figure is arrived by valuing the equity and debt funds separately. The former is valued at 7-8 per cent of the total corpus of Rs 500-600 crore-which works out to a minimum of Rs 35 crore and Rs 50 crore on the higher side; the liquid and debt finds have assets of Rs 2,200-2,300 crore, and are valued at 1-3 per cent of the figure-which works out to Rs 40 crore on the lower side and Rs 70 crore at the top.
If the deal goes through, Rabeco will have such names as BNP Paribas of France, the Singapore-based DBS and Societe Generale for company. Last October, BNP Paribas acquired a 49.9 per cent stake for Rs 100 crore in Sundaram Mutual Fund, which works out to a valuation of 7.2 per cent of its assets under management of Rs 2,779 crore at the time of sale. Prior to that in June, DBS got a foot into Cholamandalam Mutual Fund by acquiring 37.5 per cent in the listed Cholamandalam Investment & Finance Co for Rs 228 crore. Other than mutual funds, the flagship also has a presence in car loans and insurance. In July 2004, Societe Generale bought a 37 per cent stake in SBI Mutual Fund for Rs 175 crore.
According to Sukumaran, the Canbank deal is win-win for both parties. "The foreign partner will bring to the table essentially product expertise and global reach. We offer them an entry into India as well as access to the 2,500 branches of Canara Bank", says Sukumaran. "Canbank AMC would also earn substantial fee income from advising and managing the India-dedicated offshore fund of the foreign partner." It also gets a chance to compete head-on with the moneyed foreign funds like Fidelity, who are spending plenty on promotions as well as on more sophisticated products. The tie-up also helps it match up to industry standards on the salary and remuneration front.