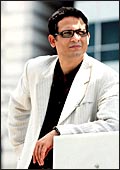 NAME:

Mahesh Chauhan


AGE: 37
QUALIFICATION: M.Tech (Metallurgy), IIT, Powai (1992)
FIRST JOB: Account Executive, Ogilvy & Mather (1992-94)
CAREER PROGRESSION:
1994-96: Account Supervisor, Rediffusion DY&R
1996-98: Account Director, Chaitra Leo Burnett
1998-2002: Vice President & Regional Business Director, Ogilvy & Mather
2002-04: Vice President (South), Rediffusion DY&R
2004-06: President, Everest Brand Solutions
2006: President, Rediffusion DY&R
"I want to challenge all the existing norms and paradigms"
Help, Tarun!
Designing Careers
The trend is becoming more apparent as liberalisation digs deeper roots in India. Increasingly, companies are rewarding performance by appointing relatively young people to very senior, and even top, positions. India Inc. now has dozens of sub-40 CEOs running companies in the advertising, media, it, publishing, sports goods and other industries. And as competition becomes even more intense, this trend is expected to gather speed. But how do these young executives cope with the additional pressure? And do companies have policies to help them settle into their jobs?
"Being young is an advantage since you bring no managerial baggage," says Rajiv Mehta, 28, Managing Director, Puma India, who started the company's Indian operations by himself "rather than with an army of 20 minders" that someone older may have demanded. "I went down to the 'trenches', visited warehouses and helped with packaging and logistics... I also treat colleagues as friends rather than as subordinates, but that doesn't stop me from meeting targets," he says. That's Lesson 1: go down to the grassroots, get your hands dirty but get the job done.
Adds Francisco D'Souza, 38, COO & CEO-designate, Cognizant Technology Solutions: "The one key challenge I had to face was that I had to constantly reinvent myself-by acquiring new skills and doing different things. There is a tendency to focus on the day-to-day operations to the exclusion of these." His employer gave him enough opportunities to groom himself. He was asked to set up the company's us operations in 1995; four years later, he was told to do the same in Europe. These assignments were difficult and forced him to think on his feet. "The European market is very different in terms of culture and people and relatively backward compared to the us in terms of technology adoption," he says. He had to adapt fast and this gave him the confidence and the experience to move forward. But now, the key challenge "is to continue to grow faster than the market as we have done in the past while maintaining the quality of delivery", he says. Lesson 2, therefore, is: gain diverse experience; move out of your zone of comfort and above all, deliver whatever you commit. Subhinder Singh Prem, 38, Managing Director of Reebok India, agrees. "I attribute the swift progress of my career to the diversity of my experience. I have worked in production, sales and marketing and other departments. Each stint was a learning experience that added to my well-rounded training in the overall business. Never say 'this job does not suit me'. Always be open to working in any department as well-rounded knowledge allows you to lead by example."
NAME:

Francisco D'Souza


AGE: 38
QUALIFICATION: MBA, Carnegie Mellon University, US (1992)
FIRST JOB: Managment Associate, Dun & Bradstreet (1992-94)
CAREER PROGRESSION:
1994: Assigned by Dun & Bradstreet to set up software operations in India
1996-97: Director (North American Operations), Cognizant Technology Solutions
1999: Vice President (North America & Europe), Cognizant Technology Solutions
2001: Senior VP (Operations), Cognizant Technology Solutions
2003: COO, Cognizant Technology Solutions
2007: CEO & President, Cognizant Technology Solutions
"I had to constantly reinvent myself"
NAME:

Vikas Gupta


AGE: 38
QUALIFICATION: BE (Electronics), University of Pune (1989) PG Diploma in Printing & Publishing Studies, London College of Printing (1990)
FIRST JOB: Senior Manager, Pustak Mahal (1991) Started Comdex Computer Publishing, a division specialising in IT books (1992)
CAREER PROGRESSION:
1999: Set up Dreamtech, his own book publishing and software company
2000: Director, Wiley Dreamtech, a JV he set up with IDG Books Inc.
2005: Managing Director, Wiley India
"Wiley has encouraged my entrepreneurship"
Mahesh Chauhan, 37, President, Rediffusion DY&R, is the youngest head of a multinational advertising agency in India today and got to his current position by constantly challenging himself to do better. He shocked many people in 2002, when he chucked up a seemingly successful job at Ogilvy & Mather to head Rediffusion down south. His reason? "I was becoming too comfortable at Ogilvy, and didn't feel too comfy being so comfy." He left Rediffusion two years later to take on the challenge of turning around Everest, an agency everyone had written off. So how does Chauhan cope with the challenge of leadership? "By challenging all the existing norms and paradigms, and trying to create something new," he says.
There are no set rules in this game and every individual has to follow a strategy that suits him best. Vikas Gupta, 38, Managing Director of Wiley India, started out as an entrepreneur, floated a publishing joint venture with John Wiley & Sons, sold his stake to his JV partner and became a professional CEO of the company he founded. "The best thing about Wiley is that it encouraged my entrepreneurship and allowed me to build a motivated team of people. I have never felt my entrepreneurship stifled by the fact that I am now working for Wiley." That's Lesson 3: think like an entrepreneur; think of solutions, even out of the box ones, and focus on delivery.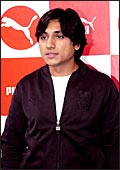 NAME:

Rajiv Mehta


AGE: 28
QUALIFICATION: B.Tech, University Department of Chemical Technology, Mumbai (2000) M.Tech (Chemical Engineering), University of Pennsylvania, US (2001) MBA, INSEAD, Singapore (2005)
FIRST JOB: Process Engineer, BOC Gases, New Jersey (2001)
CAREER PROGRESSION:
2001-04: Process Engineer, BOC Gases, New Jersey
2005: Managing Director, Puma India
"I treat colleagues as friends rather than as subordinates"
Ajit Varghese, 34, CEO of Maxus India, attributes his success to his stint at Lintas. "It was while handling Hindustan Lever's detergent portfolio that I became a thinking person". When he moved to Madison three years later as coo, he won the agency the Marico, Asian Paints and Tata Tea accounts. The lesson here? It's a no-brainer: always keep an eye on the company's bottom line. The best ideas are of no use if they're not profitable.
Sometimes, however, these young business leaders face problems because of their age. Says Vishal Dhupar, 40, Managing Director, Symantec India. "Not every one is comfortable reporting to a young CEO." He adds that both his contemporaries and some older executives, who had to report to him, were initially reluctant to accept his authority. "We are used to the age-old system where designation is based on years of experience, rather than capability, and it takes a while to break down these walls," says Dhupar. The only way to resolve this problem is to do things better than every one else. The respect, even if grudging, this generates will finally bring people around.
Organisational support also plays a very important role in the success of these executives. Says D'Souza: "Cognizant's culture is a very important factor in the equation. It believes that people have tremendous capability to deliver if they are given the necessary environment and support structure, and so, gets out of your way and gives you the freedom to do your bit. I am a prime beneficiary of this." Adds Bhaskar Das, Vice President (HR), Cognizant Technology Solutions: "One of our main tasks is to groom talent within the company and push them into leadership positions. For this, we have put in place systems and processes to identify, train and groom people for future responsibilities. We then create roles and responsibilities that allow executives to experiment with their competencies and capabilities. Performance, by definition, is backward looking, while potential is forward looking."
Adds Rita Bhattacharya, Director (HR), Reebok India: "We give people the freedom to be entrepreneurial. They get the feel of leadership early on and are ready for the challenge when they actually move into top management positions."
-Reporting by Nitya Varadarajan, Rahul Sachitanand, Kapil Bajaj & Deepti Khanna Bose
---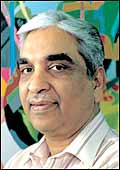 Q: I have been working as a Floor Manager in a call centre for the last three months. I started as an agent four years ago and have changed three jobs since then. I do not get along with my immediate boss. Will a move at this point harm my future career prospects?
You have been in your present job for just three months and you are already thinking of quitting? Well, that's not a very good idea. Since this is your first supervisory job, it will be wise to stick around for another nine months at least. You don't want to be a rolling stone forever. And, how can you say for sure that you will get along with your next boss?
Q: I am a 20-year-old Arts (Political Science) graduate and plan to get into the armed forces (preferably the Navy). However, I have been told that only science and commerce graduates can make it to the forces. Is that true? If no, then how do I go about things?
While it is true that most positions in the armed forces are in some way related to science and engineering, there are jobs such as logistics, education and even law for people like you. The sailor/cadet cadre is also open to you if you want to join at that level. Try and visit the site http://www.nausena-bharti.nic.in.
---
Answers to your career concerns are contributed by Tarun Sheth (Senior Consultant) and Shilpa Sheth (Managing Partner, US practice) of HR firm, Shilputsi Consultants. Write to Help,Tarun! c/o Business Today, Videocon Tower, Fifth Floor, E-1, Jhandewalan Extn., New Delhi-110055..
---
Designing Careers
Outsourced architecture offers huge job opportunities.
Indian architects are hot property globally. On the one hand, real estate developers based in the us, Europe and even Singapore are outsourcing design work to Indian architects; on the other, top-notch foreign architecture firms like HOK and Laing O'Rourke, which are being commissioned by Indian real estate developers like Ansal API and DLF to design big ticket projects, are outsourcing work to their Indian counterparts. "Foreign architects usually conceptualise and design projects; the implementation is outsourced to Indian architects," says Kunal Banerji, Vice President, Ansal API. This is creating a niche demand for architects, as a result of which "many architecture graduates are choosing to work with established companies rather than starting out on their own, as was the case earlier," says Manit Rastogi, Managing Director, Morphogenesis Architecture Studio.
FACT BOX
WHO'S HIRING? Top architecture firms and real estate developers.

WHO ARE THEY HIRING? Fresh architecture graduates as well as more experienced hands.

AT WHAT SALARIES? Rs 2-4 lakh p.a. for freshers; those with 8-10 years experience can get up to Rs 7-10 lakh p.a.

WHAT'S THE DEMAND LIKE? Industry-wide figures aren't available, but considering that 70-75 per cent of the top 100 firms are in hiring mode, the figure will be at least 500-600 architects per year.