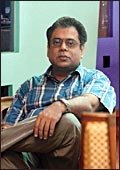 NAME: RAMAN ROY
AGE: 49
DESIGNATION: Chairman and MD
STATE: Quatrro Group of Companies
He is one of the founding fathers of the $5-billion (Rs 23,000-crore) Indian business process outsourcing, or BPO, industry that now employs more than 4 lakh people. Raman Roy, the man in question, is a chartered accountant by profession and a serial entrepreneur by "coincidence". According to him, he has written some 108 professional examinations in his life and the sole intention of getting those degrees was to get a decent job in a multinational company. Today, he runs more than half-a-dozen businesses, but that, according to him, "is a pleasant accident".
Roy set up the outsourcing division of American Express in the early 90s; he moved on to do the same for General Electric in 1995 (that division, which started with a handful of people, is now a $500-million, or Rs 2,300-crore, company called Genpact) and then, finally, set up his own venture, Spectramind, in 2000. The latter was bought over by Wipro in 2002 and Roy pocketed a handsome amount; the total value of the deal was reported to be $102 million (Rs 469.2 crore). He spent some time with Wipro and in mid-2005, decided to set out on his own yet again. He set up Raman Roy & Associates; it was rechristened Quatrro (his fourth initiative and hence, the name) around June this year. Since then, Quatrro has been on an acquisition spree-it picked up a 40 per cent stake in Anik Technologies and a 22 per cent stake in the BPO division of John Keells, a shipping and ports company, and last week, it acquired the BPO arm of Flextronics Software Systems. Roy is also reported to be in the race for UK-based BPO company Vertex. "Under the larger umbrella of Quatrro Group, we intend to incubate new ventures and provide a platform to entrepreneurs to start off high-end BPO services in underserved domains."
Roy has tied up close to $250 million (Rs 1,150 crore) from various private equity players to finance his new initiatives. Quatrro, currently, has offices in Sri Lanka, Singapore and India and it soon plans to foray into the US and Europe. Roy, a confirmed workaholic, works 15-16 hours a day. What eggs him on is the idea of creating something new.