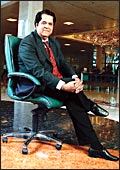 RANK


8
Bank king: K.V. Kamath, Managing Director & CEO
Last fortnight a top-level reshuffle of portfolios took place at ICICI Bank. Chanda Kochhar, the 44-year-old Deputy Managing Director, is now at the helm of the bank's burgeoning international operations as well as corporate banking. V.Vaidyanathan, 38, takes over the retail banking portfolio from Kochhar, after being elevated to Executive Director. Kochhar in turn fills the void created by the exit of Lalita Gupte, Joint Managing Director, who headed the international portfolio, and who retired at the end of October. Gupte's deputy, 40-year-old Bhargav Daspupta, has been promoted as Executive Director at the life insurance subsidiary, ICICI Prudential. With Kalpana Morparia, Joint Managing Director, slated to retire in a few months, the buzz is that Shikha Sharma, CEO, ICICI Prudential, will find a place in the bank's top management (although this could not be confirmed at the time of writing).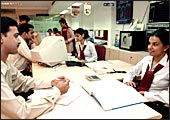 Retail business: In full swing
Such a change-around at the top would invite considerable attention in most Indian corporations, but at ICICI Bank's it's just another day at the office. That's possible because, as Kundapur Vaman Kamath, Managing Director & CEO, points out: "We have a great depth of talent; and we have layers of talent. Ever since the mid-eighties we have been consciously creating a talent pool, a pool that's multi-skilled. And that's paying rich dividends today." Kamath, who started his career way back in 1971 at ICICI, is also busy grooming the next line of leadership. "The options are many, and I still have some time," quips the 58-year-old CEO.
NUMBERS THAT MATTER
BT500 market cap: Rs 50,726.18 crore
Headcount: 25,384
Number of shareholders: 5.1 lakh
Number of directors: 17 (including 5 working directors)
Total customer base: 17 million retail customers
Source: ICICI Bank
Figures as on March 31, 2006, except for BT500 market cap
If ICICI Bank is the only financial institution to figure in the top 10 of the BT 500-housing finance colossus HDFC stands at #12, and HDFC Bank comes in at #17-its people constitute one vital ingredient of the success recipe. The two other constituents of the blueprint that was relied on to transform the once heavily-reliant-on-corporate lending behemoth into a nimbler, market-savvy and technology-enabled entity are capital and a diversified basket of products. Six years ago, Kamath (who was himself groomed by ICICI Chairman N. Vaghul) initiated the unique merger of a large development financial institution (DFI) with its fledgling banking subsidiary ICICI Bank. Today, Kamath has not only transformed the ICICI Group from an unexciting corporate lender into a universal bank offering multiple retail products, but can also take credit for pioneering the retail finance boom in India. The Rs 2,50,000 crore ICICI Group is known as a one stop shop for a whole gamut of financial services. Ensconced in his 10th floor office in the swank ICICI Bank headquarters in the Bandra Kurla complex in suburban Mumbai, Kamath is looking ahead, nurturing his five engines of growth: Retail, rural, international, traditional corporate banking and lending to small & medium enterprises (SMEs). "Over the next 3-5 years, our overall credit book will probably be 50 per cent of urban consumer credit, 18 per cent agricultural and rural credit and 40 per cent will be corporate credit, both domestic and international," discloses Morparia.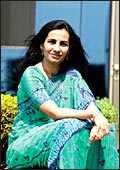 With over 17 million customers in the bag, ICICI has been strategically cross-selling its group products such as insurance and mutual funds
Chanda Kochhar

Deputy Managing Director
Retail hasn't tailed off
The first growth platform kicked off a decade ago, in a bid to wean the bank away from project lending, was retail finance. ICICI Bank today boasts a retail portfolio of Rs 1,00,000 crore-easily the largest amongst Indian banks-which is almost 70 per cent of the bank's advances. Home and car loans constitute 80 per cent of that figure. And it isn't as if the new opportunities like rural and international are being explored because retail growth is in danger of getting saturated. "It still hasn't tailed off, and is in fact growing robustly at 30-35 per cent," says Kamath, who did an eight-year stint in the Asian Development Bank before he returned to ICICI in 1996. Kochhar, who has nurtured the retail portfolio for the past five years, and who incidentally Kamath handpicked during campus recruitment, is today reaping the benefits of economies of scale. Non-performing assets (NPAs) are less than 1 per cent and, with over 17 million customers in the bag, ICICI has been strategically cross-selling its group products, too (like insurance and mutual funds. "Today, 20 per cent of the retail business comes from cross-selling," says Kochhar. New retail head Vaidyanathan feels credit cards and personal loans are the two high-growth segments. "There is a scope for 100 million credit cards in the country. We have today just 20 million credit cards," says Vaidyanathan, who played a key role in building ICICI Bank's credit card portfolio of over 5 million.
The talent pool at ICICI Bank is large, and multi-skilled.

V. Vaidyanathan

(left), 38, has been promoted as Executive Director (Retail).

Bhargav Dasgupta

, 40, has been promoted as Executive Director at ICICI Prudential Life Insurance.
Then there's the rural thrust, currently contributing 6 per cent to the balance sheet, but the target is to increase its contribution to take that figure up to 25 per cent. Kamath terms it "the biggest challenge. Execution is going to be a big, big task." Nachiket Mor, Deputy Managing Director, who is spearheading the rural initiative, is busy scaling up the hybrid channel architecture, a la an FMCG model, in rural markets. The unique franchisee model is already bringing big bucks for the bank. That's reflected in the portfolio of Rs 16,500 crore in March 2006 which almost trebled in three years with the customer base rising from 20,000 to 3.2 million. No White Spaces, as the rural strategy is called, envisages having a kiosk or a franchisee at every 10 km in the rural heartland. "We plan to cover 450 districts by 2008," says Mor, who holds a PhD in financial economics. Also on the anvil are high-density crop branches in places like Western Maharashtra, Coastal Andhra, Central Tamil Nadu and South Gujarat.
If Indian companies are eyeing international markets and at the same time foraying into under-penetrated rural India, ICICi Bank is a great example of such an entity, although it's target is more the global Indian rather than every global consumer. Started in 2002, the international business model revolves largely around Internet banking supported by partnerships with local banks. Canada and the UK are two markets being targeted as they have large non-resident Indian populations. Yet, as Kamath points out, 70 per cent of customers (corporate and individuals) are non-Indian. There's also the burgeoning remittances into India market, which is growing at 25 per cent. And another focus area on the international business front is participation in the financing of cross-border mergers and acquisitions. "We want to leverage our corporate relationships in the global market," says Joint Managing Director Morparia.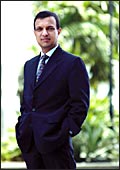 Mor is leading the bank's rural strategy called 'no white spaces', which envisages having a kiosk or a franchisee at every 10 km
Nachiket Mor

Deputy Managing Director
It's a business model that's playing out splendidly, which is reflected in the growth in bottom line in the recently concluded second quarter, with net profits growing by 22 per cent over the previous three months. On various other parameters like quality of assets and capital adequacy, the first Indian bank to be listed on the New York Stock Exchange is on a good footing (although spreads are lower than the competition). Kamath doesn't foresee calamity in the short term-the risk of an economic slowdown is "muted," and that of an asset price bubble is being closely monitored. Yet, ICICI bank enjoys a lower price to earning multiple (P/E) than an HDFC Bank or a UTI Bank (see Dalal Street Has Its Preferences). Manish Karwa, Equity Analyst at Motilal Oswal Securities, reasons that "HDFC bank is growing faster than the ICICI Bank." Kamath, for his part, refuses to get drawn into comparisons, and prefers to see the bigger picture. "Today, the top five Indian banks put together are smaller than the fifth largest Chinese bank. That's the kind of challenge we have...Today, any bank with a capital and net worth of less than $2 billion in a country of the size of India has little significance." In terms of market cap of Rs 50,726 crore, there's no other bank in the banking space with that kind of market cap, which puts ICICI Bank in a league of its own.