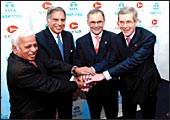 Friendly takeover: (From left) B. Muthuraman, Managing Director, Tata Steel; Ratan Tata, Chairman, Tata Group; Jim Leng, Chairman, Corus; and Philippe Varin, CEO, Corus shake hands and cement a giant deal
Last November, Tata group chairman Ratan Tata played host to Jim Leng, Chairman of Corus Steel PLC, who was in Mumbai on a rare visit. The meeting was held in the Tata bastion in Mumbai, Bombay House. To most people, it could have just passed off as a routine meeting between two senior executives. Leng was accompanied by his CEO, Philippe Varin, at this meeting. Leng and Tata met again in July this year except that this time it was in Dubai. Besides being midway between London and Mumbai, Dubai was considered a safe neutral ground for both of them. It was here that the seeds were first sown for a possible multi-billion dollar deal. Tata was kept company by his senior colleagues from Tata Steel who in a couple of months would be ironing out the finer points of what would become a historic transaction.
Not too many people were still convinced that Tata Steel could, in fact, buy out Corus simply because the numbers were astoundingly large. During fy06, Tata Steel had gross sales just in excess of Rs 17,000 crore, which seemed minuscule compared to Corus Group's turnover of £10.1 billion (over Rs 85,000 crore). Indeed, the turnover of the Tata Group, comprising as many as 96 companies, stands at a shade under Rs 1,00,000 crore. If the deal did indeed fructify, Tata Steel would be acquiring a player that was more than five times its own size. Even to die-hard optimists, such a deal would seem very tough to execute. An investment banker who was closely involved in the deal says that "it was not smooth all the way".
Cut to August this year. Leng called up Tata and quite literally asked, "Ratan, what's happening?" Says the banker, "Quite obviously, Tata was taking his time. After all, it was important for him to buy into the strategy." Meanwhile, the Corus management began exploring other options-joint ventures, new factories and even ways of transferring technology to others in the steel industry. But eventually, it was back to the option of going with the Tatas-which Leng thought was the best solution for Corus' future.
A MARRIAGE OF ICONS

Both Tata Steel and Corus are old steelmakers.
If Tata Steel and Corus sign the dotted line in January 2007, the deal would entwine the business and destinies of two of the oldest players in the global steel industry. Tata Steel's history dates back to the days of the British Raj in India. Established in 1907, the company produced its first cast of pig iron in 1911 and steel in the following year. What's remarkable is the fact that Corus itself was the product of another merger between two European steel giants-British Steel and Dutch major Koninklijke Hoogovens-in 1999.

British Steel was created in 1967 when the 'Iron and Steel Act' nationalised about 90 per cent of British steelmaking. British Steel was formed from the merger of UK's 14 main steel producing companies. The idea was to revive the extremely fragmented industry, which was plagued by years of insufficient capital investment. By 1980, British Steel had closed several outdated and loss-making plants and reduced its workforce to 130,000-as compared with a total of 268,500 employees at the time of nationalisation.

The other parent of Corus was the largest player of pig iron in the world during the 1930s. Founded in 1918, Koninklijke Hoogovens was one of the four largest producers of rolled and extruded aluminium in Europe by 1987. By 1999, Hoogovens had 17 business units, around 22,000 employees, a turnover of m4.9 billion, production of 6.7 million tonnes of crude steel. The merger between Hoogovens and British Steel was initiated to help revive British Steel, which had incurred a net loss of £81 million by 1999.
Then, nearly a year after the first meeting between Leng and Tata at Bombay House, the deal was clinched when both parties met in London early last month. On October 20, the $8 billion deal was made public and, in one sweet move, Tata Steel moved up from being the 56th largest steel company to the fifth.
A win-win for both?
From 56 to 5 is an impressive leap. Tata Steel, with a capacity of 5 million tonnes, was a minnow in the global steel business, where total capacities at the end of 2005 were 1.13 billion tonnes. The Corus deal catapaults it into the rarefied big league. From being India's steel major, the Tata Corus combine is now set to play the global game. In the steel industry, like in other commodity businesses, capacities and scale are the key factors determining global success and it is a fact that the top 15 steel producers-yes, that includes the Tata-Corus combine-account for a third of global capacities.
"The transformation of Tata Steel's business over the last decade into one of the lowest cost and most admired steel companies in the world is truly unique," says Jitesh Gadhia, Managing Director, ABN Amro Corporate Finance in London, who was among the advisors for Tata Steel for the Corus buyout. "Tata Steel was probably punching below its weight in terms of steel sector consolidation-now it has a seat at the top table."
But the Tata-Corus story isn't just about the numbers and size-incidentally, post-acquisition, the combine will have a turnover of $24 billion (Rs 1,10,400 crore) and ebitda of $3.4 billion (Rs 15,640 crore), dwarfing many large Indian companies-but also impacts manufacturing and access to clients. Corus' manufacturing facilities are spread across the UK, Ireland, Netherlands and the US. "The proposed union of these two companies has been built on a global strategy. Together, we plan to build a stronger and a bigger union in terms of the steel industry globally," B. Muthuraman, Managing Director, Tata Steel, told BT.
"It isn't efficient to be just European. This is a global industry; we have to respond-with passion, yes, but commercial passion"


Jim Leng
Chairman/Corus

"The proposed union
of these two companies
has been built on a global strategy. Together, we
plan to build a stronger
and a bigger union"
B. Muthuraman
MD/Tata Steel
In the UK, where Corus has over a 50 per cent share of the total steel market, it has four factories. It also has three factories in the US and one in the Netherlands. Tata Steel, besides its strong manufacturing base in India, has four overseas factories (which it acquired earlier) that are spread across Thailand and Singapore. Combined with Corus' presence in the US and Europe, the deal makes the global footprint for Tata Steel look compelling. Says Anshukant Taneja, Director (Corporate Ratings), Standard & Poor's (S&P) Singapore, "Tata Steel will move from being an Asian player to one that also operates in developed markets."
There is synergy too between the two companies' customer bases. Together, the two cover a spectrum that includes consumers in automotive, construction and packaging industries. The strategic fit, says Ratan Tata, is what made Tata Steel go for the deal. "If Corus had been a 5-million-tonne company and we felt that the strategic fit was right, I think we would still have done this deal; it's not to gain mere tonnage." Muthuraman adds that there is potential for adequate synergies in the areas of manufacturing, shared services, logistics and even cost reduction.
Following the buyout, Tata Steel will now have an installed capacity of 23 million tonnes, which places it above other established players like China's Baosteel. "The fact that Tata Steel is buying someone about five times its own size is not that important; what needs to be looked at is the kind of synergy that can be derived," points out Jitender Balakrishnan, Deputy Managing Director, IDBI Bank.
In sharp contrast to Tata Steel's low cost operations, Corus' cost of steel production is among the world's highest. But what may appear to be an apparent problem could actually be an advantage to the combined entity. A recent report from Macquarie Research says Corus' huge raw material costs is on account of the fact that only 6.5 million tonnes out of its total capacity is integrated. "Tata Steel can bring its large resource base in India to good use. It is adding crude steel capacity of 2.4 million tonnes in fy09 and 7.7 million tonnes in FY 10 and with India projected to have 20-25 million tonnes surplus capacity by 2011-12, Tata Steel needs a market for its increased production," says the report. In Muthuraman's own words, Tata Steel will adopt a six-point strategy-having a strong base in India, de-integration, raw material security, getting more out of steel, control over logistics and acquisition of finishing capacities in growth markets.
THE GLOBAL STEEL INDUSTRY CONSOLIDATES

Fragmented capacities are driving M&As in the global steel industry.
The international steel industry is consolidating. according to PricewaterhouseCoopers, in 2005, total M&A activity for steel globally stood at a massive $27.4 billion (Rs 1,26,040 crore), which comprised 165 deals. Importantly, a lot of this action is coming from the BRIC (Brazil, India, Russia and China). The International Iron and Steel Institute (IISI) predicts that the worldwide steel demand will grow by 9 per cent to 1.121 billion metric tonnes by the end of this year. "India and China are among the fastest growing markets in the world. That's where the growth will come from," says Ian Christmas, Secretary General, IISI. Agrees Yezdi Nagporewalla, National Industry Director, KPMG India, who says that large deals like that of Tata Steel-Corus will continue to be witnessed. "I think this trend will continue as corporates in India look for synergies and globalisation as a part of their strategy." In China, which prohibits foreign ownership in the steel industry, domestic M&A activity is picking up, albeit very slowly. Today, China has more than 800 domestic steel producers and the government has ordered smaller plants with legacy equipment to shut shop in an attempt to control the number of steelmakers.
Steel companies across the world, including large players, are also in the midst of adopting various methods to ward off the threat of hostile takeovers. The most obvious instance that comes to mind is Mittal Steel's hostile takeover of Arcelor. Recently, Nippon Steel and Posco have stated that they will spend around $1 billion (Rs 4,600 crore) to increase their stakes in each other to reduce the possibility of a hostile takeover.
Making the deal work
The real challenge for Tata Steel could well be the follow-through after the deal is concluded. Issues like cultural integration and dealing with the apprehension of workers at Corus' factories worldwide would have to be dealt with. In the UK and elsewhere, some have expressed qualms about a relatively small Indian company's ability to integrate a much larger global firm. Yet, in sharp contrast to the furore raised by L.N. Mittal's bid for Arcelor earlier this year, the Tatas have full backing of Corus' management. Says Leng, "It isn't efficient to be just European. This is a global industry; we have to respond-with passion, yes, but commercial passion. Frankly, who owns the shares is of secondary importance."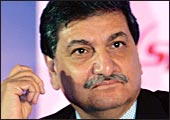 Hussain is the financial whiz at the Tata group and will get a place on the Corus board along with Tata, Muthuraman and Arun Gandhi
Ishaat Hussain
Executive Director/Tata Sons
It won't be a cakewalk to make the deal work. Back in India, Tata Steel has its hands full. There's a big project to expand capacity at its 95-year-old factory in Jamshedpur and at least three greenfield projects coming up at other locations in the country (see Tata Steel, 10 Years On). Add to that the challenge of integrating Corus with Tata Steel and it could all look quite daunting. Says S&P's Taneja, "Tata Steel's earlier acquisitions were much smaller in size and integrating them was much easier." Yet, its earlier deals-like Singapore's NatSteel, which it took over in February 2005 and Thailand's Millennium Steel, which it acquired in December 2005-may help like dress rehearsals do before the final show. "With Tata Steel's plans for its greenfield projects, the combined business would be around 40 million tonnes by 2011-12. This entity, I believe, which will combine the strengths of Tata Steel and Corus, will become a powerful force in the world of steel which today is increasingly consolidating," adds Muthuraman.
But things are not exactly hunky dory at Corus. Ever since the merger of Dutch company Koninklijke Hoogovens and British Steel to form Corus in 1999, the company's financial health has suffered. The merger wasn't smooth and by early 2003, Corus' stock market valuation had shrunk to $230 million (Rs 1,058 crore) from $6 billion (Rs 27,600 crore) in 1999. In response, Corus launched a programme called 'Restoring Success' in June 2003 aimed to deliver EBITDA benefits of £680 million (Rs 5,848 crore) per annum by the end of 2006. "Ninety per cent of the total targeted savings of £680 million have been achieved," says Varin.
TATA STEEL, 10 YEARS ON

Tata Steel plans to rapidly expand in India.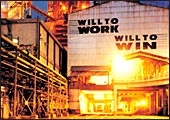 The future looks bright: And why not? Tata Steel will have 33 mi tin annual capacity in India alone by 2015-16
Before 2015 is over, Tata Steel will have 33 million tonnes in annual capacity in India alone. Given that it is at just 5 million tonnes at present, how does the company plan to ramp up capacity seven-fold in less than 10 years? By moving on several fronts simultaneously. For starters, the existing plant at Jamshedpur plans to double its capacity to 10 million tonnes. The first phase of expansion, where the capacity will increase to 7 million tonnes, is underway. Then, there are plans for greenfield projects. The biggest of them will be a 12-million TPA integrated steel plant also in Jharkhand. Once the statutory clearances are obtained, the first phase of 6 million TPA is expected to be completed in about five years. Project cost: Rs 40,000 crore.
Tata Steel has also outlined another investment of Rs 15,400 crore, which will go towards setting up a 6 million TPA integrated steel plant in Orissa. To be located in Kalinganagar, this project too will have two phases. As things stand, construction work on this project is expected to begin shortly. Another greenfield project in Chattisgarh will have a capacity of 5 million tonnes per annum. The Rs 10,000-crore project will have the first phase completed in about five years. This will also entail the development of captive iron ore mines to feed this plant. These three projects alone will require investments in excess of Rs 65,000 crore. It seems Tata Steel is making up for lost time with a vengeance.
Big-time leveraging
The other issue-and the one that has been most talked about-is that of financing. The Tata-Corus deal marks the single largest instance of leveraging. Tata will borrow $6 billion or Rs 27,600 crore (this includes the amount to refinance Corus' existing debt) to fund the acquisition. Yet investment bankers-and certainly those who advised the Tatas-don't seem to be worrying. Says ABN Amro's Gadhia, "Funding for strategically compelling transactions is always available and although Indian companies might often be smaller than their overseas competitors, their profitability is frequently superior." That probably holds true for Tata Steel and its much larger prey, Corus: Tata Steel's EBITDA margins have consistently been in the 30-35 per cent range, while Corus' have been at best at 10 per cent.
Macquarie's report points out that Tata Steel is "cash rich" thanks to $0.6 billion (Rs 2,760 crore) raised through a preferential offering to its promoters and cash in hand at $0.5 billion (Rs 2,300 crore) which is in addition to expected cash earnings for the current year of $0.6 billion, making for a total of $1.7 billion (Rs 7,820 crore). Besides, if needed Tata, who manages his group like a confederation, can also unlock Tata Steel's investments in other group companies. For instance, the value of Tata Steel's holdings in other Tata Group companies like Tata Motors and Tata Power is more than Rs 3,000 crore.
The Tata-Corus deal has been struck at a time when the global steel industry is booming. What happens if there's a downturn? "Steel prices are expected to be stable in the near to medium term, since there is strong demand. Even if prices do fall, we do not expect either of the companies to make losses," says Shriram Iyer, Head (Research), Edelweiss Securities. Then there are those who are sceptical about the Tata-Corus combine getting benefits of Tata Steel's cost advantages. A Merrill Lynch report says Tata Steel may have to wait till 2010 when its first phase of a new factory at Orissa is commissioned before it could hope to get any significant cost advantage.
Big global M&A deals can run into hitches and, although everything looks good thus far, that could be true for Tata-Corus as well. There is, for instance, the possibility of counter bids from other global steel firms. Besides, Tata Steel, in which the promoter group has a 30.26 per cent shareholding at the end of September 30, 2006, could itself be a takeover target. But, for the moment, as Ratan Tata applies the finishing touches to what is unarguably an Indian company's largest overseas acquisition, Tata Steel has found its place in the sun.
additional reporting by Ritwik Mukherjee