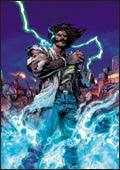 Move over, Spide-Man: A character from Virgin Comics' Devi comics
The summer of 2007 will witness three big Hollywood superhero releases-Spider-Man 3, Fantastic Four 2 and the Nicholas Cage-starrer Ghost Rider. But this time around, the lycra-clad web-crawler and The Thing may have to face off with competition of a celestial kind. The pantheon of Indian mythological gods, including Ganesha, Hanuman, Buddha and Krishna, are all set to engage in battle with the masked supermen from Hollywood-all for a piece of the entertainment action pie.
The gods are likely to grace the silver screen, the idiot box, comic books and merchandise like T-shirts, coffee mugs, and key chains like never before. On the anvil are entertainment projects worth nearly Rs 1,000 crore-from a $120-million epic Hollywood biopic on Gautam Buddha, to ambitious mega-budget Bollywood movies and comics based on the Ramayana, Mahabharata and other timeless Indian tales (see Limelight Gods).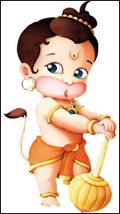 A Giant Leap
Hindu mythology has it that when Rama's scouts were feeling disheartened at the impossible prospect of crossing the vast ocean, Hanuman leapt across to Lanka in a single jump. The movie Hanuman did something similar for the Indian mythological genre (see Box Office Devotion). The 100-minute movie was a leap of faith and revived the mythological movie genre, which was as defunct as the silent movie. "Hanuman was a milestone for Indian cinema," says Mahesh Ramanathan, Chief Operating Officer, Percept Picture Company, which co-produced the movie with Sahara One Motion Picture. "The movie played across 200 screens in the country-a record of sorts for any animation movie in India," says Ramanathan. The movie was produced at a paltry budget of Rs 6 crore with 2D animation, but raked in more than Rs 15 crore at the box office. The movie garnered Rs 1.5 crore in the first three days of its release, the first animation movie to do so in India. By its third week, box office collections had swelled to Rs 7 crore-Mumbai alone clocked Rs 3.5 crore.
The success of Hanuman has inspired others to make animation movies that deal with mythological themes. A sequel to Hanuman is slated for release during Diwali next year. Krishna, India's first full-length 3D animation movie, was released last month. Produced by Shethia Audio Video, Krishna opened to tepid responses across the country. But that has not dissuaded film-makers who are coming up with at least two more animated versions of Krishna, including a sequel to the recently released movie.
LIMELIGHT GODS

It's time out with the gods as the mythological entertainment market swells to nearly Rs 1,000 crore. Mega budget movies, animation films and comics based on Indian mythology are all on the anvil.
FEATURE FILMS


Market size: Rs 750 crore
Trailblazer: Raja Harischandra (1913), India's first film by Dada Saheb Phalke
On the anvil: B.K. Modi's $120-million (Rs 552-crore)
Hollywood epic Buddha, Raj Kumar Santoshi's Rs 100-crore Ramayan (unconfirmed)
Bobby Bedi's Rs 120-crore Mahabharata (unconfirmed)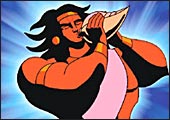 ANIMATION MOVIES AND TV SERIALS
Market size: Rs 100 crore
Trailblazer: Japanese film-maker Yugo Sako's Ramayana: The Legend of Prince Rama (1992),
On the anvil: Hanuman 2, B.R. Chopra's Krishna, Om Ganesha, Krishna 2 and Lava Kusha. Sahara One is likely to announce projects based on mythological themes
TV SERIALS (CARTOON/ FEATURE)
Market size: Rs 60 crore
Trailblazer: Sagar Arts' Vikram Aur Vetal, Ramayan
On the anvil: Geet Mahabharat (Cartoon series from Toonz animation)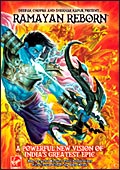 COMICS
Market size: Rs 60 crore
Trailblazer: Chandamama (1947), Amar Chitra Katha (1967)
On the anvil: Virgin Comics launch of Ramayana, Devi
Producers say that the demand for mythology-based animation movies is on the upswing. "Initially, we were planning to release 40-50 prints of Krishna across a few centres. But after seeing the demand from the distributors, we scaled up the prints to 150, despite the demand being there for 250 prints," says Amit Chedda, Director, Shethia Audio Video. The booming market in mythological animation movies has also caught the eye of Kuala Lumpur-based NRI film-makers Sharad and Renu Sharan, who plan to make a jumbo-sized 3D animation movie called Om Ganesha. The 90-minute movie, budgeted at Rs 20 crore (including marketing expenses), will be dubbed in 12 languages and 500 prints will be released across the country in late 2007.
It's not just animation movies that are adapting Indian mythological themes for storytelling. Mythological stories are also being embraced by companies to make new-age comics, feature films and video games. US-based Virgin Comics has roped in filmmaker Shekhar Kapur and self-help guru Deepak Chopra to produce Indian mythology-based comics for worldwide audiences. "To date, we have released four comics in the us-Shekhar Kapur's Devi, The Sadhu, Snake Woman and Deepak Chopra and Shekhar Kapur's Ramayan 3392AD," says Sharad Devarajan, CEO, Virgin Comics. Virgin plans to extend mythological themes beyond just the comic book format. Says Devarajan: "We look at comics as our 'R&D' laboratory where we can incubate the concept, story and characters and then, like other character entertainment companies such as Marvel Comics, we intend to aggressively move our characters into the realm of games, feature films, animations and merchandising." Virgin has also just announced an animation project called Secret of the Seven Sounds, a full-length animated feature for kids, inspired by the Ramayana. "We also have a mobile gaming relationship with a leading Indian mobile game developer to create and launch a series of games based on our comics," adds Devarajan.
Parlez-vous Anglais, Ravana?
Despite all the interest in Indian mythology, would grandma stories about the exploits of Indian gods interest western audiences used to action-oriented caped crusaders like Spider-Man, Batman? Here's an interesting statistic to chew on-Hanuman had an unimpressive two-week box office run in the UK. But 20,000 DVDs of Hanuman were sold in the UK. "We released Hanuman in the UK only to prime up the UK home video market and that worked because of the large NRI population, which wants to buy these DVDs as gifts for their children," says Percept's Ramanathan. Another pointer towards the marketability of mythological content is the extraordinary success of serials like Ramanand Sagar's Ramayan. The 78-episode long television serial was telecast across five continents, including countries like the US, the UK, Canada, Trinidad, Surinam, Thailand, Indonesia, Nepal, South Africa and Kenya-countries with sizeable Indian diaspora.
HOW THE MOVIE HANUMAN WAS MARKETED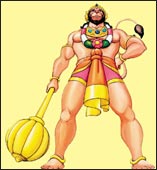 Here's a short quiz. Which movie clocked maximum VCDs sales in India last year? It was not Rang De Basanti or Dus. The answer-Hanuman, which clocked about 250,000 VCDs. Rang De Basanti recently overtook Hanuman with sales of more than 300,000 VCDs, but Hanuman's achievement is still extraordinary for an animation movie in India.
A lot of this success can be attributed to nifty marketing ploys that its producers used. The producers decided to weave their marketing strategy around one focal point-Baby Hanuman. "We decided to reach out to our primary audience-kids-with somebody as old as them. That's how Baby Hanuman came about. After that, we flooded the market with merchandise like tee shirts and soft toys," says Sharang Sharma, Business Head, Sahara One Motion Pictures, which co-produced Hanuman. The producers also roped in Broadmind Entertainment to drum up ground level promotions for the movie.
"We also connected with 500 schools across the 17 key markets where we organised games with trivia about Hanuman for kids. Kids who won got Hanuman tee shits, masks, gadas and other merchandise," says Navin Shah, former head of Broadmind Entertainment. He now heads P9 Integrated, which will handle promotions for Hanuman2. Hanuman sold Rs 2.5 crore worth of merchandise. "We beat Spider-Man's merchandise sales record in India. Yet, we have a long way to go because in Hollywood, 30-35 per cent of total receipts is from merchandising," adds Shah.
The merchandising and other opportunities are not lost on Prem Sagar, who heads Sagar Arts and is son of late Ramanand Sagar-the maker of Ramayan. Sagar says he is spending nearly Rs 4 crore on digitising and re-editing Ramayan. "A shorter and crisper version of the original is being made for the Colaba guy," quips Sagar, referring to the up-market area in Mumbai. From making blockbuster movies like Charas (1976) to serials about immortal bliss, the Sagars have come a long way. According to the Limca Book of Records, the 78-episode TV serial Ramayan, with repeat telecasts on 20 different channels in 17 countries on all five continents, has been aired for over 2,000 hours. The serial has been viewed by over 650 million people worldwide, according to BBC.
The Sagars are also working on a theme park based on Hindu mythology called Sagar World. "When ready, the park will feature scenes from the Ramayana. There will be touch-screen quizzes for kids and rides based on mythology," says Sagar. Work has already begun on the park, which will be located at Haridwar.
Padmini Mirchandani, the publishing director of India Book House, which publishes Amar Chitra Katha comics, says that about 10 per cent of the comics' total sales of 30 lakh copies happen overseas. "We have got distributors in countries like the US, the UK, Malaysia, Indonesia and are receiving strong enquiries from new markets like Australia, where there is a sizeable NRI population," says Mirchandani.
The moot question is, 'Is there a market beyond NRI audience for Indian mythological content?' "Absolutely," contends Devarajan. "I think the American audience has an appetite for something new and different. If you told a parent 10 years ago their child would know Pokemon or Yu-Gi-Oh! over a Spider-Man, they would have thought you were crazy. Yet today, an estimated 30 per cent of animated programming in the us is based on Japanese and Asian content." Virgin also plans to push their comics with an Asian launch in Singapore, Malaysia, Indonesia and Thailand later this year. The comics will also be translated into French, Italian, Spanish and launched in Europe and Latin America by early 2007.
BOX OFFICE DEVOTION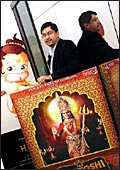 Old film in new avatar: Ramanathan is hopeful of fecovering the production cost
Is mythology losing audience in urban India? 1975 was a defining year for Hindi cinema. It was the year India's blockbuster epic Sholay was released. But it did not set the box office on fire immediately. For nearly a month after that, Sholay trailed an unlikely contender called Jai Santoshi Maa.
Tackily made with oodles of melodrama, Jai Santoshi Maa ended up grossing Rs 62 crore-a phenomenal box office collection those days. Jai Santoshi Ma was definitely not the first movie which got its audience down on the floors. In fact, rural audiences of India's first movie Raja Harischandra (April 1913) too prostrated. The movie based on a fable from the Mahabharata was directed by Dadasaheb Phalke, the father of Indian cinema.
Dadasaheb Phalke went on to make nearly a hundred more movies, most of which were based on Hindu mythology, over the next two decades. These included Kaalia Mardhan (1919), Lanka Dahan (1919), Birth of Shree Krishna (1918), Shishupal Vadha (1923), Ashwatthama (1924), Guru Dronacharya (1924) and Ram Ravan Yuddha (1924). The genre started losing steam by the late 40's as movies based on 'social' themes began to gain ground. By the late 50's, movies based on religious themes were almost dead and gone.
So when Percept Pictures Company decided to remake Jai Santoshi Maa, industry watchers scoffed. "The failure of movies like Jai Santoshi Maa proves one thing-content is king. People are tired of watching mythological themes because there is too much of it on TV," says trade analyst Taran Adarash. But Percept Pictures COO Mahesh Ramanathan says that the movie is fulfilling its objectives. "As we expected Jai Santoshi Ma is not doing well in urban multiplex centres. But we did a simultaneous release in 150 screens across the country of which 80 per cent are in small towns. The movie has done well in small towns like Narpur, Udgir, Panipat, which receive prints of latest Bollywood releases only after 2-3 weeks," says Ramanathan, even as he adds that film analysts do not track towns like these.
Others believe that the very appeal of Indian mythology lies in its universality. "Buddha was the first globally renowned Indian. Buddha's message of universal love will appeal to one and all," says Beverly Hills-based veteran industrialist and Chairman of MCorp Global B.K. Modi, who is planning to make a biopic on Gautam Buddha. Modi plans to shell out $20 million of the proposed $120-million budget, and the rest will come from distributors and banks.
"We want to make it on an epic scale like Ben Hur, Gladiator, and Ten Commandments. At this point of time, we are looking at a global release by 2008. That's not just about making the movie. It's about releasing the movie across 8,000 theaters in the world," adds Modi, who has roped in Hollywood producer Michel Shane, the executive Producer of Hollywood blockbusters like the sci-fi hit I, Robot and Catch Me If You Can.
God's Own Country
Back home, mythology and entertainment go back a long way (see Box Office Devotion). India's first movie, Raja Harischandra (1913), was based on a fable from the Mahabharata. India's most viewed serial ever was a mythological (Sagar Arts' Ramayan). The Mahatma (Gandhi) himself, who was known to despise cinema, saw portions of a movie, Rama Rajya. But over the past decade, mythological themes have not been very popular either on television or on the silver screen. "Mythology-based serials have always been popular in India. But over the past couple of years, there has been an overdose of religious programming. The audience is getting saturated," says Ashish Kaul, Senior VP, Zee Networks.
As a result, with the exception of top-rated mythological programme, Sagar Arts' Sai Baba, none of the other serials has been able to gain any great momentum (see Who's Watching?). On the other hand, animated mythological content has been doing well on television. According to Cartoon Network, which has aired nearly a dozen mythological movies and serials, movies like Ramayan: The Legend of Prince Ram have rated an average of 2.5 tvrs (television rating) in all its airings in All Kids and a 3.0 TVR in SEC AB (over 2004 and 2005).
The Indian comic industry is also making a comeback after the bloodbaths of the 80's when publications like Indrajaal fell by the wayside. According to industry watchers, Indian comics industry is worth Rs 90-100 crore. Of this, nearly Rs 55-60 crore worth of comics are of mythological content. Says Amar Chitra Katha's Padmini Mirchandani: "Our sales are growing at 20 per cent annually. The growth is so much that we are finding it difficult to keep abreast of the demand. We sell about 2.5 lakh copies a month." IBH has a market share of about 30-35 per cent and has published 450 Amar Chitra Katha titles, of which approximately 60 per cent are based on mythology.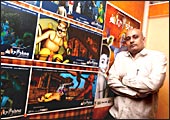 Screen devotion: Amit Chedda, director, Shethia Audio Video, sees a booming market for mythological animation films
Virgin Comics, too, sees a good business opportunity in the Indian market and plans to launch its comics in late October at a price range of Rs 15-35, a tad below Amar Chitra Katha titles, which are priced at Rs 35. "In India, unfortunately, the level of art and story remained in the past and did not evolve to cater to today's kids, who were being exposed to international levels of production quality," says Virgin Comics' Devarajan. "In fact, Amar Chitra Katha and others are just reprints of the same Indian comics from decades ago and they expect them to appeal to today's kids...even timeless characters such as Spider-Man and Superman evolve every year for a new generation," says Devarajan. Virgin has set up a centre in Bangalore that employs a hundred artists who are churning out comics.
That's another big question Indian content creators are trying to address. "The key thing about animating mythological content is to keep the storyline as simple as possible. Our mythological stories tend to be very complex," says P. Jayakumar, CEO, Toonz Animation. "The cultural and local sensitivities also have to be taken into account while adapting mythological stories. This proves to be a drawback when we try to sell the show in the overseas market. We constantly walk a tightrope trying to create a universal product," he adds.
Bollywood is also planning to jump into the fray by making Indian mythology's greatest epics-Ramayana and Mahabharata-into films. Veteran film-maker Rajkumar Santoshi has plans to make a Rs 100-crore Ramayana, while Bobby Bedi (of Bandit Queen fame) is reportedly exploring the idea of making a movie based on the Mahabharata for another Rs 120 crore. Clearly, one is going to hear and see a lot more of Indian gods and goddesses in the near future. The million dollar question is, will these big-budget projects work? Fittingly enough, that's a question only the gods can answer.