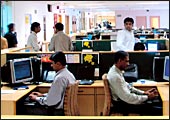 RANK
2
TCS
Another stellar show: TCS holds on to its last year's ranking
Nandan Mohan Nilekani, CEO, infosys Technologies, is fond of pointing out how it took his it company 23 years to hit $1 billion in revenues, but only 23 months to rack up the next $1 billion, and how Infosys will top the $3-billion-revenue mark in just 12 months-that is, by the end of this fiscal. It's the sort of growth most CEOs would give an arm and a leg for, but if Nilekani, 51, isn't getting complacent over Infy's giddy growth, it's because his two other big competitors-Tata Consultancy Services (TCS) and Wipro-are clipping too. When the soaps-to-software company Wipro announced its results for the quarter ended September 30, 2006, it reported a 46 per cent jump in profits and a 41 per cent hike in revenues. TCS too beat Dalal Street expectations, clocking about 43 per cent increase in both revenues and net profit.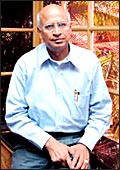 The company's ability to cross-sell a number of services means that the number of its customers has increased in every band of spend
S. Ramadorai
CEO, TCS
The troika's numbers, received with euphoria by the stock markets, tell an important story about them. If last year (2005-06) was when TCS, Infy and Wipro broke away from India's it pack to emerge as the clear leaders, then this year they may have hit a higher gear, which will further propel them away from the others, closer to their global rivals. "We have created a business model that is faster, better, cheaper and more innovative than (those of) legacy companies in the industry... We have been able to demonstrate a compelling value proposition to our clients," Nilekani told the media soon after he announced the q2 results. (Infosys' top management declined to comment for this article, citing an impending secondary ADR offering.)
Coming of Age
In an industry dominated by long-established multinational vendors such as IBM, Accenture, EDs and hp, the big three Indian vendors have defined a whole new paradigm, providing not just cheap, but also high-quality it services to global customers. "India is becoming a premier destination for offshoring and customer confidence in sending large portions of work offshore is increasing," says Wipro's Chief Strategy Officer, Sudip Nandy.
While the $2.2-billion ABN Amro deal of last year-where work was unbundled and given away to Infosy, TCS, and IBM-may have been the single event that put Indian it vendors on the same pedestal as IBM, the dynamics of operating in a 'flat world' have only increased the focus on the rapid growth of these companies. "The use of global talent and vendors helps companies squeeze value out of their it investments and we see significant reliance on Indian vendors to help streamline it operations," says Atul Vasishtha, CEO, global sourcing advisory NEOIT. Moreover, he adds, as it is being critically looked at as an integrator of globally dispersed business functions, the value that Indian vendors can add to this process will be critical to their success.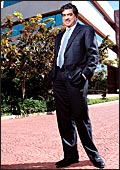 RANK
3
Infosys
"We have created a business model that is faster, better, cheaper and more innovative than those of legacy companies in the industry"
Nandan Nilekan

CEO, Infosys
As recently as two years ago, questions were being raised about the Indian it players' ability to sustain their pace of growth. MNC competitors such as IBM, Accenture and EDs were (and still are) ramping up their India base. Analysts had then said that this would erode the cost advantage that Indian players have long enjoyed. IBM in India today employs close to 45,000 people, Accenture around 20,000 and EDs acquired Mphasis this year to boost its India numbers to around 15,000. As Nilekani, in a post-results earnings call to analysts, pointed out, "The fact that we are growing at 40 per cent this year clearly demonstrates that legacy players may come, but it doesn't impact our fundamental competitive position, our brand, our recruitment strengths."
There has also been a lot of talk about a slowdown in the US and that affecting India it vendors. In fact, George F. Colony, Chairman and CEO of research firm Forrester, told BT recently that he expects it spend in the us to slow down from the current year's 8 per cent growth to just around 3-4 per cent next year. But Indian players say, Colony added, that because of their disruptive business model, they are actually benefiting from this. S. Mahalingam of TCS, however, says that contrary to reports of a slowdown, global CIOs are spending more on new programmes in addition to the support. "(Also) there is a huge demand from our existing client base," he says. "One can see that all our top customers have grown and you can see the number of customers increasing in every band (of spend); 10 million, 20 million, 50 million. It is primarily happening due to our ability to cross-sell a number of services."
A key reason for the bullishness of both industry and investors is the sheer size of the market (according to technology research agency Gartner, the global market for outsourcing is worth $624 billion, with barely 3 per cent tapped by Indian vendors) and the sheer value proposition offered by the industry. Specifically, there's still a good 30 per cent-plus cost arbitrage that is available to the offshorers. "There is a long way to go before this market gets saturated," says Gartner's Vice President, Partha Iyengar.
The Twin Bogey
Apart from their sterling results, guess what came centre stage at the announcements of Q2 results by Infosy and Wipro? Bangalore's crumbling infrastructure. At Infosys, several of its senior executives had to stay back as late as 10:30 p.m. on the day the results were announced, and some had even slept over in the guest house on the campus the previous night. As for Wipro, "Poor infrastructure affects efficiency and it's an issue the government will have to rapidly address," Chairman Azim Premji said on October 18, when Wipro announced its second quarter numbers. But, as the industry is discovering, poor infrastructure is a problem across Indian cities. At Pune, where Wipro has acquired 60 acres of land, the airport, loaned from the Air Force, has already run out of space, while the new airport at Mysore is yet to get off the ground. Elsewhere, an expressway connecting the tech hub of Bangalore to the town of Mysore has been stuck in litigation, while the doubling of the existing highway is yet to be completed. There are problems with Tamil Nadu (Chennai) and Kerala (Trivandrum) too.

Shortage of skilled people is another of the industry's worries. Nasscom's Sunil Mehta estimates that barely 15 per cent of the engineering graduates are employable. While the IT/ITeS industry is expected to employ some 1.3 million people by the end of this fiscal, it is estimated that another 1 million more will be required over the next three years. The demand for "employable" people is evident in the pace of training at Infosys Leadership Institute, which can train up to 4,500 persons at once. When fully commissioned in May 2007, this palm-fringed campus will be able to train more than 30,000 recruits, Infy's Mohan Das Pai told this magazine in Mysore recently. Clearly, a colossal problem needs a colossal solution.
IT's Emerging Opportunities
As Indian companies move up the technology value chain, they are moving away from their traditional strongholds of software development and maintenance to emerging opportunities such as engineering services, remote infrastructure maintenance and knowledge process outsourcing. According to a recent study conducted by consulting giant Booz Allen Hamilton, spending on engineering services ($750 billion in 2004) is projected to increase to $1.1 trillion by 2020. The market is highly fragmented by industry, with automotive at 19 per cent, aerospace at 8 per cent and utilities at 3 per cent in 2004. High-tech/telecom is the dominant and fastest growing sector, with 30 per cent of the market. While today only $10-15 billion of engineering services is offshored, the market is expected to grow to $150-225 billion by 2020. India's current revenue base in the offshored engineering services market is about $1.5 billion-relatively small, compared to its IT and BPO revenues. The study also found that India is well-positioned to increase its market share of engineering offshoring from 12 per cent to 30 per cent by 2020.

Meanwhile, industry analysts also feel that IT infrastructure maintenance offers another large opportunity (pegged at $126 billion globally) for Indian vendors. According to estimates from technology research agency, Forrester Research, mainframe-related outsourcing is a $29-billion market, network-related outsourcing $7 billion, while the desktop outsourcing market is worth $18 billion. It's not just on the IT services, where new opportunities beckon Indian vendors. In the BPO market too, companies are now looking beyond the conventional call centre and back office market into the higher-value knowledge process outsourcing space. According to research from UK-based RoCSearch, the KPO market in India may reach a size of $5 billion by 2010. KPO covers everything from outsourced legal work to data analytics and this market is growing at an estimated 15-20 per cent annually. "As of now, these are just projections. Indian companies will have to build scale in these areas," says Alok Shende, Director, IT Practice, Frost & Sullivan.
THE PROS & CONS

Opportunities for Indian IT are plenty, but so are challenges.
Pros
» The offshore delivery model is by now tried and tested, and competencies have deepened
» Scale and, hence, cost advantage continues to be significant enough for global offshorers.
» Players are beginning to cross-sell products and services, and offering an integrated services model

Cons
» Infrastructure problems and growing wage bills, partly due to supply constraints, are potential pitfalls
» There's overemphasis on India shoring rather than best shoring. Organic growth is still preferred over acquisitions.
» MNC rivals are ramping up India operations, and there are other low-cost countries emerging as challengers
Cost arbitrage aside, Indian companies have begun to re-engineer their businesses to move away from lower-end application testing and maintenance tasks to higher-value application development and even consulting roles. "Our consultancy group has evolved by building industry domain competency, front-ending large deals by creating integrated business-it solution package for customers and at the same time, creating beachhead for consulting assignments across eight verticals," says Wipro's Nandy. "Our endeavour is to build on these successes and drive the business for further growth."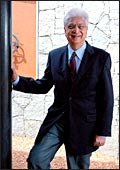 RANK
5
Wipro
Despite clocking 46 per cent jump in profits in Q2, Premji feels Bangalore's poor infrastructure is affecting productivity and efficiency
Azim Premji

Chairman, Wipro
Simultaneously, the it troika is expanding its basket of offerings by entering (and rapidly expanding) into emerging opportunities such as engineering services, remote infrastructure maintenance and knowledge process outsourcing (see it's Emerging Opportunities). "More than 40 per cent of our revenues are coming from services we have added in the last 4-5 years," Nilekani told the media. The country's largest it company, TCS, has also made rapid progress in the engineering services market, notching up revenues in excess of Rs 960 crore-a 62 per cent annual growth for the last couple of years. "We see a fair success rate in increasing global presence and gaining competencies in higher-value services through the inorganic growth route," says NEOIT's Vashishtha. "Clients have started to look at components of their it requirements as a diverse portfolio-similar to personal investment approach. Leveraging global talent pool, global vendor competencies, ownership models and delivery locations tie very closely to this portfolio approach," he adds.
The Speed Breakers
Despite the positive sentiment and rapid growth witnessed by the Indian it industry, infrastructure and human resources continue to remain two very visible pain points for industry executives. The shortage of skilled manpower is another thing that could spoil the industry's party (See The Twin Bogey). For instance, Infy's Pai recently pointed out that the industry would need to spend some $2.3 billion over the next three years to train a million people. "It is becoming clear that the supply of skilled it labour is not unlimited and that (companies) are already scratching the bottom of the barrel," says Forrester's Colony.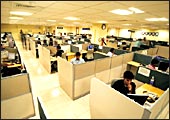 The IT troika is expanding its

basket of offerings

by entering into emerging markets such as engineering services and knowledge process outsourcing
According to Gartner's Iyengar, companies today face this shortage because their current business model focuses on hiring thousands of engineers to undertake relatively lower-end application support tasks. "Companies need to increase the value per employee rather than just hire thousands of bodies for the same kind of jobs," he contends, adding that the introduction of technology and automation could make many of these low-end testing tasks redundant.
Despite Indian vendors' turbo-charged growth, global competitors are catching up. Players such as Capgemini (following its recent acquisition of Kanbay) and Logicacmg have expanded rapidly in India. But given the valuations that the stock markets have bestowed on India's it Troika, investors clearly expect them to manage the issue as smoothly as they have managed to reinvent the IT services business model.