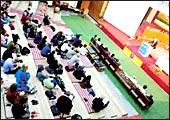 Getting connected: The summit did make a point, but left a lot to be desired
OCTOBER 23-25, 2006
McLeodganj, Dharamshala, Naddi, Himachal Pradesh
Nestled in the shadow of the 7,000 metre-plus Dhauladhar range, McLeodganj would seem the strangest place to hold a summit of any kind. But AirJaldi, which sold itself as the "World's Highest Wireless Conference", wanted to be different. Wireless? In McLeodganj? A place more famous as the residence of the Dalai Lama and for attracting hordes of pro-Tibetan Hollywood stars. Surprisingly enough, the McLeodganj-Dharamshala area of Kangra district in Himachal Pradesh is one of the few wide-area wireless mesh networks providing broadband access to some of the most inhospitable terrain in the world. This idea was the brainchild of a one-time Israeli army Major Yahel Ben-David, a long-time 'Free Tibet' activist, who has made a second home in these hills. "The reason we started this network was that there was no reliable way of connecting these people to the world," says Ben-David.
Internet services before the AirJaldi network started up were patchy and available only in major population centres such as McLeodganj. Within days of the government allowing outdoor wireless connectivity, the Dharamshala wireless mesh was underway. Today, the mesh provides access to over 50 different offices of the Tibetan government-in-exile and its ancillaries. And they have done this in terrain that reaches up to 10,000 feet through deep gorges and oppressive weather. And as Phuntsok Dorjee of the Tibetan Technology Centre, the organisation that installed and maintains the service, points out, this was done by a team of only three (now four) people working on weekends. "And we have to face lightning strikes and monkeys, who for some reason like chewing on routers," he laughs.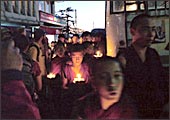 Wi-Fi takes a backseat: Tibetan monks holding a candlelight procession against Chinese oppression
Given this backdrop, maybe holding a wireless connectivity summit at this (very cold) location was not a bad idea. The problem was how could the summit steer clear of the obvious political connotations? Well, the answer was to not even try. The Hermann Gmeiner (remember the Brad Pitt-starrer Seven Years in Tibet?) Hall at the Tibetan Children's Village at Naddi, a short trek from McLeodganj, was the venue for the summit, and the audience seemed full of do-gooders with a tremendous understanding of technology, but for whom the terms 'capitalism' and 'commercial viability' were dirty words. After all, this was all about 'community networks', a euphemism for 'free'.
Thankfully, The Dalai Lama recognised that this is not the case and while he could not come himself to the summit, his letter to the summit made that point. "By itself, the internet cannot feed the poor, defend the oppressed or protect those subject to natural disasters. But by keeping us informed, it can allow those of us who have the opportunity to give whatever help we can," he wrote.
However, if one went to the summit expecting to get answers about technology and viability, which is what a lot of local Indian delegates like Ashish Soni, a Visakhapatam-based entrepreneur, had gone to get, there were no answers. "I wanted to discuss the feasibility of running a Wireless Internet Service Provider (wisp). Would people pay for such a service, what has been the experience across the world?" he said. However, he did admit that the summit had brought him in contact with some people from across the world who do have solutions. Yet, he felt the conference should have touched on legal and regulatory issues.
Spread the word: (left) Ben-David and Dorjee (in white tee), and Richard Stallman, who was advocating the virtues of free software at the summit
Other local delegates felt that using Wi-Fi connectivity as the solution was not the answer in India, where mobile networks (from competing networks) have reached every nook and cranny of the country. This correspondent had almost constant mobile access. Sherrin Issac John, a South African delegate, believes that this opinion was missing the point. "There are different horses for different courses, and while next-generation mobile networks in a densely-populated country like India could feasibly provide high-data rates, in isolated pockets, and sparsely populated areas like Africa, Wi-Fi can play a big role."
David Hughes, a retired us Army Colonel, was one of the few delegates who realised that any wireless network has to be viable. "If it is not, it will not survive. However, if you can teach local people the ways and means of operating such a network, they can make money out of it, even if it is a community network," he said. "Bandwidth can be cheap, but not free. But in areas which are underserved or don't have broadband at all, a wireless mesh network is the fastest and cheapest way to spread broadband access," he added.
The summit promised much in the way of hyperbole, but delivered little in the way of new knowledge. Local Tibetans admitted that the wireless mesh network had provided them a new means of getting stories of 'Chinese aggression' out faster, 'community wireless' was a means of expression over here. At the close of the second day, back in McLeodganj, a candlelight march was held by the Tibetans to protest against the Chinese. There were a lot of foreigners in the crowd, including several delegates. As this correspondent saw it, politics and technology go side-by-side in this community of exiles.