MADHUKAR KAMATH AND RAJEEV AGARWAL: Doing what's closest of their hearts
One's going back to where he came from and the other is picking up where the former left off. We are talking about Madhukar Kamath and Rajeev Agarwal, who takes over as the CEO of Bates India-a job that Kamath is leaving to return to Mudra Communications as the successor to the agency's founder and his mentor, A.G. Krishnamurthy. "It's an agency close to my heart and the new appointment is something I really aspired to," gushes Kamath, 50, whose single-point agenda apparently is to put Mudra in the top-five league. The younger Agarwal (he's 45), who quit O&M subsidiary RMG David in October last year, plans to do something equally ambitious. "My job is to break new grounds," he says. All the best, gentlemen.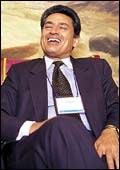 RAJAT GUPTA: End of a brilliant innings
Rise, People
After three, three-year record-breaking terms as the head honcho of the world's best-known consulting firm, Rajat Gupta will step down on June 30. We think a standing ovation is in order. Not only was the IIT-Delhi and Harvard Business School alum the only foreign-born partner to head McKinsey, but he also almost trebled the firm's revenue from $1.2 billion in 1993 to $3.4 billion in 2002, and took it to key emerging markets like India and China. Gupta may not have got a fourth term at the office, but the fact that some of Corporate America's recent failures-Enron and Kmart, for example-had a McKinsey link made that a certainty. Gupta's departure from the firm is unlikely to change one thing: his hardselling of India.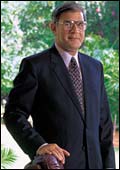 SURESH KRISHNA: New horizon
Going Global
After Ranbaxy, it is the Chennai-based Sundram Fasteners' turn to take a shot at becoming an Indian multinational. Last fortnight, its low-key CEO Suresh Krishna-a scion of the TVS Group-announced plans of setting up a $5-million (Rs 23.8 crore) subsidiary in China to cater to the mainland and then Taiwan and Korea. Sundram Fasteners is already one of General Motors prized suppliers. And China could well be Krishna's first stop on the global circuit.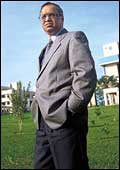 SUNITA NARAIN: Raising a ruckus
The Guru
How many businessmen can claim that when they are on a roadshow to sell their company's products, the Prime Minister of the host nation not only drops in to say hello, but actually ends up appointing you as his advisor? As it turns out, only one. N.R. Narayana Murthy, Chairman and Chief Mentor of Infosys Technologies, who has been made the IT advisor to Thailand's Prime Minister Thaksin Shinwatra. Apparently, Thaksin is so impressed with Murthy's achievement that he now wants his help in developing Thailand into an information technology powerhouse. For Murthy, ever willing to espouse industry and non-industry causes, this must be a big feather in the cap.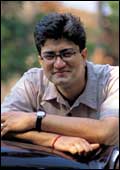 PRASOON JOSHI: Going great guns
Next Stop: Cannes
I think they should have the creative person, rather than copywriter of the year award," gushes 33-year-old National Creative Director of McCann-Erickson India, Prasoon Joshi, adjudged 'Copywriter of the Year' at the just concluded Advertising Agencies Association of India's (3As of I) Triple A Awards for his work on yes, Coca-Cola, but also Chlormint, and Heal Foundation, among others. It was a kind of double-win for Joshi, what with his ''Thanda Matlab Coca-Cola'' campaign bagging the 'Campaign of the Year' award for McCann. For the young gun, who has won domestic awards in Abby, RAPA, or various ad clubs, virtually by the dozens, the coveted stuff will of course be a Cannes Lion, preferably gold for television work, something that India has never bagged before. Carry on, Mr Joshi.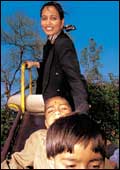 YAMINI KUMAR: All for a noble cause
Atta Girl
It wasn't a difficult decision for Yamini Kumar when she was asked in January 1999, whether she would like to establish and head the Indian branch of GE Elfun, a volunteer group comprising its employees and retirees. As her social worker mother's frequent companion to the slums in south Delhi, Kumar's job was probably preordained. In the last four years, the 30-year-old LSE grad has championed the cause of Elfun (conceived in 1928 as the Electrical Fund to manage investments of senior executives and converted into a philanthropic arm in the mid-eighties) in India, partnering with NGOs for primary education, blood-donation drives and aids prevention. Her stellar work has won her a seat on Elfun's global board, as the Asia-Pacific Director. Says she: ''Unfortunately in India, you ask someone for Rs 200 for charity and pat comes the money; you ask for two hours of their time and it's a different story.'' Are you listening?