Raising the expected Rs 8,000 crore from the services sector in 2003-04 will likely prove near-impossible. Why? Because the definitions of the new categories to be taxed are so broad and ambiguous that most experts think the government will likely spend the coming fiscal fighting court cases rather than counting money.
Take, for instance, the first new item on the snip-list, the rather vague-sounding ''business auxiliary services''. While the Finance Bill 2003 does spell out what such services include (promotion or marketing or sale of goods produced or provided by or belonging to the client; any incidental or auxiliary support service such as billing, collection or recovery of cheques, accounts and remittances), it leaves out it services.
That silence has led to a whole lot of confusion. For one, there's no clarity on what are the categories that fall under it services. Therefore, BPO companies, which fall under the head of it-enabled services, want to know if they will be taxed. Nasscom, the industry's apex body, is hoping that they won't be and points to the statements made by the Finance Minister and the Chairman of the Board of Excise and Customs to that effect. But tax experts like S. Madhavan, Partner, PricewaterhouseCoopers, aren't so sure. ''The provisions proposed in the Budget do not provide for exemptions to it-enabled services. Therefore, technically, they are taxable.''
Compounding the problem is the fact that since most call centres were being paid in foreign exchange, they were anyway outside the purview of service tax. Now with the exemptions gone, call centre services rendered in India would have to pay tax, whether or not the payments for such services are received in foreign exchange, argue experts. Again, even if call centres were to be brought under the broad purview of ''it services'', a whole lot of questions pop up. ''What happens to a call centre that does part of the work through it and partly through labour, providing help desk-support services over phone with regard to any equipment or services. Will they still be outside the tax net?'' asks Roshan Shah, Partner, RSM & Co.
Putting The Hurt
Not surprisingly, affected services say the new tax will hurt them.
BPO


India's new hope, BPO businesses say the 8 per cent tax will make them unattractive compared to rivals in Ireland and the Philippines, since price is one of their biggest advantages.


Coaching Institutes


Here again, the argument is compelling: Since most of these institutes teach computer skills or mathematics or science subjects, they say students will be impacted.


Service Stations


They say the government will end up encouraging hole-in-the-wall repair shops. But that may not be totally true, since the tax will be loaded on to the customer's bill.


Internet Cafés


A growing digital divide. How's that for a bogey? Pretty good. Fewer internet cafés would mean fewer people on the internet.
Similarly, a host of other issues will still need to be clarified. For instance, what happens to medical transcription companies, which are currently outside the service tax net, if they decide to analyse the data provided to them rather than merely format and transcribe the data, since testing and analysis services have now been brought under the service tax net? In any case, the BPO industry is pleading exemption for the sake of global competitiveness (See Putting The Hurt).
These issues, however, pale in comparison to the challenges the governments (Centre and state) will face in divvying up income from the 61 new items. As things stand, service tax is imposed and collected by the Centre. But a government-appointed committee is currently examining ways in which the states can extract their pound of flesh. The problem, however, will be in taxing multi-locational companies. For how does one tax, say, a Delhi-based consulting firm if it travels to a client's site in Madhya Pradesh? Notes Rajeev Dimri, National Leader for Indirect Taxes, Ernst & Young: ''There is a lack of clarity on a whole range of issues.''
One, however, cannot fault the government for wanting to tax services. With projected revenues of Rs 2,36,936 crore in 2002-03, services represent the fastest growing part of the economy. it and it-enabled services alone are expected to touch $57 billion (Rs 2,72,175 crore) by 2008 (a Nasscom-McKinsey estimate). Then, there are other emerging services such as entertainment centres and builders (still not included in the tax net) that could further expand the non-industry, non-agriculture pie. Says Dimri of E&Y: ''I am all in favour of extending the service tax net in the most comprehensive manner. After all, in developed countries goods and services are taxed equally.''
The Finance Ministry is yet to issue notifications clearing the confusion, but sources in the ministry say they should be put out by the end of March or early April. But what's likely is that the government may go back to the drawing board and take a fresh look at all the services it wants to tax and figure out a foolproof way of doing so. In case it doesn't, the only service providers happy with the mess will be the lawyers.
-Ashish Gupta
---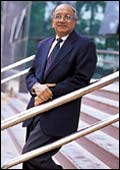 Digital Globalsoft's Som Mittal: Speculations galore
BUZZ
Merger In The Air
Dalal Street is speculating a Digital Globalsoft-HP merger.
To punters on Dalal Street, it's no longer a question of whether Hewlett-Packard will merge its software and it services company subsidiary with itself. The only question, according to them, is when. It's hard to disagree with the Street. After all, hp holds the majority stake in the company led by Som Mittal. A good 85 per cent of Digital's revenues comes from services provided to hp, and-let's face it-Digital is also generating oodles of money (ITS EPS jumped 70 paise to Rs 8.22 in the quarter-ended December 31, 2002). The company itself is mum on the rumours, although BT learns that a committee comprising its independent directors is working on stuff like valuations and merger modalities.
-Narendra Nathan
---
WHIPLASH
Junking It
Hordes of BSNL subscribers are giving up on fixed lines.
Over the last two years, 29 lakh consumers have surrendered their BSNL fixed phones. In 2001-02, the number was 13.5 lakh and in the current year (up to January end) 15.4 lakh connections have been cancelled. Although BSNL is putting on a brave face citing the fact that net subscriber additions are positive-53 lakh in 2001-02 and 30 lakh this year-the revenue impact is causing many a brow in top management to crease. After all, telephones accounted for 93 per cent of the company's income of Rs 24,300 crore last year. A small consolation: its mobile subscriptions are booming.
-Vandana Gombar
---
ETHICS
Behave, Gentlemen
SEBI has proposed a 64-page code of conduct for the Street.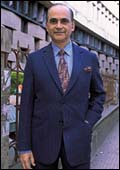 G.N. Bajpai: New rules to play by
I
f G.N. Bajpai has his way, Dalal Street will soon have to put on its best behaviour-and keep it. The Chairman of SEBI has rattled Dalal Street denizens by proposing a 64-page manual on how they should behave. Inspired by the Securities and Exchange Commission's crackdown on Wall Street, the guidelines pertain to 12 categories of market participants: FIIs, merchant bankers, portfolio managers, debenture trustees, bankers to an issue, stock exchanges, stock brokers, depositories, depository participants, registrars to an issue, share transfer agents, and research analysts.
What do the guidelines say? Here's a sample: Disclosure of compensation to research analysts has been made mandatory; Merchant bankers and brokers have to disclose their holdings in the company on which research report is put out; and FIIs are not to trade in securities they do not hold.
Not everybody is happy with Bajpai's work. Says Prithvi Haldea, CEO, Prime Database: ''It is great to have a code of conduct, but a better alternative would be disclosure of daily trades by all the market participants.'' If the proposals end up having the desired effect, then Bajpai may just succeed in bringing the small investor back to Dalal Street.
---
CAUSE
Consolidation's New Champ
ICICI Bank's K.V. Kamath wants telcos to unite.

ICICI's Kamath: Worried lender
I
t may be reforms' poster industry, but telecom is far from the perfect model for lenders. Its tariffs are the lowest in the world, markets are growing but not fast enough compared to some other countries, and there are more players than there's room for. At least that's what big sector lenders such as ICICI Bank seem to think. Its CEO K.V. Kamath's has been the leading voice-from the lenders' quarter, that is-exhorting consolidation in the industry. Not only are smaller players such as Escotel and Hexacom under immense pressure, but the bigger players are also hard-pressed to turn in profits. At last count, there was some Rs 5,000 crore of bad loans in the telecom industry. Therefore, lenders such as ICICI simply cannot afford the smaller telcos to fail.
---
ROW
All Clear
Attorney General gives a clean chit to the Centaur resale.
Opposition parties cried foul and disinvestment came to a momentary halt after it emerged that Batra Hospitality, which had bought state-owned Centaur Hotel in Mumbai for Rs 83 crore, had sold the property to Sahara for Rs 115 crore. The government has been cheated of Rs 30 crore, cried its critics. Ban disinvestment, cried some indignant others. But now the Attorney General of India, Soli Sorabjee, has given a clean chit to the sale, saying that no rules have been flouted. May be it's time the government-and its opponents-understood something. Once you sell something, it's sold. Period.