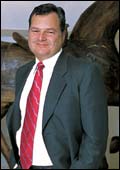 James M. Cracchiolo, Group President-GFS, Amex: Bringing a new focus to old relationships
American Express (AMEX) is no stranger to change. Founded in 1850 as a freight forwarding company, Amex has morphed many times over-as an issuer of travellers cheques, charge cards and, more recently, financial services. In 2001, the New York-based company consolidated its various products and services into Global Financial Services. As Group President (GFS), James Cracchiolo is the man entrusted with the task of growing GFS worldwide. In India recently, the 44-year-old Cracchiolo spoke to BT's Roshni Jayakar on GFs and India. Excerpts from an exclusive interview:
American Express is known for travel and cards business. What made you set up Global Financial Services (GFS) group? Where does GFS figure in American Express Company?
Our domestic and international business in cards has been growing. We are also the largest travel provider. We want to ensure that we continue to build upon Amex as a brand around the world based on established relationships. In the US, we have Amex Financial Advisors, which provides planning and advisory services to consumers and has a large asset management company, a large insurance company and securities brokerage firm. More than providing transaction services, it looks at providing advice against their life goals-planning for retirement, children's education, insuring that the investment portfolio is appropriate and helps to manage their liquidity. We feel that based on the rapidly changing landscape of financial services industry and what the consumers are looking for- with greater access to information, increased demand for choice in financial services and payment products-there is a great opportunity for Amex to be very focused on building this out further.
Our strategy for GFS, which combines the Amex Financial Advisors, Amex Bank, international consumer and small business payments (card business), global brokerage and membership banking, revolves around making Amex as well known in financial services as it is in the card and travel business around the world. To be a leading global provider of financial services to customers by helping them manage their financial future through a relationship based on quality, service and trust.

Is Amex beginning to look beyond high net worth individuals?
Previously, we only went after the very upper market. But more recently, we have been focused on expanding to more of middle market consumer, more of mass affluent and pre-affluent, where we think people need more of the type of services that Amex can provide. We are much more focused today on moving beyond travel and entertainment spending to local spends and needs. Then we package within that a comprehensive membership reward programmes and guarantees as far as our service levels are concerned. It's a combination that gives us the ability to grow much more comprehensively in the local markets that we do business in.
How has your business model evolved?
If you consider the last seven-to-eight years, we have put more products in the marketplace than in our 40-year history. Last year, we rolled out over 100 new products, an average of two per week, including Gold in New Zealand and Indonesia, and money plus personal account in India. We have been looking at the new segments and developing products that satisfy individual needs as a consumer. As an example, in 16 countries we have introduced the Blue Card. A Blue Card in many of these markets is a revolving credit card. That card product also has unique benefits and rewards programme. In the US, we offer benefits for internet shopping. Then we have the Green card, Gold card and Platinum card. While the Platinum card is the premier card in any part of the world, we came out with a new Centurion Card first in the UK, now in Germany, Hong Kong and Japan. This top card would serve the needs of people who travel a lot or spend a lot. It has concierge services. Let's say you want to arrange a party for children, we can help you set that up. If you were travelling and you want to set up a whole itinerary from hotels where you want to stay to what events you would like to go to and so on. We help you orchestrate that. We are a sort of personal assistant. Depending on your needs, you would choose the card most appropriate for you. Even if we have global set of products, we gear them to local markets.
How did you go about growing the business using the global advantage?
If I go back to our vision for Global Financial Services, to be the leading global provider of financial services, what we have tried to do is take a global perspective and share the expertise and intellectual capital within the group and across the company. In each market, we don't have to re-invent. Regional management teams benefit from the world-class products, learning and tools to support their local customers' needs. By applying the specific in-market expertise, the local management can ensure that all products, services and related activities are delivered in a way that is locally relevant and appropriate. If I don't understand your needs here (locally), you are not going to be comfortable taking my products. We have put in place a consistent strategy-the building block strategy -that represents the critical drivers of success across our businesses.
How exactly does this building blocks strategy work?
All strategic initiatives fall under one of the building blocks. The first is growing the client base or new customer relationships. Second, deepening the existing customer relationships. It's not good enough to give the customer one product. We use cross-selling to see if there are additional products and services that we can offer such as insurance, personal loans to Amex card members. Third is enhancing capabilities and processes. We invest a lot in technology and infrastructure for running our businesses. Then we ask people to constantly think about improving the processes that we put in place. We look at how we can be more efficient and effective and apply methodologies such as Six Sigma so that we continuously look at flaws in the process and try to re-engineer them out. What that does is not only improve our cost, but makes processes more efficient, so that we can handle a transaction more timely, we can handle it in the assured cycle time, and provide better service. Last of the building blocks is enhancing organisational effectiveness. What that means is we recruit the best of talent and make sure that we continue to develop their skills. So, as an example, in GFS we bring all the business lines together so that we can offer our customers a tightly focused set of products and services and deepen the relationships with them.
To what extent have you been successful in cross-selling products?
In the US, our typical client has six-to-seven Amex products-a card, mutual funds for investment, insurance, long-term disability insurance, securities and brokerage trading. Our feeling is that over time, outside the US with changes in regulations in countries where the governments are thinking of privatising pension systems and where the average consumer needs to be informed about how he would invest for retirement, Amex has an opportunity.
What scope do you see for growing GFS in India, especially in terms of getting new products?
We are focused on 25 key markets around the world, including India. Across Asia, there is a large opportunity. In these countries, the GDP is growing significantly, with greater access to information, consumers have increased their demand for choice in financial services and payments products and are looking for advice and planning. In international markets, we have a significant opportunity to capture more of consumer spend needs as well as in unsecured lending. India is a strategic country and a focal growth point for Amex. GFS takes the one-consumer approach in offering the full range of card and financial services.
In India, if you have an Amex card, we would like you to borrow from us, we would like you to have a money plus personal account with us, a savings type investment product with a check-in account. We are providing insurance as a part of our relationship and over time, as rules and regulations change, you may want to invest in say Europe or purchase a mutual fund that tracks stock exchanges in Europe. We provide those products in Europe and other countries round the world for private banking customers. We can bring those products to India. Over time, we will go beyond your payment needs to satisfying a bigger part of your financial needs.
We also look at India as a global provider for Amex. We are today working here in India, developing some of our innovative global sites for servicing international activities around the world. As we look at the world as a global marketplace, it doesn't matter whether you are doing business in the US or Europe. If we can provide servicing from India because of India's telecom infrastructure, that's appropriate for us.
With GFS you seem to have targeted the retail segment. What about institutional business?
The institutional business has always been important all through. We are the largest global provider of corporate payments today, the largest business travel provider and we are aggressively developing the payments area to actually handle all the corporations' purchasing management activities. This is a core part of what we are. In the US, we manage pension funds for companies, handle 401k plans and we have been working for financial employee education programmes whereby we educate employees to make individual investment decisions.
How satisfied are you with the GFS evolution in the last two-and-a-half years? What is the future roadmap?
If you look at Amex, we have been successful because we have constantly re-invented ourselves. Over the years, we have innovated in each of the products. The next stage is to be well known in financial services by building on the attributes of our brand. If we think about Amex 25 years from now, our strategy is to be a global provider of payments and financial services and be a strong leader. Twenty-five years from now financial services will become a much bigger part of Amex.
What's the one thing that has made Amex a successful corporation?
Customer focus is in the DNA of our company. If you think one thing that has made Amex successful is focus on the customer as an individual or customer as an institution. In good times or bad, Amex has been there to support those relationships and services. To do that successfully, we have had to have a clear focus on employees, who are the lifeblood of the company. We make sure that we improve their satisfaction so that we have employees that really want to grow. As I move on to China, Australia, New Zealand, our people have the same values, same philosophy and same focus. That's what makes us, we think, a leading company around the world.