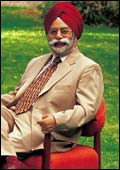 Prithipal Singh, CMD, BSNL: Will he have the last laugh?
It's a sleepy Monday afternoon, but Manoj Gupta is anything but yawning. The sole franchisee for Bharat Sanchar Nigam Ltd's (BSNL) mobile service CellOne in Lucknow, Gupta is busy chatting up customers in his swanky outlet at the Tej Kumar Plaza. Just like BSNL's prepaid mobile shop a little distance away, he isn't making any sale, though. Reason: There are no connections to sell. The network capacity, explains Gupta, is exhausted.
In contrast, the Reliance Mobile sales outlet across that of Gupta's has connections on offer. But few customers are to be seen in the shop. A bad day for Reliance? May be, but its franchisees like Om Overseas Communications-the one across Gupta's-must be hoping that it doesn't become the norm. After all, they have reason to feel nervous.
Barely four months ago-October 19, 2002 to be precise-the state-owned telecom giant launched its mobile service in the historic city, offering the first connection to Prime Minister Atal Bihari Vajpayee. The telco had envisioned an initial demand of 8,000 for Lucknow. But the number has already crossed 25,000. No doubt, closure of the ailing Koshika telecom in the state helped BSNL. But that hardly explains the success CellOne has met with in other parts of the country, racking up over 1.5 million subscribers since the launch. Translate that into marketshare, you get 13 per cent for BSNL against Bharti Cellular's 26 per cent, Hutch's 18 per cent, and 11 per cent of Idea.
Buoyed by the success, BSNL's Chairman and Managing Director, Prithipal Singh, has already started planning for the next phase of expansion, which would double capacity to eight million. Market watchers say that BSNL's numbers are routed to the basics-aggressive tariffs and expansive coverage. The pious Singh, however, puts it down to the faith of the people in the company. "People have faith in public sector institutions.
BSNL's Pluses...

With points of presence not limited to the main cities, it has managed to tap clients in smaller towns where it is the only service provider
Multiple points of presence means that all calls within a telecom circle, from fixed or mobile phones, are local. Word-of-mouth has ensured that this is a big selling point.
Believe it or not, there are people out there who have faith in things sarkari. At least, it will not shut down and run away with money (Think Koshika).
BSNL's combined packaging of fixed, mobile, long-distance and internet services cannot be matched easily.
Nothing can beat the lure of low prices. BSNL is, and is perceived to be, the lowest-priced operator in most states.
...And Its Minuses

While Bharti, Idea and Hutch graduate to 2.5G (multi-media messaging, always-on internet), BSNL's value-added offering is limited to SMS. This could be a handicap in the near future.
Low tariffs can be matched and multiple points of presence can be established by competitors. Relaxation of the FDI limit will ensure that others have deep pockets too.
Has always been a weak point for BSNL and could be a put-off for the high-end subscribers.
While BSNL is benefiting from the churn (from other operators) now, the inevitable reverse-churn could see subscriber additions tapering off.
The average revenue per user (ARPU) for BSNL is lower than the industry average since low-end users form the mass of its subscribers
We will not fleece the consumer," he says.
Not surprisingly, BSNL has replaced Reliance Mobile as the hot topic of discussion in the cellular camp. And they are not merely accusing it of predatory and unfair pricing. "They are using the incumbency advantage that is anti-competitive. It is severely impacting the market of the private operators," says an irked Director General of the Cellular Operators' Association of India, T.V. Ramachandran. And where is Reliance Mobile? Well, it is planning to commercially launch service in 104 cities across the country on April 1, the day when the new interconnect regime comes into effect.
The only thing a prospective subscriber is promised is Rs 0.40 per minute charge if calling within the Reliance network. The average consumer is confused about the other call charges. Then, factor in the huge entry cost (for handset and subscription) and you would know why BSNL is making waves in a price-sensitive India. "I don't know what I will get from Reliance. I decided not to wait for it and opted for the only service provider here-BSNL," says Ajit Pratap Singh, the Development Officer at village Bhandua Thukran, about 70 kilometre away from Lucknow in Barabanki. It is his personal connection. To its credit, BSNL has managed to snatch the first-mover's advantage even in states where it has entered as the fourth operator.
Inevitable Gravity
The question for Singh, however, is BSNL's trajectory sustainable? Analysts cite empirical data to show that the high-growth trajectory tends to fall to a lower level in each following month after launch. Why does it happen? Reverse-churn. Dissatisfaction with the service. Bill-shock (yes, it still happens). Take the case of Bharti Cellular, which made its debut in Mumbai in late July last year and totted up 93,594 subscribers by the end of August. In September, it added 42,080 subscribers, 41,729 in October, 21,878 in November, 13,023 in December, and 8,071 in January 2003. Idea Cellular in Delhi added 13,936 subscribers in January 2003 against 52,922 in December last year.
It is the same pattern in the states. Shrugging off the numbers, Bharti's Chairman and Group Managing Director Sunil Bharti Mittal says that there was "nothing unusual" in BSNL numbers. "We have also picked up 50-60 per cent marketshare when we launched in new states," he says. However, since BSNL is launching in new cities every day, the initial momentum is likely to be sustained over a longer period than average, says KPMG's Executive Director Rothin Bhattacharya.
Another factor working to BSNL's advantage is that competitors seem to be in no rush to match its tariffs or coverage. What BSNL needs to worry about is how to sustain this growth. With the latent demand in the smaller cities now becoming apparent, it is only a matter of time before the private operators go cherry-picking the tree planted by BSNL. The fickle pre-paid subscribers (about 55 per cent of BSNL's base) are especially prone to churn. The relaxation of FDI limits will ensure that the private operators not only have the will, but also the ability to take BSNL head-on.
As for the myth of private sector services being of superior quality, the telecom regulator's latest quality of service audit (done by IMRB) has managed to dilute that perception significantly. Since the survey pertains to the period October 2001-June 2002, it does not rate BSNL's cellular service (which was launched only in October 2002), though the company makes impressive innings on the quality of its basic service in some states. In Andhra Pradesh, for example, BSNL scored 92.7 per cent on customer satisfaction while Tata Teleservices notched up 83.7 per cent.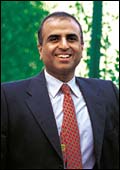 "We have also picked up 50-60 per cent marketshare when we launched in new states"


Sunil Mittal, CMD, Bharti Group
Fear The Competition
The private operators maintain that the game is not all about tariffs, in the long run. "It is about service. Customer service. Value-added services and network coverage. We are plus-plus on that," says Bharti's Joint President (Mobility), Manoj Kohli, hinting that the numbers could throw up some surprises in the next few months with the tweaking of tariffs announced earlier this month by the group. Says Gartner's telecom analyst Kobita Desai: "The pressure will mount for BSNL as it increases footprint in larger cities and towns where incumbents are well entrenched."
Meanwhile, Reliance is rejig-ging its sales strategy to start over-the-counter sales of handsets and subscriptions (against the current wait of about a fortnight). Capacity on date: 12 million. Though the company was unwilling to share numbers, spokesperson for Reliance Infocomm, Amit Khanna, maintained that the response had been better than expected with several "hundreds of thousands" having paid for it. Long-distance services, national and international, are also to be launched simultaneously. "There is a certain value-proposition in the Reliance offering that would especially appeal to Corporate India. They could still surprise everyone," says telecom analyst at Enam Securities, Ram Hegde.
Gartner research shows that Indian enterprises are becoming early adopters of wireless data technology in relation to peers in the Asia-Pacific region. "CDMA could be a good option for mobilising the enterprises looking beyond voice services," says Desai. Reliance could still kink the BSNL growth curve, which will be subject to a southward drag from the other private sector operators as they strategise to gradually chip away BSNL's subscriber base to get a larger share of the mobile market, projected to grow to Rs 25,000 crore by 2007 (CDMA and GSM) against Rs 5,000 crore today.
Meanwhile, Gupta of Lucknow is asking for a quick release of the next round of connections from BSNL officials. He has got prospects clamouring for phones. There are whispers of black marketing. The Vice Chancellor of Ambedkar University calls up BSNL's Chief General Manager V.K. Shukla for an out-of-turn CellOne connection, as do sundry friends and relatives of those with the power to dish out CellOne and Excel. For now, Singh is sitting pretty. But tomorrow is another day.