Let's face it: K-soaps-soap operas with names that begin with the letter K, and there are around 20 across the three mainstream channels-are an extension of our inner selves. And inner selves, just ask any marketer, influence purchase behaviour. Not in the cold statistical manner of women who watch Kyunki Saas Bhi Kabhi Bahu Thi (KSBKBT, or Because Every Mother-in-law was once a Daughter-in-law) flocking to buy a certain brand of shampoo but more in terms of context and association. Think Procter & Gamble's spoof of serial cid for a Tide detergent spot. Think Hindustan Lever Limited's slice-of-life ad for Breeze soap-only it is actually a slice-of-soap one featuring protagonist Parvati and antagonist Pallavi from soap opera Kahaani Ghar Ghar Ki (KGGK, an idiom that means, roughly, It is the same story everywhere) playing themselves in the ad.
Clutter-busting was never as easy. The better K-soaps boast viewership ratings of anything between 4 per cent and 10 per cent. Ads, even those that appear along with these soaps, are probably seen by far fewer people. Solution? Make the ad an extension of the soap. Viewers can watch Parvati and Pallavi go at it four-episodes-a-week and then follow it up by catching them at it again in HLL's 30-second commercial. Yes, they'll get tired of it soon but HLL will, if it is smart-and it is a company overflowing with smarts-launch another spot featuring the two Ps. Maybe, it'll do a series too. So too with Tide, admits Rahul Malhotra, Country Marketing Manager, P&G India. "Tide's cid spot was just that-an execution of a strategy to break through the clutter.'' It worked for P&G and it did for Nerolac, which featured the ksbkbt/kggk characters in a commercial.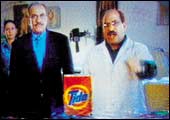 BRAND EXTENSION: CID




Tide:

This CID spoof is part of a larger campaign that has P&G's Tide 'whiteness stripe' disrupt cliched TV/soap-opera situations
Warhol's Campbell soup these ain't, but they are part reflection of marketing going pop-or popular, for the uninitiated. Marketers have realised that it is alright, even profitable, to use themes, characters, language, or just about anything else from cinema, television, even street-life in advertising. "It is no longer about high-culture or low culture," explains Srinivasan Raman, the Head of Quest, ac Nielsen ORG-MARG's qualitative research division. "If it is popular it is in." Raman sounds matter-of-fact in his reading of the change in Indian marketing, but the whole-hearted acceptance of popular culture is nothing short of a revolution. Marketers, having tried everything-the scientific approach, the problem-solution format, comparisons, aspirational advertising-are going popular with a vengeance.
Popular culture has always influenced marketing, especially the advertising end of it. The 70s super-duper hit Sholay still spawns umpteen advertising creatives, a good 25 years after its release. Only, it is happening with greater frequency now. Blame that on media becoming a very real part of a consumer's life. Starting with Kaun Banega Crorepati? (Who wants to be a millionaire?), television serials seem to have made the shift from capsuled-entertainment to expressions, even shapers of popular culture. "Advertising relates to the life the consumer is leading," says R. Balakrishnan (aka Balki), the National Creative Director of Lowe, the agency behind the Breeze ad (he claims the ad has been good for sales). "Cinema and television are no longer (fantasy), but part of the consumer's life."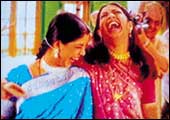 MIX 'N' MATCH: Kyunki... & Kahaani...




Nerolac:

Fine, the ad mixed up its Ks, but the presence of Kyunki's Tulsi and Kahaani's Parvati has been pure magic for the brand
The timing is all-the India of the early 21st century is ripe for a media-led cultural revolution. Thanks to smart merchandising and marketing, and complemented by an audience that has reached critical mass (some 45 million households for satellite channels) soap operas, if they succeed, are bigger hits than they have ever been in Indian television history. India's first blockbuster soap, Hum Log (We the People) had a combined audience of 7.8 billion for 156 episodes; the corresponding figure for the 560 episodes of KSBKBT that have thus far been aired is a whopping 17 billion. Household incomes have increased in recent years too making the typical soap-viewing family a unit that, apart from being receptive to soap-influenced marketing, has the money-power to be considered a relevant market segment. And marketers have woken up to the truth that their largest market segment isn't the sliver of English-speaking, Sex & The City watching urban elite, but the mass of vernacular-speaking urban, sub-urban, and rural consumers. If that makes Ekta Kapoor-she's Creative Director of Balaji Telefilms, the company behind all K-soaps-marketing's high priestess of the moment, so be it.
ADTERTAINMENT

Some internatiional brands have gone beyond assimilating pop culture-they seek to create it.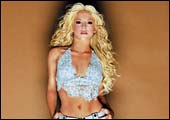 Shakira: The 5-foot-minus pixie is Reebok's newest face

Meet Michael power, an action hero in the same mould as James Bond and Xander Cage. Only, he doesn't use guns or violence. And he is actually an advertising vehicle. Created by Saatchi and Saatchi as the visible face of Guinness stout, Power is a big hit in Africa, where some cash-strapped stations actually use the lengthy ads as programming. Now Guinness owner Diageo is making a full-length feature film starring Power. It has the integrity of a film, yes, but is actually one long saga of advertising. Reebok hasn't gone that far, but the shoemaker has moved away from direct communication (which doesn't work with ad-sceptic consumers) and is instead focussing on colourful endorsers such as Jadakiss, Missy Elliot, Scar Face, and Shakira. Very very pop.
Reality Bytes Are The Norm Now
If a venerable 107-year-old brand from Atlanta, Georgia can adopt vernacular street-lingo-think of the entertaining Aamir Khan campaign for Coca- Cola or Thanda (street-Hindi for soft drink), as he calls it-then marketing's pop avatar has well and truly arrived. "People are sick of manufactured advertising and want brands to tell it as it is," says Shripad Nadkarni, Vice President (Marketing), Coca-Cola India. "We are riding that wave quite well." If you need any more proof that marketers are moving to tap street-speak, tune into any popular radio or television channel. From Dandi Namak's Tau Do Rupeay Ki Chai Kam Pi Lena (Uncle, drink tea for a couple of rupees less...an exhortation to spend that money on good-quality salt) to Chlormint's Dobara Mat Puchna (Don't ask again) to Pepsi's Iski To Gayee (He's had it), the language on air is very much what one would expect to hear on the streets today. "Earlier, in advertising, we said the trick was to make it premium, therefore, aspirational," says Santosh Desai, President, McCann Erickson, the agency that created the Aamir Khan commercials for Coke. "Now, there is the acceptance that advertising must accept reality, reflect well with its own meaning, and add to popular culture."
Yesterday's picture-perfect advertising, then, is well and truly dead. Welcome to a brave new world where advertising imitates life, as it is shown on the tube or on the screen, or as it is lived in the streets. "This is a move away from the past, which showcased products in a halo of perfection," says A.K. Dhingra, Director (Sales & Marketing), Perfetti Van Melle India. "The ads always featured beautiful models with picture-perfect bodies." The confectionery maker, for instance, uses the old, the obese, and the not-so-goodlooking in its recent campaign for Centre Shock chewing gum. "Advertising never showed these faces before," says Satish Deshpande, a sociologist at the Delhi-based Institute of Economic Growth. "Now it seems alright to-it is a kind of 'you are worthwhile' signal from marketers."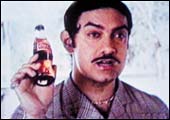 GETTING IT RIGHT: Amir Khan




Coca-Cola:

Coke regained its fizz in India with a campaign starring stereotypes of very real people, although it did need the star-allure of Aamir Khan to pull it off
Does that sell? Just ask Coca-Cola India's Nadkarni. "For us, it (the Aamir Khan campaign) has proved to a virtual strategy in action. We have not just gained sales, but got it right in India after years of trying." Street-talk works far better than what Perfetti's Dhingra terms 'halo of perfection' advertising in its ability to communicate with the masses. As does a pop-culture context. "There is a need for advertising to resemble entertainment for it to be consumed easily," says Soumya Sen, Creative Director, O&M Advertising. P&G's Malhotra is loath to term the cid ad for Tide a representation of the brand-media-content convergence that is increasingly happening but fact is, the commercial was actually made by Sony Entertainment Television which runs the cid series.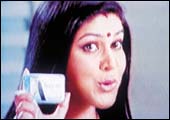 SLICE OF SOAP: Kahaani...




Breeze:

The soap's constant thread of one-upmanship segues into the perfect punchline for the product's 2-in-1 ability (a soap for both hair & body)
Going pop worked for Coke but it could just as well have not worked. "There is real danger of forgetting brand filters while using popular culture cues," explains Ashok Bhasin, Vice President (Marketing), Whirlpool of India. In effect, companies could be so busy focusing on the pop culture bit that they could end up forgetting the importance of advertising a brand's real and perceived benefits. "Many marketers understand that lot of popular culture is very transient, and, therefore, at best exploited in contemporising the brand, not hitching the brand to the wagon (of pop culture)," adds Radhika Roy, National Qualitative Head, NFO MBL India. Maybe, but with Big Media proving itself adept at understanding social cues, even scripting them, that oft quoted McCluhanism of the media being the message may finally be true in India.