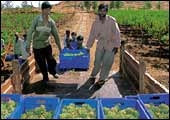 India's own Napa Valley:
Vintners are stampeding to set up wineries in Nashik district
Snip! Snip! Fakira Gumbare's metallic shears move from branch to branch with practised alacrity. Hands stained red with juices and oozing tannins, the 18-year old lobs the burgundy bunch into an already overflowing acrylic crate. The morning sun is just making its presence felt over the neat rows of vitis vinifera draped trellises and no time is to be lost. Over the next four hours, the 18-year old and his 15 co-workers shall harvest 15-20 crates each and load them onto the waiting cherry red tractor, en route to the nearby winery.
No, this isn't Napa Valley, California, though you might be forgiven for thinking so. Around 180 kilometres north-east from Mumbai, the region in and around Nashik district is fast becoming India's wine capital. Already home to one of the largest table grape growing regions in the country-4,23,000 metric tonnes per annum-there's now a rush to set up wineries. Even after a hard day spent on working out the logistics of this year's Kumbh Mela, which begins in Nashik in July and when bands of temperamental sadhus descend in the region, mention wineries and Mahesh Zagade's eyes light up. "In just two years, 40 letters of intent have been issued allowing wineries to be set up," says the cherubic Collector of Nashik district.
What makes vintners and farmers equally excited is not difficult to fathom. Nashik is perfect because along with a tradition of grape growing that stretches back at least three generations, it has what French wine makers refer to as terroir-a group of lands from a certain region, belonging to a specific vineyard, and sharing the same type of soil and weather conditions, which contribute to give its specific personality to the wine. Wines typically prosper in Mediterranean climate-hot days and cold nights and plenty of sunshine. Nashik has all this, plus a light soil that does not retain water. Says Rajeev Samant, 35, a Stanford trained engineer who set up his own label Sula Vineyards seven years back on his father's 30-acre agricultural land: "The wine virtually makes itself, for many varieties it is not even necessary to add acid or sugar."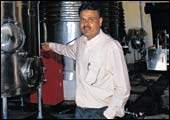 "The stainless steel fermentation vats are crafted from low carbon sheets to ensure that they don't react with the acidic wine"
Dilip Borawake, Partner, Winetech Engineers
More Than Geography
And if the near-perfect weather and soil doesn't get you, the returns will. One kilogram of wine grapes retail for over Rs 30, while table grape farmers are lucky to get Rs 15 per kg, given the current glut in the market. That's just the grapes. Now for the wines. A bottle of wine requires only 1.2-1.3 kilograms of grapes. Even after factoring in manufacturing and marketing costs, a retail price of over Rs 400 means high double-digit margins. Sure, there is the minimum initial investment of around Rs 80,000 per acre, apart from the land and machinery, which often has to be imported, and setting up a one-lakh-litre winery can cost anything upwards of Rs 1.8 crore. But for those who can afford it, given the long-term returns, the temptation of coupling their vineyard with a winery is one that few can resist.
Clad in a starched white shirt, his weather-marked face a picture of concentration, Ashok Gaikwad stands supervising five-kg cardboard boxes of table grapes bound for high street chains like Marks & Spencer and Sainsbury's. A second-generation grape grower, Gaikwad and his three partners began N.D. Grapes 10 years ago. With a turnover of around Rs 5 crore, half of which comes from exports, it might not be out of place for the 50-year old Gaikwad to now sit back and enjoy the fruits of his hard work. Yet, just two weeks back, N.D. Wines' new winery, fed by a sprawling 75-acre captive vineyard, started its first crushing season. Located at Dindori; around 40 kilometres from Nashik city, it expects to churn out 1,30,000 bottles of assorted reds and whites by the end October.
If it is the higher returns that lured Gaikwad and partners into wine, for many smaller farmers it is a question of bare subsistence. Just a stone's throw from Sula Wines' modern winery is Nandu Narayan Benkole's modest three-acre farm. Under the mid-day sun, the 47-year-old bearded farmer squints at his unexpected visitors. Then there's a flash of sparkling white teeth and a welcoming smile. Till about 14 months back, Benkole and his family used to barely get by growing tomatoes. Fed up with price fluctuations and a saturated market, he decided to take a loan and invest in wine grapes. This year-his first harvest-he expects to recover his seed capital of around Rs 3 lakh.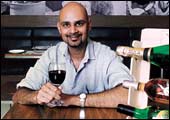 "The wine virtually makes itself, for many varieties it is not even necessary to add acid or sugar"
Rajeev Samant, CEO, Sula Vineyards
The wine rush is spinning off a host of ancillary industries and propping up real estate prices. A former fabricator, Dilip Borawake of Winetech Engineers, has already supplied five wineries his glistening stainless steel fermentation vats. "They're crafted from 316 EL carbon sheets with very low carbon content," he takes care to specify, "to ensure that it doesn't react with the acidic wine." Capacities for these huge vats-many of which tower 20 feet high-range from a few thousand litres to 15,000 litres. Winetech has already received enquiries from nearby grape growing regions of Sangli and Sholapur and expects to end the year with a topline of over Rs 60 lakh. Suresh Didmishe, Partner, Apex Engineering Services, is worried about competition. Around three years back, Didmishe's company-cashing in on his 20-year experience in central air-conditioning systems-developed from scratch a 10-tonne refrigeration system for a local winery. They were pioneers then and even last year managed to nab another contract. But the going won't be so easy any more. "Margins are still very high, specially for turnkey projects and, of late, other companies have set up shop," he says. Real estate prices are also shooting through the roof. Back in 1997, an acre of land close to Nashik went for Rs 60,000. Today, it's around Rs 5 lakh per acre for non-irrigated land and can even touch Rs 10 lakh for irrigated.
The government is also doing its bit to ensure that this initial boom doesn't fizzle out. There are sops in the form of duty-free import of machinery, concessional credit and subsidies for fresh investments. Excise duty on new wineries has been reduced from 100 per cent to 25 per cent. Then there are Wine Parks-like technology parks-being promoted by the state government. One such is 40 km outside Nashik at Vinchur. Being developed over an area of 18 hectares, a total of 71 plots are planned to provide comprehensive crushing and brewing facilities to smaller farmers who might find it expensive to invest in wineries of their own.
But growing grapes and making wine is just the first part. The big task is to build brands. Anonymity equals death in the wine business and the new vintners-Nashik is teeming with such newbies-know that. Marketing wines abroad requires years of heritage and painstakingly-cultivated relationships with distributors and marketers. In Nashik, the homegrown vintners are nowhere near that. District Collector Zagade is lending a hand, roping in advertising professionals to build a Nashik Valley brand, an "umbrella brand" for the region, like Champagne or a Bordeaux.
Already, the wine fever has spilled out of the 15,000 square kilometres of Nashik district into neighbouring Sangli, Latur and Sholapur, with farmers and entrepreneurs like Sula's Samant trying their hand at becoming vintners. Says Gaikwad, a die-hard son of the soil: "Even if half of the projects take off, the face of this region will change." Napa Valley, here we come!