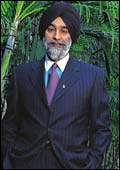 Analjit Singh, Chairman, Max India: "Healthcare is life"
As the head of executive search firm korn-ferry in 1999, Nripjit 'Noni' Singh Chawla received a call, the like of which few headhunters ever do. Chawla, working on a mandate from Max India to find a CEO for its recent foray into healthcare, had just redrafted the description of the ideal CEO and faxed it back to Max India Chairman, Analjit Singh. Less than 12 hours later, he received a call from Singh saying that it was time to end the search. Would Chawla like to join as the CEO of Max Healthcare? Chawla was surprised, but game nevertheless. In less than two months, he was running the healthcare show.
Those were days when few said no to Singh when he made them an offer. After all, in April 1998, the 48-year-old Singh had sold his 41 per cent stake in Hutchison Max Telecom, a cellular service provider in Mumbai, to partner Hutchison Whampoa for a cool Rs 561 crore (it still remains the largest such deal in the telecom sector). After distributing Rs 115 crore in interim dividend (most of it to himself as the holder of 46 per cent equity in Max India), Singh started with an ambitious clean slate. He identified three sunrise industries: insurance, healthcare, and information technology.
Four years down the road, Singh has at best mixed results to show. The it story has run its course, with the software company Max Ateev downing shutters in October last year. (A small knowledge management business remains with Max MindCrossing.) Max New York Life-a joint venture with New York Life-is a show that relies heavily on the expertise and brand equity of the American partner. And in healthcare-the business closest to his heart, and where he has Harvard Medical International as partner-Singh is having to do some serious rethinking.
HARDER THAN IT SEEMED
Max's healthcare foray has had it rough.
1998


» Sells 41% holding in Hutchison Max for Rs 561 crore
» Distributes Rs 115 crore as dividend
» Announces plans of entering insurance, healthcare, and IT
1999
» A "hub-and-spoke" healthcare model is finalised
» That includes a big tertiary hospital, two medium-sized hospitals, four diagnostic centres, and 35-40 primary care clinics in Delhi
» Noni Chawla is roped in as the Healthcare business CEO
Earmarks Rs 420 crore for healthcare


2000


» Acquiring real estate for healthcare proves to be a hurdle
» Explores the option of acquiring existing clinics


2001


» Slowpedals primary care centres
» One secondary care centre and two primary care clinics set up in Delhi
2002
» Noni Chawla quits; Analjit Singh takes over
» Two more secondary care centres set up
» A tie-up with Devki Devi for tertiary hospital is finalised
2003
» The healthcare plan is reworked, includes a tertiary hospital, five secondary care centres, and 16 primary care clinics
» Gets Rs 90 crore in loan each from ADB and IFC
He still doesn't have the big hospital he was hoping to build, there's no talk any more of the two mid-sized hospitals that were on the original plan, and the number of primary clinics has been revised to 16 from 35-40. Worse, Chawla has long quit, apparently frustrated by the delays and bureaucracy he long grappled with. "The strategy has to be experimented with. We learn as we do it," defends Singh.
Under The Scalpel
After four troublesome years, Singh may have just caught a lucky wind. In February this year, the Asian Development Bank approved a Rs 90-crore loan for Max's healthcare projects. The company's Director Finance B. Anantharaman says that it is ADB's only second such investment in Asia. And in the first week of March, International Finance Corporation (IFC) also agreed to lend an equivalent amount.
The new loans, coupled with Canara Bank's Rs 50 crore sanctioned earlier, tie up the debt part of Singh's Rs 420-crore investment plan, which is split equally into debt and equity. That means Max may finally commission its first big hospital in Delhi by the middle of next year. That's a delay of six months, but Singh isn't complaining. " The hospital will be a fuller expression of our vision," he says.
But did Max err in implementing its strategy? It would seem so. The other healthcare corporates in the country-Apollo, Escorts, Fortis, and Wockhardt-first built large super-speciality hospitals, before opening smaller clinics. Apollo, for example, went about building the spokes of secondary and primary care only after the hospitals stabilised. Fortis' model is identical to Max's, but it is for the time being concentrating on the larger hospital.
There is good reason for putting a big hospital in place first. Tertiary care, which would provide multi-discipline speciality medical services on the lines of Apollo Hospitals, is the easiest part of the healthcare equation. After all, how difficult will it be to fill 200-300 beds in a super-speciality hospital in Delhi-a city of 15 million people? Primary care, on the other hand, is extremely risky as it comes in conflict with the family and neighbourhood physicians. Secondary care-such as nursing home-plus-diagnostic centres-fall in between. People look for hospitals for serious illnesses and the family physician for minor ones.
A year-and-a-half ago, Max realised this and soft-pedalled the expansion of Dr. Max chain of primary clinics, and shifted focus on to secondary care centres called Max Medcentre. Tertiary care, considered the most important part in this chain, is still missing. "They are doing it the other way around. I think they need a hub," points out Dr. Prathap Reddy, Chairman of the Apollo group.
FUTURE IN HEALTH
A Year From Now, Max Will Be Known For Three Businesses...
MAX HEALTHCARE: With Analjit Singh as the CEO and a current cutomer base of over 65,000, Max will live and breathe healthcare
MAX NEW YORK LIFE: Over 1,00,000 policies sold; Max adds the local partner value to NYL's expertise
MAX SPECIALITY PRODUCTS: Profitable, but will remain minor compared to healthcare and insurance
...And Then There Will Be Investments...
COMSAT MAX: Has 22 per cent of the V-SAT market
NEEMAN MEDICAL: Clinical research
MAX HEALTHSCRIBE: Medical backoffice
MAX MINDCROSSING: Knowledge management solutions
...These Are Already Sold...
MAX GB: Penicillin-based bulk pharmaceuticals
AVNET MAX: Electronic component distribution
HUTCHISON MAX: Telecom services (retains 10 per cent equity)
HINDUSTAN MAX GB: Penicillin-G
MAX PHARMA: Bulk pharmaceuticals
MAX ATOTECH: Plating chemicals
...And One Has Downed Shutters
MAX ATEEV: Software company that was into outsourced product development, enterprise solutions, and knowledge management solutions
According to a consultant who would not be named, the absence of a tertiary care hospital has deeply undermined Max's ability to attract top medical talent. Apollo is identified with Reddy and Escorts with Dr. Naresh Trehan. They are brands in their own right and, being medical luminaries, attract a large number of high-class doctors from India and abroad. In contrast, Dr. Narottam Puri (a one-time star sports broadcaster on Doordarshan), who recently joined Max as its Chief Medical Officer, is the third occupant of the post. Says Chawla, who as the CEO had pushed for the tertiary care from day one: "A tertiary care facility is critical if you want to capture the lifetime value of a patient and attract the best doctors."
Singh agrees that tertiary care is critical, but points out that the company had its hands tied due to the stringent norms governing sale of concessional land in Delhi. He believes things will change now that Max has tied up with Devki Devi hospital in the bustling locality of Saket in Delhi and acquired the adjoining and contiguous 2.5 acres-a first instance of the Delhi government auctioning land directly to a corporate. On this will come up a large hospital. "Six months ago, it was difficult to attract talent. Today, everyone understands our commitment," he says.
The hospital, which will be designed by Singapore Hospital Authority, will soak up half of Rs 420 crore investment, but break even faster than the primary and secondary care centres. According to Anantharaman, the hospital's bigger services scope will enable it to start making profits from year two, compared to the smaller centre's gestation period of three years. Max expects healthcare revenues to touch at least Rs 275 crore in its first year of profits in 2005-06, and the following year it hopes to wipe out the accumulated losses on Max Healthcare's (it's a Max India subsidiary) balance sheet.
Chairman As The CEO
In donning the CEO's mantle, Singh has gone against the philosophy he stuck to for most of his 30 years in business: of letting professionals run his companies. Ashwini Windlass, for instance, headed telecom before it was sold; Anuroop 'Tony' Singh still calls the shots in insurance, Chawla was brought in for healthcare, and Vivek Jetley-his trusted lieutenant of 15 years who is on his way out-looked after most of the other businesses. When Singh decided to become the CEO of healthcare a year ago, Chawla quit.
The question that his critics are now asking is this: Should Singh be the man leading the healthcare charge, given that he also has a full-time role as the Chairman of Max India? There are three reasons why, Singh says, he donned the CEO's mantle. One, the healthcare concept is nascent and evolving. That requires a visionary, who's also hands-on. Two, the medical community needs to feel the seriousness and commitment of the group. And three, he doesn't see himself as an investor or part equity player in healthcare. "Playing two roles is very challenging in the restructuring phase. Once the plans are implemented, it will not be so demanding," he says.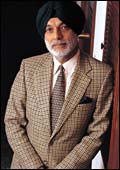 "A tertiary care facility is critical to capture the lifetime value of a patient and to attract the best doctors"
Noni Chawla
/ Head/Omniconsult Management Advisory
Something that even Singh's worst critics would never accuse him of is putting his heart above his head. Beginning the mid-70s, Singh built 14 businesses from scratch, but didn't think twice exiting six of them. For example, after the September 11 attacks skewed the pitch for the software company Max Ateev, he did not try to put it on a support system. He simply pulled the plug.
Similarly, when bulk drugs turned into commodities, he quietly exited the industry. In the future, Singh says, he will continue to be as open minded in allowing his businesses to find their "natural owners".
But talk about insurance and healthcare, passion does stir inside him. Suggest that his insurance business is a New York Life show, and he is quick to take affront. "I have three answers to that: no, no, and no, because we bring not just local market knowledge but also the ability to deal with the external environment." And healthcare? "We are going to live and breathe healthcare... healthcare is not another unit of Max, it's another life."
Fortunately for Singh, that life just got a lot more interesting.