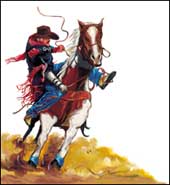 There was attitude written all over the décor of Leghorn's India headquarters. Spunky, brash, cool-all very denim. Leghorn, after all, was the Original brand of jeans, the stuff of American legend, second skin to the horsebacked hardheads out West who'd come to father a nation of frontier-pushing individualists. The very first. The link that couldn't be torn asunder, the great equaliser-in the sack, or outside, as seen in that all-knowing smile of daredevil infamy.
The brand's approach in India had been appropriately collegiate, as reflected in the office environment. The brand DNA was the same, just expressed in the local idiom. So there were Indian hellraisers with Michael Jordan hairdos, college slangs like 'fucchas' (freshers) screaming for attention, even guitar-shaped commodes to strum out just one thing. All very indigo.
But somewhere deep in the inner recesses of Leghorn's cavernous youthdom, was located the 'Fix'. This is where the Indian unit's three top men, all in their mid-thirties, huddled together every Thursday afternoon to split hair and ideas over black coffee and nuts. In an annual market of 15 million pairs of branded ready-to-wear jeans, Leghorn was doing just half a million. Simply put, Santosh Gupta, T.K. Bose and Vikas Prabhu needed to yank up domestic sales volumes, without losing the premium edge of Leghorn's cult appeal amongst the brand-savvy. The mass moves had barely begun, and loyalists had started protesting. It was a thinner knife-edge than they'd thought. This wasn't going to be an early Thursday.
"When we launched Leghorn in India in 1996," began brand general manager 'Ticks' Bose, "we had this clear-cut agenda to penetrate the market top-down-international advertising, high-end four-digit pricing, exclusive showrooms..."
"Too bad we stayed on 'top' for way too long, Ticks," interjected Gupta, the managing director, in his inimitably deep baritone. "By 1999, denim was out, at least for the post-college crowd, and had it not been for our Rs 1,200-2,000 Drapper range of semi-formal work trousers, we'd have had it. Check out the research, and you'll find that premium jeans were a no-hoper."
The aim now was to stretch margins thin, but spread them across many more legs. It was, of course, a gambit.
Denim had made a mild comeback with officegoers, but the market was largely teens, still. Gupta was proud of his 'value re-engineering' efforts of the past three years. Indigenisation was a key part of it. The set of domestic suppliers had been widened, with denim and accessories now sourced from several vendors. Part of the attraction in working with Leghorn as a vendor was the promise of 'global supplier' status, which meant huge export orders. Even otherwise, Leghorn's domestic operations were coming along nicely. The supply circuit had been clipped short, nodes of 'wastage' had been ripped out, and the actual manufacturing made more efficient. A year or more, and India could become an export base for other markets. The more relevant upshot: cheaper made jeans.
"Unmatchable value for the young guy who's scrounging for his prized pair," exulted Gupta, "that's the way to go." Prabhu, the marketing general manager, nodded. Research had indicated that the brand's core target buyer (aged 15-19) had bought his last pair of jeans for less than Rs 1,000, and given Leghorn's rank atop the aspiration curve, might easily be tempted by a three-digit price bait. This study had been the reason that Bose had pushed for a switch to 'reasonable pricing' as the main element of Leghorn's marketing strategy (which was meant to go top-down, originally, in any case).
The aim now was to stretch margins thin, but spread them across many more legs. It was, of course, a gambit. Grabbing volumes quickly is always something of a sweat run. But they knew that they could heave a nice long sigh of relief once they got Leghorn past the 1-million-unit mark. That was 'critical mass' in the jeans business.
The original range of jeans, however, had to stay premium (above Rs 1,200). A few discount sales would do, but it was best to entrust the price-baiting task to another sub-brand. So in early 2002, Leghorn had launched its new Feever collection, positioned as 'street-wear' for the college youth, to rope in the sub-Rs 1,000 jeans buyer. Feever's prices ranged from Rs 800 to Rs 999. Meanwhile, distribution was expanded to multi-brand stores, even in mofussil towns and localities.
Yet, Prabhu had a strange feeling in his bones about all this. Lasso, an early-entrant brand of American jeans with even heavier cowboy imagery, had gone all out for volumes to the dustiest of cornershops with 'irresistable' prices-and lived to regret it, sweating in the late 1990s to get the brand's gleam back. As Bose put it, "If the wrong guys are getting into your brand, you get out-it's that simple."
More worryingly, several of India's domestic jeans labels were actually ascending the value curve-moving prices higher and higher, on the strength of brands they'd managed to give distinctive characters to within just a few years. There was No One, with its Calvin Klein-ish feminine sensuality ('Nothing comes between me and...'). For the male, there was ShrinkWrap, with its clear wear-em-forever proposition. And also Brute, with its bare-chested machismo. Indian brands, all-moving up, and prospering.
Prabhu mumbled their names, and then cleared his throat to articulate his qualms: "My problem is... their prices are converging with ours. And they still have good volumes. Maybe we need to re-examine the assumption that this is a relatively brand-insensitive market where volumes can only be built through price-point enablers."
There was a moment's silence, before Gupta spoke. "These local brands can't be stronger than Leghorn, if that's what you're suggesting..."
"No, but they do have strong target-specific appeals-I mean, that should be our game. Are we getting too caught up in all these simple price-value equations?" posed Prabhu.
"Value is what we have to deliver," replied Gupta, firmly.
"I'm worrying about brand value, actually. The touchy-feely stuff. I fear Leghorn is failing its loyalists. The guys who rave about the brand-as a brand. The guys who don't pack their hearts and minds into their wallets. The guys who'll absolutely not wear any other jeans under any circumstances."
Gupta thought for a while, and turned to Bose, "What d'you say, Ticks?"
"Brand integrity first-no question there. My gut's with him."
Gupta pursed his lips. He had also heard a few ex-IIM batchmates grumble about Leghorn losing some of its 'statement value', but had decided to treat the feedback lightly, unless other team members were to report the same. Well-now they had.
"What should we do?" asked Gupta.
1 2