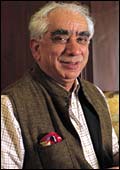 Jaswant Singh: Thinking beyonhd being the second-best
Two days after presenting his Budget, Finance Minister Jaswant Singh looked relaxed and, gauging by the generally positive reaction to his budget, relieved. His Budget speech, which took a long 135 minutes to deliver (although Singh himself wanted to speak for just 40 minutes) took six drafts before it was finalised-a departure from his old job as foreign minister, where he preferred speaking extempore. Singh, who expects, trade and industry to "stand up and seize the opportunity", is also busying himself with answering every individual e-mail that his ministry gets about the Budget. "I am assuring a reply within 24 hours," he told BT's Sanjoy Narayan and Ashish Gupta in an exclusive interview. Excerpts:
You must be particularly pleased with the way industry and the middle-class have responded to your maiden Budget, especially industry, which gave it such high marks.
Please, please.... The challenge is in the implementation of the Budget proposals and not simply in its pronouncements. It's in the implementation that the victory lies.
Your budget has been variously described as a "middle-class", "please all" or even as "populist". How would you describe your Budget?
Quite true. But really, I have attempted to unleash the creative energies in India-to re-awaken the immense reservoir of ability and power of its citizens. Why are we afflicted with this continuous essence of being second best? Why do we continue to question our own ability and why do we start a venture with the thought of failure in mind. Think of success and I assure you that success will rush up to the feet of India.
If we look at reaction of the stockmarket in the post-Budget scenario, it has been quite tepid. How important is the market sentiment for you?
As a source of capital, the markets are very important. I am committed to promoting capital markets-both secondary and primary-and lots of measures have already been taken to improve the condition. But it is also true that markets have suffered in the past. But markets in India, like we are global in our reach today, are under the global influence. Yet I would rather that the market reflected on all the measures taken and reacted not mercurially but in a steady and a consistent fashion.
Despite focusing on agriculture, the Budget has not talked about any specific package for the drought-affected states, impacted by the worst drought since 1987.

"I have tried to unleash the creative energies in India-to reawaken the immense reservoir of ability"
You are being most unkind to me. I can be charged with parochialism in my concern for the drought-affected but not neglect. In fact, I will give you just two examples. We have spoken about both water management and drip irrigation. Though the allocation of funds is small, I have set in place a taskforce for the desert districts. Now, I may say that it is only for the desert districts but its beneficial effects will be felt elsewhere too. Plus, we are emphasising on management of water resources. So it is very much there. But then there is another angle to it. I can only do so much. Agriculture is essentially a state subject. The Central government can act as a catalyst, as a policy-giver, as a hand-in-support, but it can't go down and start doing things.
Why did you decide to merge what is traditionally Part A and Part B of the finance minister's speech?
The speech of the finance minister on the occasion of the Budget is a very broad pronouncement of the management of country's fiscal and external policies. It does not, however, mean that it is the final word. But I found that on every policy statement being made, for example, on textiles, the policy announcements were in one place, and the details were in some other part. Rather than having such a fragmented approach, I thought it better to have the full package at one place. There is no law which says that this should be in Part A and that should be in Part B.
Another innovation has been the cash management proposal for funds allocated to each ministry...
The cash management proposal, I believe, is a little more modern way of managing the Budget of the country. I wanted the budgetary management to move away from simply allocation of money to having a method whereby we translate that into actual physical work. So various ministries will be asked for their fund requirements for a certain period. If the funds are utilised before the specific time-period no new fund will be made available. Similarly, no additional fund will be made available for non-utilisation of funds.
Your Budget has focused on some of the sunrise sectors like information technology, pharmaceuticals and biotechnology in terms of tax and other incentives. What are your expectations of growth and employment generation from these sectors and do you think that these sectors will spearhead growth in the economy?
I don't want to specify or single out any particular sector. However, I think it is the totality, the cumulative consequence of all the sectors that will generate the dynamism in the economic growth. These are the knowledge-based, infrastructure and labour-intensive industries, health and social sectors. It is really a spread-textiles and machine tool is in. It is not an abstract design but a well thought out strategy.
"In future, changes in tax rates are going to be marginal, not radical"
What about incentives for the manufacturing sector?
On manufacturing, please reflect on the various proposals. The reduction and rationalisation of excise duty, bringing it down to 24 per cent, 16 per cent and 8 per cent and bringing down the peak customs duty rate. Manufacturing is picking up, and I will continue to promote it. We simply cannot be a service-based economy.
One of the thrust areas of the Budget has been fiscal consolidation. But what has the Budget done in terms of cutting government's own expenditure or even restructuring subsidies?
On the fiscal consolidation front, we have taken some steps. There is Rs 6,000 crore less expenditure this year. We have taken three steps to reduce the government's debt-Rs 1,20,000 crore of debt will be recycled and lowered. Where will the benefit go? It will help in fiscal consolidation. It is a matter of great disappointment to me that the enormously beneficial consequences of the debt restructuring have neither been recognised nor being commented upon. On subsidy, we have a budget of Rs 50,000 crore-Rs 28,000 crore on food, Rs 12,000 crore-plus on fertiliser and Rs 9,000-odd crore on petroleum. Now you tell me where I can address it? Petroleum prices are really dependent on the Gulf situation. Food subsidy, I must sustain because it is drought-related.
How can we kick-start investment and capital formation because as we can see, very little of that is happening?
That's true. It's a factor of instilling confidence because after that it becomes contagious. Instilling confidence and demonstrating success is the mantra. Then success becomes contagious. So the key is instilling confidence and multiplying success.
Do you expect demand to trigger capital formation?
Yes, I do want trade, industry and commerce to stand up, seize the opportunity and move ahead. The finance minister is a facilitator. There is much more confidence than before. Is it not?
You have said that India's fiscal deficit is no longer on the ascendant. Do you think you were conservative in predicting a 5.6 per cent fiscal deficit and would you care to elaborate?
Yes, because I do think production and growth will be much faster. I have been very conservative both in my revenue estimate, which I have brought down from 18 to 13 per cent, as also in my growth prospects.
How do you ensure continuity in tax policies in successive Budgets?
Again, I am not autonomous in this respect; I am a servant of Parliament, a product of a system. I cannot make a law. However, we have had a fairly stable tax system for long-from 1998 onwards. It is not good to play with rates like a yo-yo because it affects the investor, the citizen. But how do you ensure continuity? It's best when the changes are marginal. The country has to find the optimal benefit rate-the rate of optimal balance between the revenue-collectors and the revenue-payers. I think we are coming close to that optimal point. So in future, the changes are going to be marginal, not radical.
The Kelkar Committee on Direct and Indirect Taxes has repeatedly stated that unless its recommendations are accepted in toto, the benefits will be lost.
I can assure you that the benefits will not be lost. I have taken on board almost all the administrative reforms on direct and indirect taxes. And in indirect taxes, most of the tax reforms too.
Last year Yashwant Sinha had touched on a number of subjects related to the second generation of reforms. But you seem to have completely ignored these issues. Do you think that they are outside the purview of the jurisdiction of the Finance Minister?
My time is finite. My first speech was only for 40 minutes but my officers said that you must add something more and it became much longer. Despite that now you are saying that you did not say this or that. I am not saying that it is outside the purview of the Finance Ministry. But that in one speech, I cannot cover everything. Labour reforms are still continuing and the issues are being addressed.