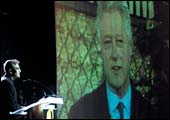 Aroon Purie, CEO, India Today Group: Asking that vital question
Yes, for the record, industrialists at the India Today Conclave did break into a jig on news of India's cricket victory over Pakistan, on March 1st. But the August gathering's collective mind, as focused by India Today Group CEO Aroon Purie in his opening remarks, was on India's prospects as a global giant. The star of the event: William Jefferson Clinton, USA's 42nd president, and thought-provoker-in-chief. Addressing the Conclave, moments after the victory, live via satellite from New York, Clinton was as eloquent as ever. With appropriate charm, he hailed India's great culture, learning and economic prospects, but also reminded us that India's destiny as a great nation will continue to elude it so long as the madness of subcontinental conflict continues.
If that was the high point, the tone had been set by the Sri Lankan premier Ranil Wickremesinghe, who kicked off with the need for collective growth strategies for South Asia. Indian president A.P.J. Abdul Kalam spoke of peace, and of spiritual transformation. India's stature as a giant-to-be was almost implicit, as speaker after speaker waxed bullish on India's role in the emerging world economic order. Key issues, from democracy to judicial reform-even 'soft power'-sparked lively discussions. Rarely have so many great minds exchanged thoughts so freely.
---
DEMOCRACY A DRAG?
Pramod Mahajan
General Secretary, BJP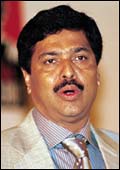 It is time the leaders started behaving as persons elected by the majority but working for all," said Pramod Mahajan, for whom the choice is not between democracy and an alternate form of government, but between "effective governance" and the lack of it. The ex-minister laid down the 'five Ps' of Indian democracy-politician, party, parliament, people and "permanent government" (the bureaucracy). "They function as a parallel government and often the best of intentions of ministers get derailed," he complained.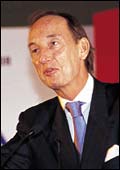 Kenneth Courtis
Vice Chairman, Goldman Sachs, Asia
If the last century was about the rise of the Americas," said Kenneth Courtis, "then this millennium may well be the story of the rise of China and India." On reforms, Courtis wanted India to take lessons from China. But what about democracy? A vital wheel of progress, and certainly no impediment to growth. The world's largest democracy, he reaffirmed, has all the makings of being a global economic power.
---
THE KEYNOTE SPEAKERS
Ranil Wickremesinghe
Prime Minister, Sri Lanka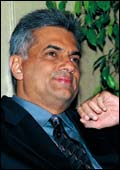 Let's exploit synergies in a south Indian-Sri Lankan sub-regional economic zone," said Ranil Wickremesinghe, the man whose statesmanship is still being talked about, thanks to his dramatic peace offer to the Tamil Tigers. The core of his argument was economic, urging greater trade with India, backed by the offer of "cost-effective access to world markets through the ports of Colombo and Trincomalee". His suggestion: regional and sub-regional trade blocs. "The only way to prosperity in the region is through cooperation and creating effective economic relations," he made plain. No matter what frictions dog bilateral relationships in the region, he pleaded, trade and commerce must never suffer-for that's lose-lose.
The Sri Lankan pm's speech, the first, after India Today Group CEO Aroon Purie threw the forum open, was peppered with anecdotes from history and laced with humour ("I am more worried about the Lanka-Windies match" came the reply, when asked about the outcome of the India-Pakistan match). The Q&A session was dominated by trade-speak. "Anything India does has a direct impact on Sri Lanka. India's growth is our growth also," said the pm. Industrialist Adi Godrej's suggestion? Perhaps the moribund India-Pakistan trade can be revived by routing it through Sri Lanka!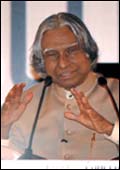 A.P.J. Abdul Kalam
President Of India
We have evolved great qualities of leadership to manage a nation of a billion people," said India's President, "Now we should not allow any religion or individual fanaticism to endanger our nation. Because the nation is important, compared to any individual, or party or religion."
Not that India's first, well, rocket scientist president didn't have any new thoughts to offer, as he went about his power point presentation-meticulously prepared with inputs from speeches by Clinton and Toffler earlier-at the Conclave's concluding session. To Kalam, statehood isn't some sterile concept, devoid of any higher-order meaning or unifying soul. Without agonising over cosmological insights and the like, spiritualism can and must be a part of it. "Economic strength alone has no meaning. Economic prosperity and military strength alone do not bring peace to any nation, as we see from the dynamics of the world. In such a situation, it's also very important to transform our religious forces into spiritual forces," he said, passionately urging the country to unleash its huge creative reserves. And to dream, dream big.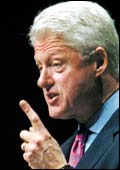 Bill Clinton
Former President, USA
No question, bill Clinton was the toast of the Conclave delegates-even if US security held him back in New York. Thank goodness for satellite-a technology that had beamed in India's glorious cricket victory against Pakistan just moments before the most outspoken Indophile ever to occupy the White House spoke. Clinton got the Conclave to sober up in no time, though-by dropping the K-word. Kashmir remained a flashpoint, he said, worrying that "Politicians on both sides of the line may have more to gain in the short run by keeping problems going on than making them go away". His suggestion: use the peace process in Northern Ireland as a model. Only then could global gianthood become reality.
Clinton was frank about nuclear weapons, the aids bomb and sectarian violence stunting India, as he saw it. "Nuclear weapons cannot be the definition of national greatness," he said. And "aids is one of the things that can totally derail India's march to prosperity." On sectarian violence, the big man from Little Rock expressed grave sadness over Gujarat 2002. "To identify and categorise people on the basis of faith will keep India from becoming the right kind of giant in the 21st century," he warned.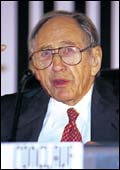 Alvin Toffler
Futurist
We are living in turbulent, rapidly changing times," said Alvin Toffler, whose Future Shock has held generations of Indians spellbound (and looking forward to the information Third Wave). At the Conclave, he was no less mesmerising. "It's a fantastic time to be alive," he judged, looking into his crystal ball for India's future stature.
And? For India, it's time to choose whether it wants to leap to the ranks of Third Wave nations that are determining the e-future. Being a digital adapter is no good, India must lead the change. "The battle between the US and other societies is an example of how the First and Second Wave nations are trying to catch up with the Third Wave one," he continued, offering all manner of mindboggling figures (example: there are 50 million digital switches for every human being). "The world is now witnessing a trisection of power-the poor First Wave nations, the mass manufacturing Second Wave ones and the knowledge economies of the Third Wave," he said. And India? Divided into all three together.
---
JUDICIARY A HURDLE OR CRADLE?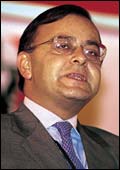 Arun Jaitley
Union Minister Of Law, India
Is the Indian judiciary a hurdle or a cradle for development? If judicial reforms proceed, all will be well, said Arun Jaitley, who wanted the courts to restrict their role to interpreting the law (and not succumb to their increasing tendency to lay down policy). "The incidence of courts' taking over the role of the legislature is clearly not a good sign," he said, expressing added concern about the low conviction rate in the criminal justice system.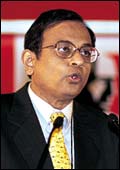 P. Chidambaram
Former Finance Minister, India
Hurdle? not at all. Practising lawyer and India's former finance minister, P. Chidambaram, highlighted the judicial system's role in safeguarding Indian citizens' human and constitutional rights, but worried about biases creeping in. "While it is right of the courts to back the liberalisation process," he said, "they should be far more careful in their scrutiny." His other worry: rising scot-free crime.
---
HAS THE INDIAN ECONOMY MISSED THE BUS?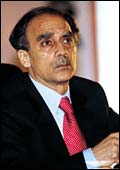 Arun Shourie
Union Disinvestment Minister, India
Has the economy missed the bus? No, said Arun Shourie, the reforms are very much in progress. "Don't allow people to create a fear psychosis on reforms," he advised, "don't allow vested interests to resume the debate on the type of government India should have, and don't wait for consensus." In a typically hard-hitting speech, he pointed out that India was over-stocked with ideas for accelerating the Indian economy. "The trouble is, they have not been implemented."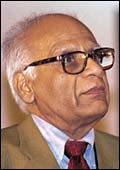 T.N. Srinivasan
Professor, Yale University
India has been on the reform path for the last 12 years, and yet has not been able to keep pace with not just China, but many other ASEAN and Latin American nations," rued T.N. Srinivasan, another noted champion of reforms. For him, the tragedy was the inherent contradictions in the Indian system, compounded by economic mismanagement (on the fiscal front, for example). His demand: a proactive approach to reforms.
---
CAN INDIAN STATES WORK TOGETHER?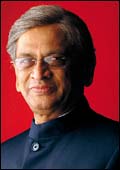 S.M. Krishna
Chief Minister, Karnataka
Can they? Why, they must, said S.M. Krishna. ''It is essential to share not just experiences but also resources for mutual benefit.'' It's an urgent matter-of fighting poverty afflicting all of India.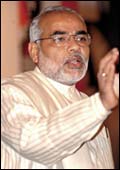 Narendra Modi
Chief Minister, Gujarat
The Gujarat cm made a case for cooperation on national projects. ''Good governance is all about expanding the substantive freedoms that people enjoy as a result of just, humane and sustainable development.''
---
CAN INDIAN ENTERTAINMENT BE BE A GLOBAL PHENOMENON?
Shekhar Kapur
Film Director
Don't look at Bollywood,'' said Shekhar Kapur. Why? Last year, Spiderman made $150 million (Rs 720 crore) in its first week. Ten years from now, it will make $1 billion (4,800 crore), and $700 million (Rs 3,360 crore) of that will come from Asia. Bollywood must wake up to global market forces.
---
COST OF ENMITY BETWEEN INDIA AND PAKISTAN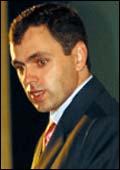 Omar Abdullah
President, National Conference
When a second standard student starts calling Pakistan 'the enemy', the signs are ominous,'' said Omar Abdullah. Despairing, but still resolutely hopeful. ''Time has come for leaders to behave as leaders,'' he implored, ''not servants of public opinion-but makers of public opinion''.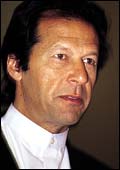 Imran Khan
Politician, Tehrik-e-Insaaf
There is no option before the two nuclear powers but to come to some form of understanding and arrangement,'' said Imran Khan. ''Otherwise, it may well lead to disastrous consequences.'' Leaders must start talking, added the man for whom ''justness'' of society is a measure of greatness.