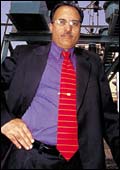 Anil Kumar Sardana, CEO, NDPL: Effecting a turnaround is proving to be the biggest challenge of his career
At 10 'o' clock on a Tuesday morning, this is already Anil Kumar Sardana's second meeting of the day. His schedule for the rest of the day is chock-a-block too, and it looks like holding his attention for any considerable length of time is going to be difficult. But speak he does, fast, and yes, with a straight face, in between answering incessant phone calls and replying to urgent emails on his IBM laptop. If the dapper 43-year-old CEO of North Delhi Power Limited (NDPL) seems like a man in a hurry, it's because he really is.
About eight months ago, his parent company Tata Power picked up a majority stake in the capital's ailing power distribution company Delhi Vidyut Board, when it was privatised and split into three entities. Tata Power got the north and north-western markets, and NDPL is a 51-49 joint venture with the Delhi government. The other two entities were bagged by the Reliance Group-owned BSES (formerly Bombay Suburban Electricity Supply), which paid Rs 294 crore for the ownership. BSES Rajdhani manages south and west, while BSES Yamuna takes care of central and east Delhi.
Consider the mess the two power majors have inherited: DVB incurred a staggering net loss of Rs 1,200 crore in 2001-02, of which three-fourths was due to ''technical and commercial losses'' (read: theft); most of its equipment is old; and it has a bloated workforce of 18,000 whose average age is 50-plus. Sardana and BSES, which did not speak to BT for this story, have the unenviable job of not just staunching the annual losses and beefing up supply quality, but also literally overhauling the organisational mindset.
NDPL'S CHANGE MANTRA
» Put consumers at the centre of the business
» Enhance employee skills and motivation
» Think of electricity as any other consumer product
» Improve system with technology and innovation
» Tap new sources to match demand growth
By Sardana's own admission, turning around his part of the erstwhile DVB is by far the biggest challenge yet in his 20-year long career in the power sector. ''The entire exercise of integrated resource planning was missing in Delhi,'' points out Sardana. The official average for Aggregate Technical and Commercial (AT&C) losses, or power theft, in Mumbai is a piffling 12 per cent of the total power supplied. In Delhi it's a crippling 48.1 per cent. Neither did the DVB employees greet privatisation with open arms. In fact, when NDPL took off in July last year, it did so in the midst of a scorching summer, grid failures, and rumoured sabotage by disgruntled employees. Eight months on, NDPL may not have radically altered the power scenario in its markets, but a 45-year-old apathetic organisation is beginning to think like a consumer-friendly corporation, and a few faces are already smiling outside its customer care centres.
Culture Shock
NDPL's three-storey corporate office in North Delhi's Kingsway Camp is by no means plush. But the new white-wood cubicles and the nattily dressed young executives who occupy them are a vast improvement over DVB's Sargasso Sea of typewritten memos and manual ledgers. ''There were just two computers in the whole of north and north-western region that the two chief engineers used. Now in eight months there are four hundred," boasts Sardana.
With a workforce whose average education ranges from high school to graduate level, having the PCs alone wasn't enough. Starting from clerks upwards, nearly 1,000 employees were trained in computers.
"Computerisation has reduced billing errors to almost zero from the 20 per cent under the manual system," says A.K. Saini, GM (HR), NDPL. The change management programme, Parivartan, implemented by the company has seen nearly 1,200 employees undergo 400 man days of quality and customer care training at the company's own training centres and at NIS every month. "There has been a sea change in the employee attitude since privatisation. Each employee treats the customer with respect," says Rajesh Bahl, an Assistant Manager who has spent 17 years at DVB.
Thanks to the flak that it received from the customers during the early days, NDPL quickly realised that customer orientation was vital for its long-term success. To make the bill payment procedure a glitch-free experience for the customers, the company has introduced a token system at the centres with comfortable seating arrangements and a television to boot. When 80-year-old Jasdev Singh had a blown fuse at his residence in the North Delhi borough of Rohini, he decided to call the NDPL call centre. To his amazement, a polite voice on the other side of the line said it would be rectified in three hours. Rectified it was before time and also Singh's baksheesh (gift) of Rs 50 to the technician turned down promptly. A mightily impressed Singh travelled a good five kilometres to NDPL's office to express his gratitude-in writing.
THE OTHER PLAYER
BSES hopes to take Delhi the Mumbai way
The reliance industries-controlled BSES, formerly known as the Bombay Suburban Electricity company, is a 75-year-old organisation that made an entry into Delhi by winning the bids for two of the three circles of the erstwhile DVB. BSES paid Rs. 235 crore for a 51 per cent stake for south and south west, which it has now christened bses Rajdhani and Rs 59 crore for BSES Yamuna, which distributes electricity in central and East Delhi.

The two circles combined, BSES controls power distribution for nearly two-thirds of the capital. It has a consumer base close to 17 lakh and inherited nearly 12,500 employees from DVB. With complaint redressal cells in each of its 24 districts, 24-hour call centres, and fresh investments in equipment, BSES too is going the whole hog to improve the customer experience. Recently, it commissioned a massive meter inspection exercise across its 17 lakh domestic and industrial consumers to keep a check on the losses. Consumers are hoping that between BSES and Tata Power Delhi's power woes would be solved.
The company has also issued close to 400 mobile phones to even junior engineers and linemen on the field for speedy attention to complaints. Complaints received at the 24x7 call centres are sent out in the form of an SMS to the men in charge of the particular region. "This has helped NDPL drive down the response time to less than two hours from five hours, in the last six months,'' says Sardana. The company even announces its schedules for maintenance shut down every day on the Delhi fm.
Cracking The Whip
With losses from theft alone amounting to Rs 600 crore every year, tackling it effectively is the key to the survival of the disinvestment exercise in the capital. Not surprisingly, a chunk of the Rs 543 crore planned in investment over the next three years will go into putting newer equipment and re-laying cables that are in a wretched condition now. Besides being a safety hazard they contribute heavily to AT&C losses. One of the senior Tata Power engineers on deputation says he was shocked at the state of neglect of the equipment. "Ever since privatisation was envisaged, DVB put the technical upgradations on the backburner," he says.
To further rein in the technical losses, NDPL has armed its engineers with a thermo-vision camera with which they can film the grids and all other installations to detect even the smallest of troubles. The infrared image from the camera highlights areas that are relatively hot. The rise in temperature can be caused due to loose contacts and can result in breakdowns.
But the real challenge for NDPL is to curb power theft. Here, the company is beginning to crack the whip hard. The four enforcement teams comprising a meter expert, an engineer and a technician zip around the area, just like any set of investigators, zero in on the law breakers with the help of tip offs and their own instincts. "Catching the offenders can be very simple. Sometimes something as simple as the mismatch between the high sanctioned load and low usage can be a giveaway," explains Suresh Kumar Choudhary, the avuncular AGM (Enforcement), NDPL.
It's not that simple always, though. Choudhary says he has come across cases where the consumers even use remote controlled devices to get their meters running when they find the enforcement team in the vicinity. The most common way of tampering with meters, he points out, is to insert something as thin as an X-ray film inside to hinder the cyclometer's rotation. Sometimes such confrontations can get violent, and the enforcement team takes along a bunch of private security guards just in case muscle power is needed. Where law and order problem is anticipated, the team even takes a posse along.
Choudhary narrates an incident in DSIDC's Narela Industrial Area where he suspected that a plastic goods manufacturer was flouting the rules. His team decided to go in for the kill at midnight. The team went in a mini truck masquerading as suppliers who wanted to unload materials required by the company. When the unsuspecting watchmen and employees opened the gates, the NDPL officials forced themselves to the meter cabinet and unravelled the mystery of amazingly low units of power billed by the company. The team, which is recovering Rs 70-80 lakh in theft every month, also takes a camera along so that there is irrefutable evidence of the crime. The company, it was soon discovered, had cheated NDPL of nearly Rs 7 lakh by tampering with the meters.
The power distribution privatisation can by no means be called a success story yet. The jury is still very much out. ''Yes it is a small step forward but key questions are has the quality of power gone up? Have the tariffs come down and has the customer satisfaction levels gone up considerably?'' asks a sceptical Harry Dhaul, Director General, Independent Power Producers Association of India. Sardana's reply would probably be a shrug. You see, he has another important meeting coming up that may not solve North and North-western Delhi's power problems overnight, but just the same will make sure that it does someday. Soon.
-additional reporting by Ankur Sabharwal