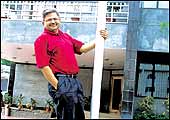 The starting point of leadership is the active demonstration of the highest levels of integrity and honesty. It is imperative for a leader to have a clear view of what is right and what is wrong. A true leader is one who puts the interests of the institution ahead of his own. He possesses the ability to effectively balance the interests of the organisation's customers, employees and investors-indeed a leader is the sole custodian of the interests of these groups and should never compromise any one's interests for the other.
With a strong foundation of personal ethics, the leadership process begins with a sharp foresight-the leader develops a broad vision of the future and the ability to think big and global. Setting ambitious yet achievable targets and building a high-performance and efficient team is the next step.
Having kick-started that, a leader needs to get out of the way and create space for the team to execute. At the same time, a leader should not flinch from restructuring the core team and re-doing the original design. Keeping the organisation focused around its core competencies is very critical for a leader's success. Ergo, leaders should have the right balance of strategic thinking and tactical execution.
Under the aegis of a leader, the organisation should direct its collective energies towards serving its customers. Being focused and passionate, with an ability to effectively communicate organisational values, being a role model for the rest to follow-these are the inherent signs of a true leader. Last but not the least, a leader should be able to see the glass as half full and not half empty-that helps him to convert adversity into opportunity.