WHAT MAKES 'EM ROCK
» They view talent management as an important investment, not cost
» They focus on building a high performance work environment
» They clearly articulate the elements of their organisation's culture
» They use rewards as a differentiating tool, and build leaders at all levels
Long before we actually join the workforce, most of us begin the process of shortlisting dream employers. We'll talk to family members, ask friends, surf the net and, of course, devour every word written in a special issue like this one. And every time we are ready to switch jobs, we will do that all over again. But that's only to be expected. Not only do we spend half our lives inside glass and concrete offices, but our choice of jobs and employers also determines our social success, emotional happiness and indeed, our very being.
Flip to the other side-the employer's, that is-and you will find a similar obsession among the talent warriors. After all, these are the guys who put down crores of rupees on the table and whose stakes are much higher than yours. Therefore, their biggest concern is to get the kind of people who can multiply their wealth. And how do you attract the best and the most appropriate talent? By being the Best Employer.
But just who is a best employer? Is it a company that pampers its employees, pays them top-dollar salaries, and helps strike the perfect balance between work and life? We don't think so. An organisation could do all of those without getting any commensurate economic value in return. And as we all know, a company that does not consistently create value will stop being a best employer sooner than later. Instead, a best employer is an organisation that helps its employees realise their true potential. It does so by creating a work environment that is fair, motivated and transparent. Which is why the objective of BT-Hewitt Best Employers survey, in its third year now, goes beyond mere short-listing of great places to work. Rather, this study is designed to reveal how people practices are aligned to meet employee needs; how employee friendliness ties in with superior business performance; and what differentiates the best from the rest (See Selecting the Best Employers in India 2003).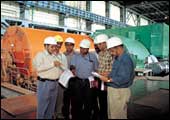 At No. 3: Most NTPC GMs like I.S. Parswal (first left) have stayed on for more than two decades because of growth opportunities
Engaged employees have a desire to be part of the company in the future, and contribute effectively towards its success
The Best And The Rest
Sifting through qualitative and quantitative data of 220 organisations that participated in the survey this year revealed several things. For starters, the best employers have more engaged employees-76 per cent compared to 62 per cent of the rest. But make no mistake. Engaged does not mean either satisfied or committed. There is a big, fundamental difference between being engaged and being merely satisfied or committed. And it often means the difference between an organisation's success and failure.
Engaged employees, as the survey found out, speak positively about their company, have a desire to be part of its future, and contribute effectively towards its success. Satisfaction, on the other hand, is merely a reflection of how much people like working in an organisation. Commitment, a measure of how much they want to contribute to its success. But engagement is a barometer of how much employees want to and actually do improve business results. Therefore, higher the employee engagement, better the organisation's performance.
Typically, there are six drivers of employee engagement. These are: People, work, opportunities, quality of life, procedures, and compensation. The people part is about senior leadership, co-workers, and culture and values. Work, about motivation, nature of work and the availability and quality of resources. Opportunities reflect career growth, training and recognition, and procedures, policies and hr. Pay, benefits and rewards are part of the compensation driver, while quality of life is very obviously about balance between personal life and work.
These six drivers impact engagement either positively or negatively, but all allow prioritisation for a higher investment return. The driver with the highest potential positive impact on employee engagement in India-where the best employer engagement level at 76 per cent is lower than Asia's 90 per cent-is career opportunities, which is the employee's perception of personal and professional development opportunities within the organisation. The driver with the highest potential of negative impact on employee engagement is intrinsic motivation, which is the value employees derive from their work and how they feel about this value.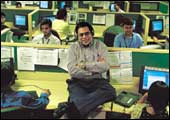 At No. 19: Wipro Spectramind's Raman Roy personally creates the bonhomie that makes the BPO a best employer
The best employers are not necessarily the best paymasters. In fact, in most cases, they only pay marginally better
The question, therefore, is what is it that the best employers do that heightens their employee engagement? The study throws up five broad themes that are common to them. They view talent management as an important investment; they proactively create a high performance work environment; they clearly spell out their organisational culture; they use rewards as a differentiating tool; and they develop leaders at all levels of the organisation. For example, the CEOs of best employers spend an average of 46 per cent of their time on people-related issues such as development and learning, compared to 40 per cent of the non-best. A high 84 per cent of the best have a succession and replacement planning versus 67 per cent of the rest. Here are some more nuggets of data from the best employers:
96 per cent offer job enrichment or redesign, compared to 77 per cent of the rest

82 per cent view talent management as a CEO, and not hr, agenda (53 per cent)

88 per cent of the CEOs felt that their managers understand their organisation's key performance measures (77 per cent)

96 per cent consult people broadly before implementing major organisational changes (83 per cent)

24 per cent pay more than three times differential in increment between a high performer and an average performer (17 per cent)

82 per cent of the employees have complete confidence in the integrity of leaders in their organisation (73 per cent)

44 per cent provide broad-based stock options to encourage ownership among employees (16 per cent)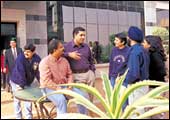 At No. 16: Microsoft India MD Rajiv Kaul (gesturing) chats up his colleagues regularly to know the pulse of the organisation
Best employers have a lower employee churn, attract a bigger talent pool, and also perform better on the stockmarket
There are many other attributes common to best employers. These include focus on multi-dimensional development rather than only training; faster hiring-cycle time, multiple staffing strategies and more rigorous staffing practices; emphasis on culture and values and their alignment to organisational programmes; the use of a variety of compensation components to share the company's financial success; and development of organisational leaders from within rather than through lateral recruitment. But here's the most surprising bit: the best employers are not necessarily the best paymasters. In fact, in most cases, they only pay marginally better. That said, we also found that the best paid better than the rest at the junior management level. Even a public sector unit such as the Indian Oil Corporation pays its officer trainees Rs 6 lakh per annum.
Becoming The Best: Lessons From Around The Globe
For the last four years, Hewitt Associates has periodically been conducting Best Employers studies across the globe. Covering 1,200 organisations in Asia-Pacific, Australia, Brazil, Canada, India and Europe, the studies have yielded rich insights into what makes a best employer be it India or the US. Apparently, 80 per cent of what goes into the making of a best employer in one country are also the things that make one in any other country. For example, there seems to be consensus among the employees of best employers that the factors that have the highest impact on their engagement are: relationship with the immediate supervisor, development opportunities, work-life balance, and reward and recognition. The senior leadership, on its part, is committed to employees, encouraging interaction and investing time in addressing people issues and concerns. It also adheres to strong values, creating a positive organisational culture.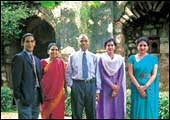 TEAM HEWITT: (From left) Sumer Datta, CEO, Hewitt India, Smita Anand, Head (Talent & Organisation Consulting, Dhruv Prakash, Head (Leadership Consulting), Purva Misra & Madhavi Misra Wadhwa, Lead Consultants (Best Employers), Hewitt Associates
So is there a "magic formula" for becoming a best employer? No. But going by the evidence from the best employers in India and elsewhere, there does seem to be a route to becoming one. And that route starts with the top leadership committing itself to the goal of becoming a best employer. Then, it must attract people who are not just talented but fit in with the organisation's values, and aim for a full employee engagement. That done, it must align people management practices to create the right environment. Finally, the organisation must measure the impact of the changes. If the results are good, keep at it. If not, fix it and go again.
Does being a best employer pay? You bet. As Hewitt's global studies reveal, best employers have lower employee turnover. In the US, best employers have half the churn compared to others; in India it is 45 per cent lower. Best employers also attract a larger pool of talent, and their performance on stockmarkets is better. In India, best employers outperform comparable indices and industry-related performance metrics by 15 per cent. Besides, best employers have better organisational morale.
The bottomline, as it emerges, is that being a best employer is not merely an hr issue. It's a strategic issue best championed by the CEO himself. For he's not just the chief employer, but the most important employee too.
---
-Purva Misra and Madhavi Misra Wadhwa are Lead Consultants (Best Employers), Hewitt Associates
Selecting the Best Employers in India 2003
The best employers survey is part of Hewitt Associates' global initiative and goes beyond shortlisting top employers. Its purpose is to:
Depict how people practices are aligned to meet employee needs
Identify linkages to business results
Provide insights on what HR practices differentiate Best Employers
Identify emerging workplace trends for the future, and
Share learnings to continuously raise the bar in employment value
Two hundred and twenty organisations participated in the Best Employers in India 2003 study, representing a distinct increase of 30 per cent since the introduction of the study in the Indian market three years ago. Across the globe, this is the highest figure represented in a single geography. Last year, there were 204 participants. All organisations in the country were invited to participate, as in the previous year, via invitation to their CEO and hr head, and media announcements. All the 220 companies met two eligibility criteria: they represented a minimum white-collar employee strength of 100 full-time employees, and had been operational in India for at least three years. The scope of the study was limited to white-collar employees.
The Best Employers in India were selected on the basis of their performance in three phases. The entire process from participation to selection took approximately eight months.
Phase I: Initial screening for minimum acceptable standards
Proprietary Hewitt tools were deployed to measure the effectiveness of all participating organisations. The comprehensive coverage across the People Practices Inventory(tm), Employee Survey, and CEO Survey assisted in the understanding of an organisation based on four perspectives: Of leadership, employees, people practices, and business alignment. Total respondent set was based on the organisation's size. For example, an organisation with 5,000 employees was required to provide at least 1,000 responses.
Two filters were applied on scores obtained from all organisations: First, did the organisation meet the minimum acceptable norms on each of the four perspectives, keeping in mind trend data available on Best Employers from around the world in current and past studies and, second, did the organisation fall at least in the top 50 per cent of the total participant list. Based on the above, 67 organisations in India, or approximately 30 per cent of the total participant size, were selected to proceed to Phase II of the study, which involved onsite audit for data validation and a deeper understanding of employment practices and philosophy. Organisations were requested to present their viewpoints on key drivers such as their approach to managing change, technology leverage, knowledge management, employee issues faced in their industries, and their views on dealing with these issues.
Unless an organisation did not pass data validation (that is, data presented in Phase I did not match that in the onsite audit), all shortlisted organisations were eligible for Phase III, where a panel of 10 independent judges-none from either BT or Hewitt-picked the final list of 25 Best Employers.