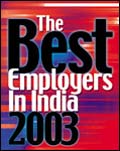 Best Employers
The third BT-Hewitt study is replete
with surprises: a new No. 1, a
clutch of public sector companies
that make the list, and several
stars that have suddenly
gone missing.


Are These Companies
The Best?
Yes, because being the best employer is
not about spoiling your employees but helping
them—and your organisation—realise their true
potential. more...
Infosys Effect
Why, in a bad year, there are no best employers,
only best employees. Or 10 reasons why
Infosys couldn't have avoided falling off the best
employers map. more...