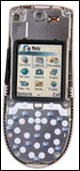 A whopping 20 million. that's the number of wireless handsets (GSM & CDMA) that will be sold this year-more than double the number of colour tvs sold annually. That's also the magic number that makes local assembly and manufacturing viable. And companies are taking the bait. Consumer electronics major Videocon (through a tie-up with Alcatel) will start assembling completely knocked down (CKD) kits in six months at its plants in Aurangabad and Kolkata. Though labour is a small component of handset cost (less than 5 per cent), the eye-popping difference between international and local labour costs (over 30 times) becomes significant when spread over larger numbers, says Videocon Chairman Venugopal Dhoot. Another company bitten by the manufacturing bug is the Chennai-based Munoth Industries (it currently retails an eponymous brand of phones imported from Korea, which is investing Rs 50 crore to set up the infrastructure. Consumer electronics major BPL also plans to launch locally manufactured phones next month. Besides, the US-based UtStarcom is looking at local manufacture of GSM phones. Nokia had better watch out.
---
"Feel Proud About Brand India"
As the Managing Director of Interbrand Inside, a division of world's top brand consulting firm, Interbrand, Ian Buckingham helps shape some of the best-known brands such as American Express, Philips and Marks & Spencer. Recently in India, where Interbrand has a tie up with Equitor Management Consulting, Buckingham gave his take on brands in India. Excerpts:
How do you see branding in India?
I think that on a corporate level and national level, brand India is absolutely at the crossroads. There are plenty of hidden jewels that are growing rapidly by offering innovative products to the UK. Take for example Flexcube, a standard for banking software in 93 countries. It (i-Flex) has quietly built a product that is probably the only serious software product coming out of Indian it business. Jet Airways is another brand that is so true to the Indian culture and values. The service we experienced was a great one and I think it's a great opportunity in terms of making it a standard for airlines. The electric car Reva should also make headlines in the UK. It's very much in line with what UK needs now. The focus needs to be on building brand awareness within India and making people proud about the brands.
You have been talking a lot about internal branding. What is internal branding?
The short hand of that is ensuring that the people within your organisation are in a position to deliver the brand promises that you are making.
How does one implement it?
First, mobilise your top team on the business case for doing this. Then comes the communication step, where the organisation fully knows what the brand is and the values it holds, why it holds such values, and sharing their story so that people are aware of it. Finally, create platforms for people to explore for themselves and understand personally and fundamentally, and see the behaviour indications among them as individuals.
---
Cancun Can-Can
The US' dance with the EU may hurt India.
It is far more difficult to achieve a consensus when there are three points of view involved. At the World Trade Organisation, this suited India and other developing countries just fine. These countries have all along maintained that they will not open up their markets to agricultural imports until developed countries scrapped all forms of subsidies. The conflict between the US and the European Union on this issue-the former is keen on the liberalisation of agricultural trade while the latter wishes to retain the flexibility to continue subsidies-has traditionally helped developing countries get their way. Now, it looks like they'll no longer be able to use this strategem. Reason: a recent announcement by the US and the EU to the effect that they have arrived at an agreement on the issue of agricultural subsidies. India is sticking to its original position that it will consider the issue of opening up its market to agricultural imports only after understanding the actual cuts effected by the US and the EU in their subsidies. Not all news, however, is bad: 14 developing nations, including India, China, Brazil and Mexico have forged an alliance to oppose the US-EU move. "This will not only provide the developing world with greater negotiating power," explains T.K. Bhaumick, Senior Advisor (Trade Policy), Confederation of Indian Industry, "but also result in some hard negotiating at the coming meet". The worry is that the US-EU combine could force developing countries to discuss issues related to investment and government procurement (put simply, they don't want to do this). And some analysts suggest that not too much be made of the 14 nation axis. "Remember Doha," they chorus. India, for the benefit of those who know little of the Doha round of talks of the WTO, stood alone in its opposition to introducing new issues for discussion at the conference.
-Ashish Gupta
---
EXECUTIVE TRACKING
Autumn Churn

Amit Bose: Creating a buzz, alright
Amit Bose's move from Reliance Infocomm to Tata Teleservices as President seems to be roiling waters in the Tata company. Key executives are being shuffled around and the company's Managing Director S. Ramakrishna-surprisingly (because he should be the one deciding on the role changes)-doesn't seem to be happy about it. When BT spoke to him, he did sound a little disturbed over the redeployment of a "credible person" such as the coo of Tamil Nadu circle R. Balachandran to the Andhra Pradesh and Gujarat circles. BT will be keeping an eye on the developments here.
Meanwhile, Marico's Harsh Mariwala continues to lose people. Between January and June this year he lost COO Jaspal Bajwa, Marketing Head Arvind Mendiretta, and GM (HR) Chetana Gargava. Now, it's the turn of Marico Healthcare CEO Pranab Datta to call it quits after a 13-year stint at the group. BT hears that he's joining housing major, Mahindra GESCO. There's movement at Pepsi, too, where CIO Upal Chakrabarty has moved to BPO major Convergys in a similar capacity. "The challenges of a CIO in the IT-enabled sector are far more than in FMCG. In Pepsi, it is merely a support, but in (Convergys) it is the backbone," explains Chakrabarty.
Things are warming up at Ramesh Vangal's Scandent Network. Come September, it will get a new Vice President (marketing & new business development) in Ashish Mishra. Until early this year, Mishra was Bacardi's Marketing Controller, which he quit to join the WPP Group's marketing consultancy, the Henley Centre, as CEO.
-Moinak Mitra