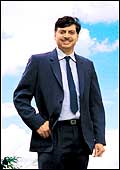 Services companies have traditionally been born whenever there is a disruption and discontinuity. Successful services companies used the disruptive technology as their lever to scale, but once scale was reached, they offered a full range of services to the client. The client-server wave, enterprise resource planning wave, Y2K wave, and the e-biz wave spawned new breeds of companies-Scient, Cambridge Technology Partners, Viant and Indian it companies-but only a few survived as pure-plays. The rest have either closed down or become full-service companies. This shows that timing is important, but having the right mix of innovation, customer service and operational excellence is crucial for longevity.
3M is known for innovation, the Ritz Carlton hotels for customer service and Motorola for excellence in operations. All have won the Malcom Baldrige award at some time. Even so, they are known for just one area of strength.
Typically, a successful company has a threshold level of performance in three parameters-customer service, product innovation and operational excellence-and a clear leadership in one dimension. This means that in any market there could easily be three players, each with an established set of customers, with one that values a particular dimension over the other two. In the pc world this allows Apple, Dell and hp-Compaq to co-exist.
Which leads us to the question-wouldn't a company which excelled in all three dimensions, be a clear winner? Of course. So, why don't more companies achieve this? To answer that question, we need to look into the drivers of excellence in each of these dimensions and the different approaches required for each. We will also explore what it would take for these diverse skill-sets, capabilities and objectives to co-exist in a services organisation.
Customer Service Organisation
This organisation is designed around the customer. For example, the Ritz Carlton prides itself on anticipating and fulfiling a customer's wishes. Each employee is empowered to break away from regular duties to solve a customer problem. To bring a sense of caring they moved away from a factory approach, where a person performs just one task, to a craftsman approach where one person performs the entire sequence of tasks. The hallmarks of a such an organisation are flexibility, personal attention and pride of ownership. This is often at the cost of automation, standardisation and repeatability.
The reward system in such an organisation is aligned closely with customer satisfaction and loyalty. The training programs are geared towards enhancing this value. Staff are hired for their communication skills as much as for their functional expertise. The cost of service delivery is relatively high because of the lack of automation and standardisation.
Operational Excellence Organisation
In some ways this is the antithesis of the customer service organisation. Here the attitude is almost "I wish these customers would get out of my way so that I can get on with my work more efficiently." Often, companies operating in volatile environments or in mature industries focus on operational excellence as a means to retain their profit margins. Here every task is analysed and broken down into its most efficient component and assigned to the best person for the task. The emphasis is on efficiency and cost reduction.
The reward system in this organisation is tied to operational efficiencies. These organisations place a high premium on functional skills and training is focused on skill enhancement. Repeatability is important and deviations from set norms are frowned upon.
Product Innovation
Organisations that are built on this dimension tend to be adhocracies. They nurture independence and thinking out-of-the-box. As Richard Carlton, 3M's director of manufacturing and author of its first testing manual, wrote, "Every idea should have a chance to prove its worth, and this is true for two reasons, one: If it is good, we want it. And two: If it is not good, we will have purchased peace of mind when we have proved it impractical." The cost of these failed products is built into the pricing and hence costs are relatively high. However, the products often tend to be unique and can thus command a premium.
Innovative organisations hire innovative people and give them the freedom to create. There are not too many rules in these organisations and rewards are linked to innovation. As in the customer service organisation, the focus is not on automation or standardisation.
Putting All Three Together
What does it take to put all three together? Interestingly, we can't think of a company which has done it successfully. Yet companies continue to search for the elusive pot of gold at the end of the rainbow. The primary barrier to achieving excellence in all three dimensions is culture. So it is clear that we need to decouple these three organisations within one company and figure out a way and level to integrate it.
In the context of a global services organisation, what does this mean? What would these three 'mini-organisations' be? How would they function as a cohesive unit?
Customer Service Layer
This organisation is the front-end and is responsible for ensuring customer satisfaction. People here are empowered to do whatever it takes-even break rules-in order to satisfy the customer. Their incentives are aligned with customer retention and satisfaction. The people in this organisation are located near the customer and ensure a personal response to customer issues. Because of the flexibility inherent in the role and the location of these teams, the cost of operations is relatively high. This is also the layer which is responsible for ensuring the stickiness of the customer with the company and institutionalising customer relationships. This layer will ensure that the services organisation has visibility and the predictability of revenue. Sandwiched between the project delivery organisation and the customer, this is the layer which invariably will be the first and last point of escalation. Building a strong customer services team is critical to the success of a services company.
Product Innovation Group
This group defines new services or products and constantly innovates services and delivery models to transform the customer business. The focus here is on innovation and business understanding. The reward system for this organisation is linked to the ability to identify unique services and put in place a mechanism to deliver these for maximum business benefit. This brings together a diverse set of people with expertise in product development, business consulting and process excellence. Product innovation prevents a company from getting commoditised and is often the plank on which services brands are built. In the services context, product innovation manifests itself in newer services, transforms services which were previously offered on-site to offshore and delivers through new business models.
Operational Excellence Team
Taking a cue from Henry Ford, planning is separated from doing, and the focus in this team is standardisation, automation and minimising cost. Functional expertise is the most important value and rewards are linked to process excellence. A six sigma approach ensures that the solutions are geared to the customer.
SEI CMM Level 5, ISO and similar frameworks are all geared to work in an operationally excellent manner, assuming the customer gives an input in a particular format. Most Indian companies are operationally efficient, which is key to ensuring that there's no hole-in-the-bucket syndrome-customers being acquired from one side and being dropped from the other.
Conclusion
In the absence of timing as a catalyst of growth, innovation in organisational design can provide the necessary platform to scale. Therefore, it is imperative that services organisations aspire to be the best in all three dimension, and we hope that we will be the first company to achieve this.
---
Phaneesh Murthy is CEO and Jessie Paul, Vice President, Marketing, at iGATE Solutions