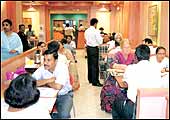 Served in Saravanas: A home-grown chain with global aspirations, Sarvana Bhavan has 19 outlets in three Indian cities apart from those in Dubai, Singapore, Ontario and Mountain View in California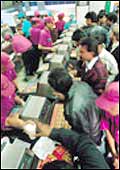 Made in McDonald's: The Golden Arches area global phenomenon. With revenues of $15.5 billion (Rs 71,300 crore), the multinational corporation has 30,000 outlets in 119 countries
The Nadars, a Tamil community traditionally into the grocery and retail business, are a pious people. It's a popular belief among them that ventures bearing the name Saravana (a Hindu God) rarely fail. Ergo, when Nadar P. Rajagopal started his restaurant business in Chennai in 1981, it was only in the fitness of things that he name it Saravana Bhavan and decorate the restaurant, and all that came after it, in Delhi or Dubai, with pictures of Gods and Godmen.
A few metres away from the only Saravana Bhavan in Delhi (on heaving Janpath, if you must know), is one of the 22 Delhi outlets of McDonald's. Here, it is the more secular figure of Ronald McDonald that holds centre stage.
That Saravanas (as the chain is known) and McDonald's would meet each other in a bustling borough was preordained. The first is a home-grown chain with 19 outlets across three Indian cities, a presence in Dubai, Singapore, Ontario and Mountain View in California, estimated revenues of Rs 300 crore, and global aspirations. The other is a $15.5 billion (Rs 71,300 crore) multinational corporation with 30,000 outlets in 119 countries.
Still, this isn't a how-the-dosa-held-its-own-against-the-burger kind of story. There's nothing much that separates the two Janpath outlets: apart from the numerical similarity (See The Numbers Game), a McChicken Burger and a Saravanas masala dosa taste the same anywhere in world.
At the core of any successful fast food operation are efficient processes and a superlative supply chain. That's true of the two chains discussed here. A McDonald's kitchen takes up very little space. And virtually no cooking happens in it. The most important ingredient of a chicken burger is the patty. Readymade and frozen, this is heated precisely for two minutes on a hotplate whose temperature is electronically controlled. Then come the sauces and the vegetables, and the burger travels down to the delivery counter with a tag indicating its time of production. If it doesn't fly off the shelf in the stipulated 10 minutes, it goes into the waste bin. "It's not so much about the quick service or the ambience. What matters is that we serve the food hot and fresh," says Vikram Bakshi, MD, McDonald's India (North).
Saravanas' kitchen is all shiny stainless steel, but it is thrice as big as the McDonald's one. The shelf life for chutneys is 30 minutes; for sambhar, four hours. Absent are the timer clocks and electronic temperature controls. This is still the domain of hand-measures and good ol' intuition. Technology manifests itself in the form of roving ceiling-mounted cameras. The images can be seen live by Saravanas' top bosses in Chennai.
If standardisation helps McDonald's ensure a burger tastes the same across geographies, then training does the same thing for Saravanas' dosas. Its cooks undergo a six-month long training course at an in-house school in Chennai.
The McDonald's supply chain is an international benchmark. In India, the company has developed 50 vendors from whom it sources almost all its requirements (frozen fries are imported from Holland because Indian potatoes have a high sugar content; palm oil from Malaysia). And to cater to the 30 McDonald's outlets in the north, the company has a distribution and cold storage centre in Noida, 30 kilometres from Delhi. Here, two huge storages are maintained at minus 22 degrees Celsius (a temperature at which milk, lettuce, chicken patties, and fish can stay fresh a few months). A battery of five refrigerated trucks makes two-to-three trips every week to each restaurant to replenish stocks.
THE NUMBERS GAME
Average bill size:

Rs 70 Rs 100
Footfalls/day:
McDonald's: 1,200 and 1,500 (weekends)
Saravana Bhavan: 1,500 and 2,000 (weekends)
Food:
McDonald's: Approximate number of burgers
(all varieties) served in a day: 400-500
Saravana Bhavan: Number of dosas served (all varieties): 900
The whole network is so efficient that McDonald's Bakshi is inundated with requests from manufacturing companies that want to emulate the fast food major's supply chain.
Saravana Bhavan boasts no mega cold storages, no refrigerated trucks. Its vendors (the company is secretive about their identities) are all based in Tamil Nadu. HQ sources supplies and ships them to all branches, even the ones overseas. "There are some vegetables, spices, coconuts and certain varieties of rice that you get only in the southern states," explains S. Mahalingam, Branch Manager at Delhi's Saravana Bhavan.
For instance, the Janpath outlet's supply of 2,500 coconuts, an equal number of plantain leaves, 500 kilogrammes of rice and lentils and hundreds of kilogrammes of vegetables arrives in Delhi twice a week, in the Tamil Nadu or The Grand Trunk Express after a journey of between 32 and 36 hours. It works for them. And it's as Indian as, well, a dosa.
---
Gone Flat
Or how Coke and Pepsi tripped after a great start.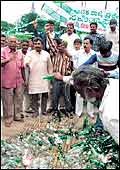 One for the road: Angry protestors empty out Coke and Pepsi bottles
The press conference was called hurriedly. It was august 5. At noon, Delhi-based non-governmental organisation Centre for Science and Environment (CSE) had brought out a report alleging that several Coca-Cola and PepsiCo brands contained high levels of pesticides. At 5.00 p.m., PepsiCo India's CEO Rajeev Bakshi, and Coca-Cola India's President Sanjiv Gupta addressed a joint press conference. "If the allegations turn out to have the potential to tarnish our image, we will consider all options, even legal," said Gupta. Bakshi, too, was combative. "(The report) is completely baseless," he said.
The conference was a good idea. Then, the two cola majors went all over the place. One's CEO hinted darkly that CSE's report would hurt foreign direct investment into India. The other questioned CSE's credentials. All the while, sales of both companies continued to plummet, by as much as 30-40 per cent in some cases. Finally, Pepsi approached the Delhi High Court which directed the government to revert with an independent test. The Supreme Court threw out a similar plea from Coke.
Still, the two companies may well have fallen into the regulation trap. The health minister may have assured parliament that Pepsi and Coke products conform to Indian standards, but she did assert that India would soon move to the more stringent EU standards. And calls for a proble by a Joint Parliamentary Committee haven't entirely ceased. Worse, the two companies have done little to bridge the yawning disconnect that has opened up between their brands and consumers. "We understand that rational methods have to be extraneous to the company," says Bakshi, defending Pepsi's decision to go to the courts. We'll soon know whether the "rational methods" worked.
-Shailesh Dobhal
---
Are IP-Based Call Centres More Efficient?
The short answer to that is y-e-s.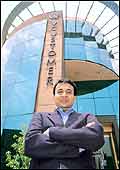 Sanjay Kumar, CEO, vCustomer: IP is it
Quick, what do call centres do when they want to cut costs by a third? They migrate to an IP (Internet Protocol) infrastructure. For those who came in late, IP is all about piping data (and voice) through networks in packets, a technology that is far more efficient than the traditional circuit-switching one where a dedicated circuit is established between the source and the destination of the data. "Using compression technologies, IP permits more voice channels per leased line," says Amit Mehta, National Marketing Manager for contact centre solutions at Tata Telecom.
Add sweeteners such as rapid start-up (two weeks as against months) and it is easy to see why IP is all the rage.
Delhi-based call centre vCustomer's 2,000 agents handle over two million calls a month on an IP infrastructure.
And start-ups like Bangalore-based Nirvana are counting on the IP advantage to create a differential. IP, IP, ...
-Vandana Gombar
---
Accountable Governments
Local governments are discovering the pleasure and the pain of going double-entry.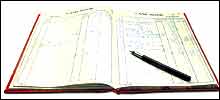 In the next few months the municipal corporation of Delhi proposes to raise some Rs 250 crore from the bond market. The corporation has its new accrual-based double-entry system of financial accounting to thank for that. It was while moving away from its old cash-based single-entry accounting system to the newer, more-efficient one that the MCD realised that it had assets worth Rs 4,600 crore. "Now, we can use these assets to raise funds," says Pravin Tripathi, mcd's chief accountant.
The genesis of MCD's desire to go the double-entry way lies in a December 2001 judgement delivered by the Supreme Court in response to a 1996 public interest litigation (PIL). The court asked MCD to "maintain accounts as per the mercantile system of accounting". Bangalore's city corporation has already moved to such a system, Tamil Nadu has begun the conversion work for its local bodies, and Haryana and Chattisgarh soon will.
But why should corporations shift to an accrual system of accounts? "The new system shows where the corporation gets its resources and what it uses them for and whether it is in a position to cover its costs," says B. Chakravarty, the man MCD has put in charge of its switchover. That's pretty much what Management Accounting 101 says an accounting system should do.
Making the change isn't as easy as it looks, warns Ramesh Ramanathan, a member of the Bangalore Agenda Task Force who helped the city corporation move to a fund-based accounting system. "The devil is in the details because it isn't just about a different accounting system, but an entire business process re-engineering exercise." One level of detailing involves treating different types of assets-such as a shopping mall owned by the corporation that it can let out and a park owned by it that it has to maintain-differently. Another deals with using the output of the system to gain the trust of citizens. "A 1,000 such issues need to be addressed before the benefits of a new accounting system accrue to the common man," says Ramanathan. Still, it's a start.
-Ashish Gupta