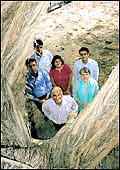 In the NGO fold: Ashok Alexander (in front) with his team of corporate-switchovers.
At 31, Parikshit Shrivastava, a research associate with The Energy and Resources Institute (TERI), has the satisfaction of saying he doesn't miss the corporate life. And he's been there too: with GE Capital, to be precise. "Post MBA, I was drawn to the corporate world," he recalls, "but found something missing in my five-year stint with GE." He went into introspective hibernation, resurfaced in 2001 at the London School of Economics with a scholarship in Environmental Impact Assessment, and clinched a job with TERI in January 2002. Today, he's a dyed-in-the-wool non-government organisation (NGO) man, and intends to keep it that way.
Why? Passion. It's what appeals to the inner him. Moreover, the money's good enough to afford him a life. Not a high-flying corporate lifestyle, but a reasonably comfortable life. NGO careers are no longer just for heart-led souls either on family support or happy to drain their inheritance. And more and more execs are discovering this.
Switchovers
Jerry Almeida, 31, started work at 16, selling media space. Now he is the CEO of Action Aid India, a voluntary non-profit organisation that raises funds to engage in assorted fights for rights. For most of his worklife, though, this lanky Goan was a corporate man. As a brand manager at ITC, he handled Pall Mall and Gold Flake cigarettes, and then headed Result McCann, the direct marketing arm of the ad agency, from where he moved to the Taj group of hotels to manage its 'Millennium' events. Last January, he dumped it all for Action Aid. And what about the money? He took a hefty pay cut, he says.
Vidisha Salunke, 29, a research associate with TERI, gave up the chance of a neat dollar salary in the US, qualified as she was as an architect specialising in energy efficient structures. It's not the same money. But it's good enough, given the kick of putting her skills to good use. Her colleague Amit Kumar, 36, gave up a corporate career; he was an energy conservationist at Hindalco. His new pay was just half his old, but this was offset by the prospect of doing the environment a good turn, and that too in a hierarchy-free work culture. "We have a flat structure," explains TERI Director General, Rajendra K. Pachauri.
NGO jobs are no longer just for heart-led souls, either on family support or happy to drain their inheritance.
Serious Money
If there's one big parallel with the corporate world, it's this: as dollars begin to flow in, the pay structures begin to escalate. And that, in a sense, has begun happening. How else would NGOs attract McKinsey consultants?
Ask the Bill & Melinda Gates Foundation, an organistion that appears to have reset all the old notions about the kind of talent an NGO could swipe from the corporate world. The director of its aids initiative in India is none other than Ashok Alexander, who was once a senior partner with McKinsey & Co, among the country's top payers. Indeed, it was a 16-year stint that he snapped by moving in to take on the Foundation's aids challenge in the country-a turnaround effort that probably requires harder strategic thinking than anything at McKinsey.
The significance of that switch must not be underestimated; and don't forget the $100 million grant that Bill Gates gave the Indian unit on his last trip. If more and more NGOs start getting endowed with serious money (and serious money demands serious results), expect these organisations to start looking for the best technical and management skills on the market. And there's more to learn after signing up. "You also have to go up a very steep learning curve (in NGOs)," says Alexander, who believes that NGOs should work like any other business and "re-examine what they pay people, as you can't retain top talent at minimum wage".
Among the other corporate hotshots Alexander has drawn to the Foundation are Padma Chandrasekaran, who was once the chief of Satyam's Online business, Citibanker Alkesh Wadhwani, Aparajita Ramakrishnan from McKinsey, New York, and three others.
Pressure Principle
As this sort of thing gathers pace, older NGOs could find themselves pressured to start paying a little more. The Chennai-based MS Swaminathan Research Foundation (MSSRF), for instance, has begun to find that it's monthly pay scale of Rs 5,000-25,000 is rather too low even for scientists who have few interests other than the deployment of knowledge to improve the human condition.
The Delhi-based Centre for Science and Environment (CSE), however, has managed to remain reasonably competitive. It pays its employees on a monthly scale of Rs 8,000-50,000. Job position to position, this is less than what the cola majors pay their staff, but good enough to keep the NGO alive and-dare one say-kicking. Would CSE's chief, Sunita Narain, welcome corporate switchovers? Why not, she says. But she is clear that she wants "jumpouts, not dropouts". And this could mean baiting them with moolah-at least of the minimum lifestyle maintenance sort-as much as the thrill of stirring the country up.
---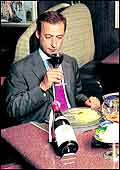 Bichot's Alberic Bichot gives a demo
Wannabe a wine taster? Ask Neil Fernandes, Researcher, Vinicola Pvt Ltd, and he'll tell you experience is everything. So get started. To begin with, stay off the stuff that kills taste and smell (no tongue-numbing tobacco). Then tune in. Observe the wine's rim colour, swirl it around, whiff-in the aromas thus released (fruity, flowery, earthy, woody, herby, spicy?) Now take a tongue-tip sip for the initial taste on your buds. Another, for the 'body' taste (some mild tongue swirlings in order here). Swallow. And then relish the aftertaste. Some day, you'll get the wine 'balance' down to its finest calibration. And you'll earn packets.
---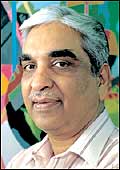 I have been undergoing training as a paint technologist with an auto major for the last three months. With product variants and styling emerging as key influencers of purchase decisions, I have been given to believe that the company's paint shop plays a critical role in the business. The challenge, as I am told, calls for skills of chemical engineering, apart from keen analytical abilities and knowledge of measurement systems. However, I don't have an engineering degree, and intend to learn on the job. I'm a graduate in physics. My peers and supervisors are mostly chemical engineers. Some even have doctorates in chemistry. I often feel out of place, and they enjoy using jargon. What should I do?
When pitted against chemical engineers or doctorates, you will lose out in terms of job growth. You have two options. You can go ahead and apply for engineering courses if you really want to continue in this field, or you can change your field completely-you could get into sales, technical selling or technical support for products whose knowledge you are likely to have, given your degree. In the former case, you'll lose three years but you would be equipped with the skills and knowledge base required to work in the paint shop. However, if you are not passionate about this field, the latter option would be better for you.
I am a medical representative at a pharma company. Eight years ago when I joined, this company valued medical reps highly. But today, it prefers the over-the-counter (OTC) route for more and more drugs. New 'marketing' skills are now in high demand, and I feel that sales people from the FMCG sector, with little respect for the sanctity of the pharma business, are elbowing me out. Please advise what I should do.
As long as there are prescription drugs, there will be demand for medical reps. Hence, there is no reason for you to fear a job loss or even to think that this is the end of the road for medical reps. But with profits getting squeezed, expect to see this function outsourced, even as the salesforce size is reduced. So hang in there, but remember that the only way to withstand competition is to work hard and smart, and deliver outstanding results consistently.
As a process manager in a mid-sized ITEs company, I am responsible for driving the business process, for providing end-to-end solutions, for customer satisfaction and for managing the rest of the team. The BPO sector is fast becoming a game for big investors and those with small pockets are getting eliminated. While the lower levels seem much more mobile, it is at the higher echelons that the pressure is being felt. I've been with my current employer for a year now and foresee a pay cut or job loss soon. What should I do?
With competition coming in from all quarters, the BPO industry has come under pressure to provide and maintain low-cost solutions. It is going to be a tough market where consolidation and restructuring is going to be more frequent. You could continue in this industry, but change assignments to work for a larger player or better still, with a captive or in-house BPO. Many overseas companies have set up their own establishments and these are relatively stable. The other option for you is to change industries altogether. You could look at service industries-banking or telecom-which have functions to suit your experience.
I am a product development executive in a large telecom company. My job involves generating product differentiation ideas that help the product development department create products that could command a premium in the market. But times are tough and competition, fierce. A major part of my pay package has a variable component that is linked to my performance. I have been working with my present employer for the last two years, and have done fairly well so far. But I'm fast running out of ideas. What should I do to maintain my good track record?
There are two ways to look at it-your having to work harder to come up with viable ideas or coming to the conclusion that your job here being done, it's time to move on. A new person inducted in your place will bring fresh ideas to the job and you may be able to contribute your mind to a new assignment. Hence, you could ask to be transferred to another assignment. This will give you a more rounded experience. Whichever one you choose, you have little to lose.
---
Answers to your career concerns are contributed by Tarun Sheth (Senior Consultant) and Shilpa Sheth (Managing Partner, US practice) of HR firm, Shilputsi Consultants. Write to Help,Tarun! c/o Business Today, Videocon Tower, Fifth Floor, E-1, Jhandewalan Extn., New Delhi-110055.
---
Steeling New Jobs
Steel's hot, hot, hot-and recruiting people.
TO ALSO MAKE STEEL...
You need educational qualifications: metallurgy, mechanical or electrical engineering diploma.
You need business training: marketing, finance, HR, business administration or computer systems.
You need a value-addition attitude: branding as a value-addition process and orientation towards end customer needs.
Back in Dustin Hoffman's days of the graduate (1967, that is), 'plastics' was the way to go. Steel was yesterday's industry already. Guess what: steel is back-and recruiting too. At least in India, which makes an annual 29 million tonnes of the metal and is likely to keep making more and more, as demand rises and costs get screwcapped. Indian steelmakers are cost competitive, you see.
But still, steel jobs today are not like steel jobs yesterday. ''With the modernisation of old plants, the focus of recruitment has shifted to people with technical skills and qualifications,'' says John Joseph, AGM (HR), Jindal Steel, which looks out for diplomas in metallurgy, mechanical or electrical engineering-or B.Sc degrees in chemistry or physics-at the supervisory level. Likewise, Steel Authority of India Limited (sail). ''Fresh engineering graduates are considered for technical positions while other graduates are recruited as trainees in marketing, finance, hr, corporate communications and administration,'' says a spokesperson for sail, which conducts an entrance exam for these jobs.
The revolutionary of recent times, though, has been Tata Steel, which wants to be a solution-provider rather than a furnace operator, and has taken to brand value-additions in a big way, thus raising its required skill sets beyond the old and traditional. Tata Steel needs MBAs who think Drucker, Levitt and Kotler, not just engineers.
---
Life After BPO

Where do BPO burnouts go next?
Of the estimated 170,000 currently employed at BPO units across India, some 34,000 or more will quit this year. Some, after hitting the supervisor level ceiling, while most will just want out (one more customer call to soft-roll the Rs for, and they'd scream).
Where will they go? To the software sector mostly, says G.V. Giridhar, General Manager (hr), 24/7 Customer, since many BPO employees are engineers using this job as a stop-gap. At the junior agent level, almost half go for higher studies or to pursue other dreams. Onkuri Majumdar, for example, quit EXL Service to become a legal assistant to the Wildlife Protection Society of India.
Lucky them; what about the rest? Hey, this is a career too, protests Aniruddha Limaye, Vice President (hr & Training), Daksh e-Service, so why single BPO out? Besides, ''A supervisor or a manager has developed skill sets to deal with service issues and customers, and can migrate to any service industry.'' Well, people with a battlefront feel for customer angst-and who empathise well-can possibly hit big time, so long as they figure out the big picture of business.