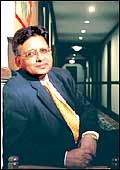 At 43 he has worked with the bluest of blue chips (think Citigroup; think Unilever). He's also worked for some high profile flameouts such as Andersen. Strange, then, that it is only now that Ganesh Shermon feels he's closest to achieving his goal in life. The now, for this strategic planning and hr maven, is a move to Toronto, Canada, in pursuit of his second PhD (in Strategic Human Capital Measurement, if you must know). "I plan to develop a model that evaluates an organisation through an index on human capital value," says Shermon. This index, he explains, would serve to evaluate a company, especially when a M&A is involved. The PhD is Shermon's first step towards emigrating to Canada and jumping into the world of academia. The tales he'll be able to tell his class....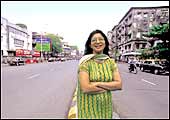 Space Tracker
When you have a CV that boasts a successful stint at Zee Telefilms during its glory years, and a period heading the country's first independent media-buying agency in the country (Carat), what do you do for an endgame? If you are Meenakshi Madhvani, you launch India's first independent media audit firm, Spatial Access Solutions, that's what. The 40-year-old media hotshot believes the Indian market is now mature enough to warrant an independent media audit entity. "Today there is no benchmark for the right price for a particular adspend," says the lady. "We'll create a series of benchmarks with a lot of transparency in the marketplace." Should agencies be worried?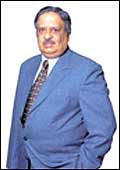 Revival Rewards
Meleveetil Damodaran has plenty to cheer about. First, the 56-year-old UTI CEO's boss, Finance Minister Jaswant Singh is happy with him, and has said so in public. Endorsing Singh's view on Damodaran's role in turning around the country's largest mutual fund is the hoary Harvard Business School. The school has decided to dedicate a case study to the state-owned fund manager's revival. Case studies such as this are part of the teaching material at HBS, and available to other B-schools. Damodaran is likely to corner a bit of limelight in the study. UTI won't be the first Indian company to become the subject of a HBS case study. Some 30 companies, including Nirma (that old story of how it took on HLL), TCS, and Indian Hotels, have been there, done that. Still, Harvard is Harvard, and Damodaran has every reason to be happy about it.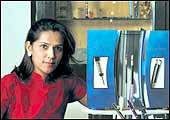 Penning A Success
It's a pen that costs as much as a fully loaded small car, and a new one at that. Not too many people would give products such as these much of a chance in a country renowned for its thrift. Pooja Jain, the 20-something Marketing Director of Luxor Pens and daughter of the company's founder D.K. Jain, isn't one of them. Last week, she launched the iconic Waterman brand of pens in India (prices range from Rs 2,500 to Rs 4.5 lakh). "We already have Parker in India, and Waterman completes our portfolio of brands," says Jain. The London School of Economics grad joined the Rs 150-crore family business in 1998 after being trained at Parker's manufacturing units England. "Waterman is the Mercedes of pens. And Mercs do sell in India. So why wouldn't Watermark?" argues Jain. You can't but agree. After all, what would the owner of a Mercedes do with a small car?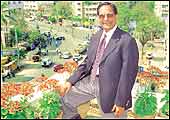 Out-of-court Analgesic
Litigations are a headache most Indian pharma companies in the generic drugs business face. Kallam Anji Reddy, Chairman, Dr. Reddy's, would have heaved a sigh of relief last week when Eli Lilly agreed to take back its claim of wilful infringement against Dr Reddy's for a new drug application it filed in 2001 for Olanzapine in the US. In return, the Rs 1,580-crore Indian pharma major agreed to dismiss certain counter-claims related to the case. That's a win-win: the drug has average annual sales around $2.8 billion in the US, and Eli Lilly's patent expires next year. Analysts say the out-of-court route is a smart, cost-effective remedy The doctor's taken the right pill.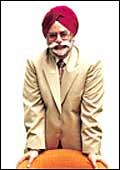 The Thrillseeker
For most people aboard a plane a hijack spells panic. Not for Bharat Sanchar Nigam Limited (BSNL) Chairman and Managing Director, and St. Nick lookalike Prithipal Singh. When 59-year-old Singh found Army commandos surrounding the Indian Airlines flight that took him to Jammu (he was there for the launch of his company's cellular telephony service in Jammu & Kashmir), fear was the last thing on his mind. Instead, insists Singh, he was "very excited and thrilled". The man's excitement, however, proved rather shortlived as the hijacking turned out to be nothing more than a case of a pilot pressing the wrong button. Evidently, it'll take more than a false alarm to stop the spunky Singh from reaching his target of five million cellular subs by March 2004.