Bachchan and Khan: The new stoichiometry instructors
This is a new role for celeb endorsers. They've endorsed everything from pens to financial services to colas to cars. But safety? Actually, they'll still be selling colas, but post the pesticides-in-soft-drinks scare, the ads are likely to be less about colas, and more about how it is safe to drink them. Coca Cola and PepsiCo may well have to get their endorsers-it could be Aamir Khan for Coke; Sachin Tendulkar or Amitabh Bachchan for Pepsi-to mouth lines about how safe it is to drink a cola. Burp!
"Our prime motive is to clear our image with the consumer," says Rajeev Bakshi, Chairman, PepsiCo India. "We may call in Amitabh Bachchan and ask him to make a rational statement before moving on to the emotional aspect." The choice of Bachchan has set the rumour mills going about how Tendulkar, fresh from his Ferrari controversy, opted to sit this round of commercials out. "These reports are speculative," says Shashi Kalathil, PepsiCo's Executive Director (Marketing). "Besides, we would never do anything that compromises the image of our endorsers."
Coca-Cola India plans to use Aamir Khan to bolster its image. According to the company, it is still working on the form and content of its image-salvage commercials. It doesn't take rocket-science to figure out that these will be fact-heavy. As Pepsi's Kalathil puts it, "It will involve scientific figures and facts". Well, it'll be a refreshing change to have Aamir Khan and Amitabh Bachchan tell us about the finer points of stoichiometry.
---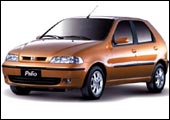 For about a year after its launch in September 2001, the Palio ruled Indian roads (well, in a manner of speaking, it did). Then, news of its parent's financial woes and its reputation as a fuel-guzzler caught up with the marque. In April 2002, the company sold 3,985 Palios. By December, it was selling a mere 550 a month. The company did try to halt the slide, by upping the marketing ante, and by launching a diesel variant. Now, almost a year after its southbound journey began, Fiat has unveiled its long-overdue third front. On August 26, the company launched the Palio NV. Priced marginally higher (the existing model retails for between Rs 350,000 and Rs 412,000 depending on the model; prices are ex-showroom Delhi), the NV is about 10 per cent more fuel-efficient than its predecessor. The company has asked its dealers to sponsor mileage rallies to drive home this message. Already, on the strength of its marketing efforts and helped by the buoyancy in the market, the Palio's sales have climbed back to 2905 (in July). The NV may be just what's needed for the marque to retain its lost glory.
---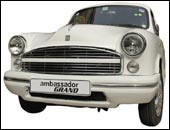 A+
To the Ambassador, of which another new variant was launched recently, purely for longevity. We promise to say no more.

C-
India's Telecom Minister Arun Shourie has discovered one of the perils of a fluid policy regime. Upset at VSNL's falling revenues, its American shareholders-the government had promised them at the time of VSNL's GDR issue that the company would enjoy its monopoly in international long distance telephony till 2004; it actually lasted till 2002-have filed a class action suit. That hits VSNL's current owner the Tata Group , but surely Shourie knows all about the concept of moral responsibility.
---
Should Mumbai Worry?
For now the commercial capital seems unshaken.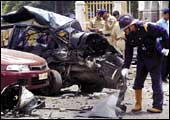 A fire fighter sifts through the wreckage of cars damaged by an explosion
Less than a month after a blast at Ghatkopar killed four and injured 32, Mumbai was rocked by two synchronised car bombs on August 25. When BT went to press, forty-six people had died and more than 140 injured. The BSE Sensex plunged 145 points soon after news of the first blast in Zaveri Bazaar reached Dalal Street (there was another one minutes later near the Gateway of India). But by the end of the day, it recovered to close above the pyschologically-important mark of 4,000.
But the question is, should India's business capital worry about its increasingly violent clime? Although this is the sixth attack in nine months and comes after 10 years of the most violent one in March 1993, which killed 253 people, Mumbai's marketmen are putting up a brave front. "The fact that the market fell and recovered towards the close suggests that based on the present level of knowledge, the market may have discounted the event," says U.R. Bhat, Director, J.P. Morgan. "As for the sentiment, this is not the first one (of the blasts) in Mumbai and so that should hopefully give confidence.''
Bhat isn't alone in discounting the effect of the blasts on Mumbai's stockmarkets. Mitesh Mehta, Director, K.G. Vora Securities, feels that the fall in Sensex is more due to the expected correction and some operators booking profits rather than a reaction to the bomb blasts. He says that a further 100-point fall is not ruled out. "People all over the world are by now used to such acts of terrorism and I don't think this incident will affect the FII inflow, unless this takes a communal turn,'' says Mehta. Hope he's right.