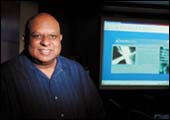 B.K. Modi: Better believe it, he's the peacemaker
B.K. Modi, the businessman who built an empire around joint ventures with the world's finest corporations-think Motorola, Alcatel, Xerox, Distacom, Continental ag, Olivetti-only to lose most of it as his partnerships unraveled, is back in the news. Come to think of it, the man has never really been out of news, whether it be Xerox-Modicorp's kick-backs to buyers or Spice Telecom's (this is a Modi group firm that offers cellular telephony services in Punjab and Karnataka) defaults on payments to equipment vendors. If the present is any different, it is because Modi's return to relevance has no shades of grey attached to it. The former chairman of the Cellular Operator's Association of India (COAI)-the buzz in Delhi's telecom circles is that he was forced out after making a hash of presenting the cellular companies point of view to the then telecommunications minister around the time these telcos were trying to move from a licence-fee regime to a revenue-sharing one-is back in the country from New York, where he is based, to help the cause of the cellular operators in their fight against basic operators providing mobile services (See Limited Mobility: Unlimited Options in this issue for details of the scrap). That must be sweet vindication for the Non Resident Indian.
It seems only apt that this message of peace comes from Modi: he became a practicing Buddhist in the early 1980s and for some time, even considered sponsoring Bernardo Bertolucci's film on Buddha. And the business of peace is a logical extension for his $150 million (Rs 690 crore) empire-in terms of book value, he clarifies, and the numbers have been vetted by auditors Ernst & Young. The group's new holding company MCorpGlobal is all set to foray into lifestyle-related products and services that will be offered from ''total rejuvenation'' centres. From ayurveda to yoga and vedic education to health food, the centres will offer a range of new-age stress relievers. The first centre will open for business in Delhi by January 2004. This will be followed by a US launch in March of the same year. ''Quality of life isn't merely dependant on satisfaction of materialistic wants,'' explains Modi. ''It requires much more and we will provide that.''
Evidently, Modi has identified peace as the next big business opportunity. Peace between telcos, nations, and religions. He flashes an ornate ring etched with Buddhist, Zoroastrian, Christian, Hindu, and Islamic religious symbols. ''I have not evolved from a businessman to a politician or spiritual guru,'' says Modi. ''I have simply evolved to (being) a complete man.'' And never mind that a company has already used that line.
---
Back on Terra Firma
After a brief flight, BPO valuations are back on the ground.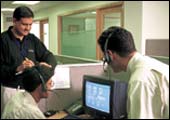 Earth to Moonrocket: "Calling Moonrocket. Come in please"
Two acquisitions, a year apart, tell the tale of falling valuations in the Business Process Outsourcing space. In June this year, the Aditya Birla Group acquired 100 per cent of Mumbai based BPO firm TransWorks for a total consideration of $13 million (Rs 59.8 crore at the then exchange rate) which was about 1.2 times the company's annualised revenue. A year earlier, Wipro had acquired 90 per cent of the Raman Roy promoted Spectramind for a consideration of about $93 million (Rs 427.8 crore at the then exchange rate) which pegged Spectramind's valuation at about $104 million (Rs 478.4 crore), around two-to-three times the company's annualised revenue. And the signs are there that BPO valuations could become even more realistic. "We expect net margins of these firms on a stable state basis to settle at about 10 to 12 percent within the next three years and generic call centres will not be able to command more than 1x forward revenues," says Ranu Vohra of investment bank Avendus Advisors. Adds investment banker Rashesh Shah of Edelweiss Capital, "Today, call centres can trade at anything from 0.5 times revenues to five times revenues; the range is becoming visible as the industry evolves." Shah admits that "market leaders command a premium," but adds that "there are several companies visible at the base of the pyramid as well". It's a fairly tall pyramid: firms at the top boast revenues in the $25-30 million (Rs 115-138 crore) a year range; those in the middle, $15-25 million (Rs 69-115 crore), and those at the base, under $12 million (Rs 55.2 crore). And with the market in the throes of consolidation, valuations, across the pyramid, can only fall further. Another bubble bursts.
---
Freedom Of Travel
Weekend-trippers in India are on the rise.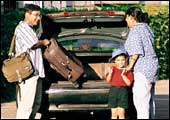 W-trippers: Going fishing?
Guess where some celebrated India's 56th birthday? Outside the country. And it helped that August 15th was a Friday. Shrugging off accusations of unpatriotism, the serious traveller was already packing his bags Thursday evening to board the flight to Thailand, Singapore, Malaysia, or Sri Lanka. It is estimated that some 8,000 Indians went on short overseas holidays last year, and the figure this year could be higher. But what's got the tourism industry excited is the general surge in weekend vacationing. For example, this independence day weekend, hotels and resorts in places such as Mussoorie, Nainital and Shimla were choc-a-block with tourists and some even doubled their rack rates. "Weekend holidays are definitely coming of age. For the independence day weekend, we had close to 250 bookings made some 15 to 20 days in advance," says Vikas Khanduri, Regional Manager (North), Cox & Kings.
Not surprisingly, operators such as Cox & Kings and Thomas Cook have come up with a variety of affordable two-to-three day national and international packages that cost anything between Rs 1,500 and Rs 20,000. Typically, the packages include air fare, hotel stay, sometimes, local sightseeing. Some operators even offer easy-pay schemes to customers, allowing them to pay in easy installments. As a result, this segment is growing at a healthy 30 per cent annually. It seems with growing affluence and exposure, the average Indian has become more peripatetic.
---
Yes, It's Happening
Rana Kapoor's bank picks up steam.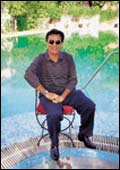 Rana Kapoor: Self for takeoff
Nineteen months after he received the nod to set up a private bank, Managing Director of Rabo India, Rana Kapoor, is gearing up to open the doors of Yes Bank end of this year. Its headquarters will be located at Worli, where Yes Bank has acquired 20,000 sq ft on five floors. An army of consultants is busy putting the structure and systems in place. While KPMG's technology consulting group is working on the core banking solutions, Hewitt Associates has draw up a comprehensive hr document, covering comparative salary structures, job descriptions, organisation systems, retention plans and employee trust structure. And Korn Ferry International has been roped in to get people for the top 25 jobs.
But more importantly, the bank's promoters-besides Kapoor it includes Ashok Kapur and Rabo Bank International-have managed to get in two private equity investors for the equity capital requirements. Says Kapoor: "Financial closure for the bank will happen in the first week of September." While Kotak Mahindra group, the other to get a banking licence in January 2002, opened its bank in February this year, promoters of Yes bank have been facing a number of speed breakers on the way. ''There are bound to be birth pangs, but we are working towards getting off the ground before the end of this year," says Kapoor.