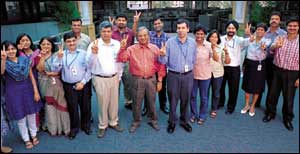 winning through people: (Fourth, fifth, and sixth, respectively, from left in fron row) Ashok Chhabra, External Relations Director, P&G India, Bharat Patel, Chairman, P&G Hygience & Healthcare, and Chester Twigg, Director (Sales & Marketing), P&G India, with P&G India's team
A walk about the imposing glass and chrome headquarters of Procter & Gamble (P&G) in suburban Mumbai is perhaps the best way to savour the distinctiveness of this fast-moving consumer goods (FMCG) major. As I venture forth, it doesn't take me long to figure out the two most important priorities at P&G: Its people, and its brands. That in itself may not sound unusual, but what is peculiar to P&G is the ample demonstration of the strong link the top brass has been able to establish between the two. It isn't too long before I see the writing literally on the wall. Posters of Edmund Hillary's conquest of the Everest line the walls. Nuggets like "it's not the mountain that was conquered but the self" and similar bolts of wisdom by the likes of William Blake and company are profound accompaniments to those pictures. "The theme for the year is Edmund Hillary and the Everest," explains one wide-eyed executive. I didn't need to be a genius to guess that, but then P&G-ITEs probably don't like taking things for granted.
Meandering through a maze of workstations, I try asking for directions to the Chairman's corner room. Bad idea. The first P&G-ITE I bump into gives me a clipped reply: "There are no cabins at P&G." That's good for P&G employees but it makes my life just a wee bit difficult for me: I've also got to spot the senior management that's inconspicuously mingling with the rest of the crowd.
Before that, though, it's time for lunch. At the huge sky-lit cafeteria, the menu of the company-sponsored lunch (an everyday feature) is divided into two sections, "health food" and "regular". A glance at a sample of P&G-ITEs around me prompts me to believe that the former is more popular.
Post-lunch I am handed the bible that governs all that P&G professes to live by, "the PVP" book, PVP standing for Purpose, Values and Principles. The pamphlet concludes with the lines: "Two billion times a day, P&G brands touch the lives of people round the world. P&G people work to make sure those brands live up to their promise to make everyday life just a little bit better." That's the people-brand connection once again, in case my memory had been lulled by lunch (the "regular" stuff for me). Further reinforcement is just round the corner. Hugging the walls on each floor is a line of conference rooms that for some reason are bustling all day with meetings and training sessions. It's difficult not to notice the names of these rooms: Head & Shoulders, Pantene, Olay, Crest. "Some of our biggest brands," one executive helpfully informs me as I am led into "Olay" for an interview with the CEO.
To be sure I can't blame anybody at P&G for hammering the people-brand association into my head till it hurts (actually it doesn't, not yet). After all, making that link work is what P&G's hr processes are all about. Read on for a 70 mm view of how this machinery rolls itself out every day.
P&G INDIA
A SNAPSHOT
Turnover
Rs 750 cr
Y-O-Y Growth*
-2.2%
BRAND PORTFOLIO
Vicks range of cold & cough relief products, Whisper range of sanitary napkins, Pampers disposable diapers, Ariel & Tide detergents, Pantene and Head & Shoulders shampoos. Some of P&G's billion-dollar brands sold in India are Tide, Ariel, Pantene, Whisper and Pampers.
BREAK-UP OF EMPLOYEES
In the general office:
Managers

89

Administration & Technical staff

42

In the plants:
Managers

24

Technicians on the shop-floor

228

In the field (sales personnel)
Managers

48

Administration & Technical staff

7

*Y-O-Y: Year-on-Year
Building From Within
P&G does not hire laterally. In simple-speak that means the company only hires freshers straight out of B-school. Middle and senior management personnel are never hired so the company depends entirely on building from scratch with each new employee and looks at him or her as someone whose entire career will play itself out at P&G. As one recruitment manager explains: "I am aware every time a candidate sits before me that I could be looking at a future CEO so I need to be very very careful about who is being hired." That literally puts the onus of building the company on the hr department. Which is why the hr people are never referred to as "the hr people"-except by me of course-but as Business Strategy Leaders at P&G. Explaining the rationale for the hiring freeze following entry level inductions, Shantanu Khosla, Country Manager, P&G India, says: "It's a choice we have made backed by the philosophy that we want to grow from within."
The system exerts its own pressures on the hr department as Sunil Durani, Director (HR), at P&G explains: "We have to ensure that the interests of the people are inseparable from the interests of the company and there is ample career growth." Quiz the duo on the material advantages of this system (what good is an hr system if it has no material impact on the company's performance) and Khosla comes up with an interesting insight: "I've been here 20 years and have established relationships with people from Cincinnati to Warsaw and today we see this as our competitive strength in an increasingly globalised world where collaborations and virtual teams are the order of the day and the key enabler here has been the promote-from-within philosophy."
Why I Joined P&G
"I am two months old in the company and already handling a new brand launch," beams Sameer Srivastava, an excited 23-year-old fresh recruit from IIM Ahmedabad. Srivastava was clear it had to be P&G at campus placement. He's got his reasons. "I know they are people-oriented in their policies, offer international experience and early challenges." The last factor is probably the single biggest influencer for Srivastava who wants responsibility "here and now". What's the point of waiting till you are older before you handle anything important, he asks pertinently. Well, his wishes have obviously been answered as he excitedly says: "My boss is out of the country and I am taking critical decisions on my own."
"We believe in creating entrepreneur managers, motivated employees who feel like owners. Early responsibility creates that feeling of an entrepreneur-owner, it makes all the difference to the business, the enthusiasm and passion is unmatched in these managers," says Bharat Patel, Chairman, P&G Hygiene & Healthcare.
It isn't long before the sceptic in me surfaces. What about the inherent risks in placing crucial decisions in the hands of new recruits, I wonder, can the system backfire badly thanks to a wrong or immature decision? "We obviously have a system (of checks and balances) in place to make sure nothing goes vastly wrong," says Khosla, using an example to make his case. "If a new recruit is working on a fresh packaging artwork, he is not expected to be well versed with all regulatory requirements; so if he forgets to put the MRP on the pack, it cannot go unnoticed; we have a legal team that checks on regulatory compliances. Similarly, we have various line functions that provide the system with a back-up but at the same time the young managers get a free hand to take decisions."
Each manager is given a two-pronged agenda by the company: build the business and build the organisation. Managers are accountable for the growth of their direct reports, they are in fact assessed on that.
Why I Stayed On At P&G...
Chester Twigg is Sales and Marketing Director at P&G India. He joined the company in 1988 straight from campus and has had international assignments, including a two-year stint in the US. Why didn't he ever think of leaving the company? "I believe that people leave managers, not companies. In that regard I've been lucky, I've had great managers, I've had challenging assignments and yet never felt boredom." That's reason enough to hold on. What's making me curious, however, is his relationship with his juniors. What prompts him to nurture them? What's in it for him, I wonder. "It is absolutely a requirement. Each manager is given a two-pronged agenda: build the business and build the organisation. Managers are accountable for the growth of their direct reports, they are in fact assessed on that. It forms a part of their appraisal," says Twigg. In addition to this, there is a 360-degree appraisal system.
Managing Change
Change is inevitable. The trick is in managing it. If you're wondering why I am mouthing such truisms well just read on. About 16 months ago, P&G decided to shut down one of its plants in Goa and consolidate its manufacturing efforts in that state into one plant. If the company's senior management is to be believed, the decision was taken with complete involvement of the plant workers. "Eighteen months before the closure, we discussed the issue threadbare in our annual strategy development and deployment meeting that had all the workers involved. We threw up the data on the marketplace and costs and they themselves came up with the solution of consolidating operations in the state," says Durani. While all this sounds almost Utopian, I get the feeling that Durani takes his hr role pretty seriously. I am pretty convinced about it when he lets on his department's tagline: "Be In touch, Involved and In the lead!"