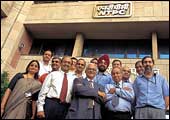 Making that difference: Chairman & Managing Director C.P. Jain (front centre) with the company's HR team outside their Delhi headquarters
When Rajeev Agarwal, an M. Tech from IIT Roorkee, chose NTPC over Indian Railways and ONGC last year, the 27-year-old knew that he'd get a lot to do at the Rs 19,947-crore power producer. But act, with 31 other trainees, in a play called Taj Mahal Ka Tender? Certainly not. The National School of Drama (NSD)-conducted workshop, however, was NTPC's way of getting its trainees to break ice and have fun solving project management issues (the play was about Shah Jahan trying to build the Taj Mahal circa 2003). Agarwal is just nine months into his year-long traineeship, but he already is beginning to enjoy himself-and see the potential. "I think one day I could even become (NTPC's) chairman and managing director," says the trainee engineer at NTPC, Dadri.
It's easy to see why NTPC is loved by its employees-80 per cent of them have spent more than a decade with the PSU; a third, more than two. As the single-largest power producer in the country, NTPC lights one out of every four bulbs, and last year raked in Rs 3,575 crore in net profits. In its business, supply, not demand, is the constraint, and there's no price war that it needs to fight. And while it may not pay top dollar like some of its private sector competitors, it rarely ever sacks underperformers. In fact, as a matter of choice, it does not usually hire from the IITs and the IIMs. Instead it prefers to tap regional engineering colleges, and mould the young engineers to its own culture. Lateral recruitment at senior levels is limited, meaning that unless an employee is egregiously incompetent, he (just 3 per cent of its executives are women) should retire at least as an additional general manager, whereafter promotions are need-based. Besides, 80 per cent of its workforce leads a near-idyllic life in self-contained townships, with their own clubs, schools and hospitals.
Yet, had a woolly benevolence been NTPC's only claim to fame, it wouldn't today be the world's second-most efficient power producer (according to Datamonitor, a UK-based research and consulting agency), or the sixth-biggest thermal power generator in terms of terrawatt hours (TWH), as per an A.T. Kearney study. So what powers NTPC?
The reasons go back to its founding. In 1975, it started as a one-man company under D.V. Kapoor, who grew the team by hiring engineers with proven project management skills from other PSUs such as the Steel Authority of India and BHEL. Most of them made the switch because they liked the freedom and challenge that the start-up offered. Kapoor on his part did two things that would prove of critical importance. One, he created systems and processes with the support of his engineers. Two, he insitutionalised them. "This created tremendous amount of enthusiasm," recalls Kapoor.
One of the stories that has passed into the NTPC folklore is that of a young engineer in the late 70s who couldn't take living in mosquito-infested camps that served as homes during plant construction. But instead of simply walking away, he killed himself. Why? As he said in his suicide note, he didn't want to let the team down and live to see it.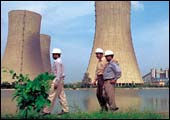 By 2017, NTPC wants to become a complete energy company, spanning thermal, hydel, nuclear, and bio-power. It even wants a Fortune 500 listing by then.
Therefore, by design, the culture that NTPC created was one of performance, with emphasis on doing the work well and taking pride in it. Till date, NTPC remains an organisation of engineers-80 per cent of its executives are engineers. Says C.P. Jain, its Chairman and Managing Director and veteran of 12 years: "What we try to do is to create an environment where our employees feel happy to work, and where there is a sense of belonging and commitment. Money isn't the only thing that people want in their jobs."
The Stimulus
Opening up of the power sector in 1992 served as a wake up call to NTPC. Employee turnover shot up to 1.41 per cent in 1993-94 and peaked at 2.31 per cent two years later. (It's been on a steady decline since; See Jobs for Keeps.) As a result, in 1999-2000, a clutch of PSUs, including BPCL, BHEL, and IPCL, besides NTPC, decided to rework its hr strategy. Until then, the power company and its peers followed the system of confidential report for general managers and above. A new system based on KRAs (key result areas) with 360-degree review was introduced, and development of competency-based leadership taken up. Under the current system, NTPC continues to sign annual MoUs with its principal shareholder, the government of India, but also has a five-year corporate plan. Its executives have KPAs (key performance areas) that are cascaded down from the corporate centre to regions and onwards to the 21 units. Says K.K. Sinha, its Director (HR): "While our compensation is not linked to performance, career growth is."
Just the same, NTPC spends more than 5 per cent of its salary budget on training-said to be the highest in the industry. Training and development is linked to the job profile. For example, up to the senior engineer level, the emphasis is on building functional competencies. But senior managers and above are put through advance management programmes, with the tier one getting a global exposure. Maybe because for nearly two decades it remained the only big power producer, NTPC has always had a strong pool of engineering talent that the private sector has drawn from. The list of ex-NTPCians includes A.K. Srivatsava, CEO, Essar Power; J.P. Chalasani, Director, BSES; A.K. Sardana, CEO, NDPL; and even the current power secretary, R.V. Shahi. Says Sardana: "NTPC's work culture offered young engineers tremendous opportunity to learn on the job and from its international collaborators such as the World Bank."
While the PSU has had its share of project cost and time overruns, it is seen as one of the more efficient power producers. Its plant load factor has traditionally been higher than the national average; none of its projects since 1992 has cost more than Rs 4 crore per megawatt; it has reduced project completion time from 59 months, when its Singrauli unit was set up in 1986, to 39 months in the case of Talcher II recommissioned this year; besides it has turned around sick SEBS units such as the one in Unchahar, where the PLM prior to takeover was an abysmal 18 per cent but now stands at 84 per cent.
By 2017, NTPC wants to more than double its capacity to 56,000 mw and become a complete energy company, spanning thermal, hydel, nuclear, and bio-power. Besides, it wants to globalise. Projected revenues of Rs 1,40,000 crore in 2017, it reckons, will put it among the Fortune 500. Says Jain (whose business card carries a stamp-sized photo of his-apparently to aid recall): "The idea is to position NTPC as a company that's not just a power producer, but a consultant and equity partner."
So far, its poor recovery stood in the way of its faster expansion. But earlier this year, NTPC managed to securitise Rs 19,000 crore in receivables, after waiving off about Rs 5,000 crore in interest. As a result, its realisation has risen to 98 per cent.
Diversifying and globalising NTPC-not to mention the changing power sector landscape-is bound to throw up new challenges. Forays into nuclear and green energy would demand skills that it currently does not have. Its hr system does not allow fast-tracking of star performers (putting in a specific number of years at each level is necessary), besides which compensation would remain an issue.
NTPC's best option, then, may be privatisation. (It does have an IPO in mind, but the 5 per cent that it plans to offer will not be enough to fund its ambitious plans.) But for that to happen, the changes recommended by the Electricity Act 2003-including open access to the market, realistic tariff levels, and reforming state electricity boards-must be implemented.
The upshot: Working for NTPC will never be the same again. Hope they've told the young and enthusiastic Agarwal that.
Reinventing The Future
The parallels are striking. Like NTPC, Indian Oil Corporation is a PSU and a market leader. Both sign performance MoUs with the government, have strikingly low employee attrition because of similar hr systems and practices, are learning to compete in industries recently delicensed, and both want to be global companies. So why is NTPC No. 3 and ioc at No. 9? The reason probably boils down to the difference in the creation of the two PSUs. IOC (it was originally called Indian Oil Company) is not only almost 20 years older than NTPC, but unlike the power major, it wasn't woven out of the ideas and beliefs of a few engineers. Instead, it was created by two political figures-S Nijalingappa, a powerful Congress leader and Chairman of Indian Oil Company, and Firoz Gandhi, who was then the Chairman of Indian Refineries Ltd (the two companies merged in 1964 to create Indian Oil Corporation). Therefore, while NTPC got an opportunity to create a loyal band of engineers cast more or less in the same mould, IOC did not.

But in many other ways, IOC may already be ahead of NTPC. For example, its revenues of Rs 1,19,848 crore place it at 191 on the Fortune 500; it already has made its international foray for distributing petro-products (in Sri Lanka) and exploration (Kuwait and Iran); and has shareholders among employees. Also, unlike NTPC, it has formal "retention strategies", with performance-linked bonuses. Every year around 2-3 per cent of its executives get "pivotal jobs", which fast-track them. Says M.S. Ramachandran, CMD, IOC: "At IOC, we take care of our employees from cradle to grave." Only a mild exaggeration, given that IOC even pays (Rs 4,000) for funeral expenses when an employee dies. IOC also employs elaborate motivational tools such as productivity incentive scheme, housing, transport and nearly 40 welfare schemes (like post-retirement medical care). It is in the process of introducing individual and team rewards for exceptional performance. However, like NTPC, the oil giant's hands will be tied by its state ownership.