In April 1994 when two doctoral students at Stanford launched Jerry and David's guide to the World Wide Web, with a motley collection of less than 100 of their favourite sites, nobody-least of the all the two-thought the directory would one day become a $1-billion business. But, then, Silicon Valley of the 90s was a place where the unthinkable often happened. Thanks to the internet, Jerry Yang and David Filo's Yahoo! (originally intended to spell Yet Another Hierarchical Officious Oracle) is today the third most visited site on the world wide web. Although its market cap at $11.7 billion is way off its peak of $86.3 billion, Yahoo! remains one of the web's most popular brands. Considered Yahoo!'s tech whiz, Filo, 37, was in India recently to take stock of things. Business Today's Venkatesha Babu caught up with him for his take on the future of Yahoo! and the internet. Excerpts:
Yahoo! has come a long way since 1994. How has the market evolved in that time?
We are at a point now when some of the markets-for instance, e-commerce in the US-have become stable and mature. People are doing transactions on a very regular basis with just as much and probably even more ease as of going to the local store. Broadband is becoming very commonplace. So, potentially things like video on demand, internet television, internet radio will all become a reality. Some markets are mature, while other markets are maturing. But it is clear that beyond the obvious business, market segmentation is happening.
A big piece of our business today is marketing services. And that is everything from simple advertising to more complex things where people are sponsoring certain things. We are trying to tap into our 200 million-plus user base. We continue to build our business around them and see how we can leverage this base to drive growth. More and more people are spending more time online and less time on traditional media. Things like television, newspapers, magazines, radio. All that is moving online. That is great for us. We are helping marketers to move along with them. That is one big piece.
The other big piece is on the consumer services side where we charge end users for services and products. That is a transition that has been happening over the last three to four years. We have been increasingly trying to encourage our user base to pay for certain services that we offer.
Last year the online advertising market is estimated to have shrunk 5 per cent to $6.5 billion. How is Yahoo! coping with it?
The overall online advertising market has definitely struggled over the last couple of years. During the time we have continued to focus very strongly on it. We have actually taken share from our competitors. So that part of our business is actually growing very nicely. But, of course, beyond a point we don't want to be stuck with a single source of revenue. So three or four years ago we started looking at alternate revenue streams.
As I mentioned, we have marketing services, we have looked and capitalised on consumer services, where we encourage users to opt for paid email services, more storage space, customised address, hosting of their websites, etc. We also encourage our customers to pay for posting of personals and online storage of photo albums. We have a whole suite of services where we cannot support free products because the costs are too high or the model is inappropriate. The fundamental idea here is to ensure that customers move onto value added services that Yahoo! offers.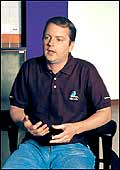 "Our goal is to provide the best search experience for the consumer"
For instance, three years back the marketing services to customer services split would be in the ratio of 90:10. Today, it would be approximately 60 per cent marketing services and 40 per cent customer services. We have a lot of services directed towards the SoHo (small office and home office) market. There are new revenue streams like access relationships. Traditionally, we were a completely independent portal and people had to get online somehow without us. For instance in the US, you had to go to, say, AOL to get online. We did not have a direct access relationship with them. Recently, we've done deals with telcos like SBC or BT in the UK. We have access plus all these additional services on offer. So that is an additional revenue stream for us.
Dollars for clicks are in. Directory listings are out. As the biggest directory on the web, what is Yahoo! doing about it?
Well, certainly the paid sponsored search market is one that is a very big prize today. People have been using Yahoo! from day one as a navigational tool and a search tool and that continues to be the case. That still is one of the primary reasons why people come to Yahoo!
Although Yahoo!'s legacy as one of web's first search and category sites gave it an advantage, increasingly it is under threat from rivals like Google and LookSmart.
Yeah, we have had competitors. We have had lots of competitors from day one. But competitors are nothing new to Yahoo! This space continues to be very competitive. The search space is also extremely competitive. However, we have a very large piece of the market and we continue to be very focused on that. Our goal is to provide absolutely the best search experience for the consumer. We have done that over the years. We have had different partners. Today, we are very focused on providing absolutely the best possible service. If we do that successfully, users will continue to come to us and use our services and obviously the times are favourable to the sponsored search market and we will find that and other ways to monetise that base.
Yahoo! prided itself on its human indexed links compared to Google and AltaVista, which use mathematical algorithms. Is your acquisition of Inktomi and Overture, which use similar web crawler technology, an admission of the failure of your model?
No, I don't think so. The question really is, whether the human editors bit is alive. We continue to do that. Given the fact that there are now millions and millions of pages on the world wide web, it is humanly not possible to search, classify and categorise sites. Doing that requires certain amount of technology and that is why the acquisitions. We are trying to find the right balance.
Does the Inktomi acquisition mean that you will snap ties with Google?
Today, Google is a partner for us and has been for the last couple of years. Before that we have had a lot of other partners. The main thing is about satisfying the end user. What we decided was that given the strategic nature of the technology, we wanted Yahoo! to own it and hence the Inktomi acquisition. Google continues to be a partner today and might remain a partner depending on what is good for Yahoo!.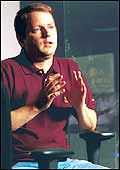 "We will strive to ensure that we do not get out of the top two, three slots"
Things like news and shopping pages used to be the bread and butter for Yahoo!. Google has gone after you with its own news service and shopping pages directory. How do you plan to counter this?
It is not just Google we are competing with, but lots of traditional news sources. And the fact that we have built a successful brand and business with a good marketshare is an indication of our strength and standing. We expect more competition as time goes on. So, as other companies come in and compete, we will evolve our products to provide what consumers want. We will give more and more reasons for consumers to keep coming back to us.
Do you regret having advised and encouraged your fellow Stanford students Larry Page and Sergey Brin in setting up Google, which has become a major competitor to you?
Well (laughs)...encouraging them at that point was the right thing to do. I certainly have no regrets in doing that. To be honest, with or without me they would have done what they have done.
Yahoo! has made more than 14 acquisitions in the last eight years. Recently, you also announced the acquisition of Inktomi for $280 million and Overture for $1.63 billion. Is this acquisition-led growth sustainable?
I have to be careful on this. Our aim is to continue to grow by providing services and products required by customers. We have made acquisitions in the past either to get technology or diversify revenue streams. We will do whatever is necessary to sustain growth. But one has to remember that we have had lot of internal growth as well. It is really a combination.
You missed opportunities like auction sites, where a newcomer like eBay is the market leader. In fact, last week you shut down your Australian auction site in favour of eBay. Is this a strategy to get out of business where Yahoo! is not the leader?
In the long term, we are clear that if we are not among the top three, it is a fair assessment of what you stated of exiting those businesses. We don't want to be in either a losing position or a losing market. We might try to change that through strategy or acquisitions, but we will strive to ensure that we do not get out of that top two, three slots.
Had Yahoo! expensed options it would have reported a loss of $450 million instead of a profit of $43 million in 2002. Are you relooking at the policy since others like Microsoft have already done so?
Obviously some companies have changed the way they report options. We are looking at all the different options out there and we have not announced anything to date and I am not prepared to announce anything now.
How important is the India operations. What will your India R&D centre be working on?
We are very happy and encouraged by the performance of our Indian operations. Of course, Indians have been using Yahoo! even before that (1999, when Yahoo! India portal was launched). Venkat (Panchapakesan, the CEO of Yahoo! Web Services India) and his team will develop cutting-edge technology for us. The R&D centre will focus on areas such as server technology, UNIX/C/C++, Apache, Oracle, SQL, data mining, business intelligence, data engineering, e-commerce, network services, classifieds platform, consumer services and enterprise services.
Some products meant for the global market will be wholly developed at the Indian R&D centre, which will also research new service areas that the internet can offer. It will provide customisation and technical support for the launch of Yahoo! products globally. We will invest whatever is required. Our goal is to grow the India R&D team to around 150.
There has been talk in the market of downsizing at Yahoo! India portal...
We do not comment on a country-to-country basis. We are a company that has gone through a number of cycles. There have been layoffs in the headquarters at Sunnyvale in the past. However, let me say that the number of people in Yahoo! India today is more than when we started. We are committed to the India market. Traffic continues to grow, user base continues to grow, our investment continues to grow, and India is a huge potential market for us.