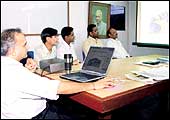 Tiny plans: Rahul Patwardhan of Indiaco (left) Powerpoints his nanotech vision. His team looks on
It should be easy to find the technology incubator that hosted an international conference on nanotechnology earlier this year in Pune. It isn't: searching for #214, Lal Bahadur Shastri Marg in Pune's Navi Peth is an ordeal. There are no numbers on most buildings in the shabby, crowded, nondescript, street; requests for directions at std booths or small restaurants are met with a blank stare. Finally, remembering some instructions received over the phone, this writer asks for Mazdoor Hadda and is directed to a Lal Bahadur Shastri statue near Dhandekar pul (bridge). Casual labourers are squatting on the roadside hoping to get a day's work. There are small trucks and tempos parked on both sides of the road.
At the corner is a building with sloppily done signage, which reads Indiaco. The broad stairs that lead up are dirty with slush. The building has crude steel windows of the housing-board variety. The reception is not air-conditioned. The soft board is a patchwork of faded blue chart paper, something straight out of a kindergarten school in an underprivileged neighbourhood. After a 10-minute wait on a sofa with more-than-well-worn cushions, I am ushered into the basement. This room is air-conditioned (thankfully), boasts a functional conference table on one side, and a portrait of Narayanrao Gangadharrao Patwardhan, erstwhile Prince of Miraj, and great grandfather of Ramachandrarao Gangadharrao 'Rahul' Patwardhan on the wall. Nothing in the room lets you into the fact that Indiaco is a happening incubator, and that it is from here that Rahul Patwardhan operates a technology network.
Not much later, Patwardhan, a hazel-eyed, small-built man breezes in, sets up his laptop, barely waits for his team of four to be seated and begins a presentation on Indiaco, a school for start-ups. "We have coached 52 start-ups, 19 have graduated, five have made financial exits (one IPO and four acquisitions), and 95 per cent of all our start-ups are cash-positive. We have a network of 80 advisors who spend eight to 10 hours with a company a month. We are located in India, the US, Australia, Poland, Singapore and Chile." Slides and more slides run on in a similar vein. Boy, this prince wields a mean mouse! He graphs and annotates on the projection, with a Powerpoint pen that has been set to red. His team is extremely comfortable-no complexes about hierarchies or royalty here- and pitches in often. Kunal Walia, an aggressive young man who joined Indiaco when his start-up Artemis, an incubatee company folded up, often finishes or emphasises what Patwardhan begins.
So what will Indiaco do for start-ups? "We will push the car for an entrepreneur if he has to reach a meeting in time," is Patwardhan's comeback, his face crinkling into a characteristic laugh. Indiaco adopts (for want of a better word) entrepreneurs, provides them infrastructure (if needed), accounting norms, hr and other 'back-ends', and everything else required to translate a big idea into a small company.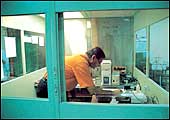 Room No. 293: NCL scientist Murali Sastry in his small clean room in the lab where he makes filmsof gold nanoparticles
Indiaco also uses its network to find alpha and beta customers for the company and create a deal flow for VCs. "Rahul is extremely well networked. I was able to set up a company in the US sitting right here in India. He put us through to attorneys, tax guys and so on. He is always logged to the msn messenger. That is how hands-on he is," says Vishal Gondal, the 25-year-old CEO of the Mumbai-based Indiagames, a gaming company, who eventually decided against a US office.
So far, so good. Now, on to the story: Patwardhan's latest obsession is nanotechnology. He is launching an initiative called Indianano with a scientist who cannot be named just yet as CEO. "We are going to have 12 nanotech companies in the next 18 months. We will ourselves invest in three of them."
The Nanotech Wave
Nano stands for a one-billionth fraction and nanotechnology is the science of working with materials at this scale (atomic or molecular) or creating new material or machines, a few atoms at a time. From microscopic devices to futuristic materials to miniature circuits, nanotechnology holds the promise of the next big thing. "What happened to the tennis racket when it changed from wood to graphite? Now imagine what will happen if we can create a material that is half the weight of the graphite and is 10-times stronger than steel," says Patwardhan. Great, but does he have something specific in mind? "Yes, we have identified calcium carbonate nanoparticles that can make PVC plastics stronger." Now, Indiaco plans to identify Indian corporates interested in the technology.
Is that the only product on offer? No, Indiaco has identified a nanotech company out of University of Southern California that makes better fuel cells. These last longer, occupy less space, and are bio-degradable. This company has investments from a well-known Sandhill VC, but neither the company nor the vc can be named. Indiaco plans to find Indian customers interested in this technology too.
Will any be? Yes. "I'm leveraging four or five hundred years of goodwill that my family has generated to get openings," is the answer. The royal family of Miraj has donated land and money to several large entrepreneurs (now, now, don't look for names; royalty never lists instances of generosity) in the past, even ran a bank and power station, which supplied electricity to all the sugar mills in the Miraj-Sangli area. Does he use his princely card often? "I use my discretion. I had to call up Ashuman Ruia (of Essar) for one of my start-ups and I did."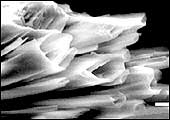 Nanotubes: Calcium carbonate can separate protiens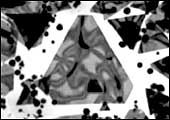 Triangular gold: Four-nanometre-thick particles can pierce cell membrances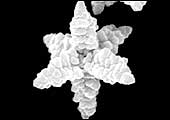 Nanostar: Self-assembling calcium carbonate nanoparticles
By now a visitor has arrived. Patwardhan, deft networker that he is, calls him in. "Adu come on in and meet my guest." Adu is young (most people in the prince's office are), educated in the US, and his card reads Aditya Pitie, Director, Agni Solar Systems. He also happens to be the nephew of Vinay Rai of the Usha Group. "You were asking me if Indian companies would be interested in better fuel cells, here's someone who could be interested," says Patwardhan.
The prince's networking isn't restricted to India. The world has always been his oyster. Even while he was a student at Pune, Patwardhan used to regularly accompany his father to the US, and his family has a house in London. He has been an advisor to The New Enterprise network, which incidentally was where eBay was born. And he is not shy about dropping names. The Economic Development Board of Singapore is due to visit over the weekend, he tells me.
Why is he doing all this? "Well, we should create intellectual property here, drive the world market from here. We missed the IT wave. We missed the biotech wave. Our pharma companies should have created patents seven years ago and gone to the world market now. India has to create a nanotech wave. Each company will create many offshoots." Phew!
But how much nanotech work is being done in India? "We have identified at least 30 products across laboratories in India. There are at least 550 people working on it. These ideas have to first be patented, then productised and then made manufacturable."
How futuristic are nanotech-based products? How long term will investments in these companies be? How will they sustain themselves till then? The Powerpoint pen flies on slide. The x-axis is the interval in years. The pen stops between three and five years. That is when these companies will get funded. The products are five to seven years away. Till then the companies will sustain themselves with contract research. Are there VCs in India who will want to fund these companies already? "There is one such project in stealth mode. Rahul gets into bed very early. We help scale up," says Vivek Sekhar of 2iCapital, which has funded several technology companies none of which, he claims, are into business process outsourcing or plain it services.
Is All This For Real?
All this smacks too much of dotcom era slideware. If there is this kind of optimism, it should be validated easily. The National Chemical Laboratory, home to scientist Murali Sastry-he won the Bhatnagar award (named after the first Director-General of the Centre for Scientific and Industrial Research) for nanotech just this year-is just a 20-minute rickshaw ride away from Indiaco in Pune. If Patwardhan has ambitious plans, surely someone so close would have heard of it?
Sastry is a tall, strapping dapperly dressed man who dominates room 293-it has a generous-shower-cubicle sized clean room facility and is swarming with white-coated students. Ask him if an incubator for nanotech makes sense and a rhetorical question follows. "Isn't that the model followed overseas?" In fact, the professor has been thinking on those lines himself. Surprise, surprise
It will be three to five years before the companies get funded. The products are five to seven years away. Till then the companies will sustain themselves with contract research
The savvy Sastry offers a quick tour of his lab. The clean room houses a Langmuir machine that can make thin films of nanoparticles. The professor holds up a purple colour slide, a film of gold nanoparticles (four nanometres or 2,000 atoms of gold). Gold particles, when charged and floated on any solution will cling on to small particles. This can be used in the pharmaceutical industry: Gold, after all, is bio-compatible, and can pass through cell membranes . What kind of drugs could be administered with the aid of the precious metal, I wonder. "We have a lot of tricks up our sleeve. We could charge the gold particles positive or negative. The drugs could be proteins, hormones, insulin...and methods of delivery could be novel too," chuckles the prof. Room 238 is where students, in groups are synthesising gold particles using biological methods. Sastry picks up a flat-bottomed glass with a colourful liquid. That has gold particles synthesised using lemon grass, which has chemicals to reduce the metal ion. This is the green chemistry approach.
The professor's 15-odd PhD students who come from diverse disciplines like biotech, physics, chemistry and molecular biology are working on other nanoparticles too. Cadmium sulphide, a semi-conductor, barium sulphate and calcium carbonate, both minerals are some names he mentions. Sastry just chanced upon nanotechnology in 1995 when, after winning the CSIR young scientist award he was allowed to set up his own lab with a princely grant of Rs 2 lakh a year. The lab-about Rs 1.6 crore has been invested in it over the years-now has two US patents to its credit and has filed for six more. Ummm.
Is there a lot of work in nanotechnology being done in India? "C.N.R. Rao's-he is the head of the government's nanotech initiative-laboratory at the Jawaharlal Nehru Center in Bangalore is working on carbon nanotubes, nanoassembly and synthesis. Delhi U's Amarnath Maitra is working on drug immobilisation, has even licensed some technology to Dabur." Could there be about 30 products across all the labs in the country? "A good estimate," says Sastry. The professor's verdict matches the prince's.