It's a hard job running a business. It's even harder to run a business and manage to eat right at the same time. Still, in this day and age of dietary fads, an increasing number of executives do manage to control what they eat. Here, we go through the diets of corporate India's top honchos and get them analysed by dietician Ishi Khosla. The common thread: most have ketogenic (that's high protein, very low carbohydrate) diets. Unlike management styles, however, it's not recommended to do a 'follow the leader' routine on diets; everyone must find a diet that suits them. The next few pages make for some 'hungry' reading.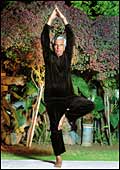 VIKRAM TALWAR [55]
Vice Chairman and CEO, EXL Services
"My weight has been the same for the last 20 years"
DIET: Talwar is a health freak. Lots of fruits and veggies in his diet, with muffins for tea and a single roti with dal for dinner. And the occasional ice cream.
KHOSLA SAYS: He is a small eater and is falling short of proteins, dairy products and fish. The abundance of fresh fruits is good. He should replace the muffin with some yoghurt and nuts.

PREETHA REDDY [47]
Managing Director, Apollo Hospitals Group
"I am a conservative vegetarian and dislike carbohydrates"
DIET: Papaya and coffee for breakfast. Veggies, salads and soups for lunch. She makes sure that oil, masala and carbs stay as far away as possible.
KHOSLA SAYS: Being a woman, she definitely needs more dairy products. She also needs more proteins and protective foods like nuts.

RAVI KRISHNAN [36]
Managing Director, IMG/TWI
"The one thing that does not work for me is sugar and I try and avoid it"
DIET: Wholesome breakfast with fruits, cereal, juice, brown bread toast and an egg-white omelette. Light lunches and early dinners, and he compensates for the many dine outs by regular swimming.
KHOSLA SAYS: His diet sounds good. He just needs to add some yoghurt, soya and nuts. At his age he should just concentrate on balanced food.

RAJEEV KARWAL [41]
MD/CEO, Electrolux Kelvinator India
"My weakness is things made of potatoes, especially stuffed capsicum"
DIET: Fruits and almonds for breakfast; a home-cooked lunch. And he also skips meals. When this correspondent contacted him, he was eating a burger at the Bangkok airport.
KHOSLA SAYS: To avoid acidity, he should not skip meals. He should keep fruits in the car and office. There aren't enough dairy products in his diet, though the almonds are good. He should include functional foods like soya, amla and seeds.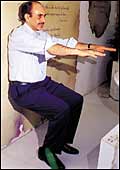 ADI GODREJ [62]
Chairman, Godrej Group
"I love red meat and cut down on other things to compensate for it"
DIET: Fruits for breakfast, beans and chana for lunch and a light dinner. Loves fine dining, especially Italian and French cuisine. However, he does hit the exercise trail, because, as he himself admits, he puts on the pounds too easily.
KHOSLA SAYS: The exercise routine is a good strategy for a balanced diet. He should just make sure that he includes more fruits and green vegetables in his daily diet. And if the red meat is frequently included in the diet, the meat should be lean and the portion size must be below 100 gms.

COLVYN HARRIS [46]
CEO-designate, JWT
"I don't know what white bread looks like"
DIET: No oil and lots of proteins. Basically lassi, fruit, muesli, brown bread sandwiches, pasta and roti. And "a couple of beers" with the lads three times a week.
KHOSLA SAYS: For Colvyn, the "no oil" bit is okay. He needs to balance this out by consuming other fats. Lassi is the only protein in his diet, so he needs to beef up on that front. What is apparent is, in fact, his intake of more carbs and less proteins. He is low on dairy and protective foods like nuts and seeds.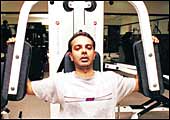 SATISH REDDY [37]
Managing Director, Dr. Reddy's
"The most important thing is to eat on time"
DIET: A healthy breakfast comprising cereal and milk. Sambhar and rice for lunch. Reddy, however, loves the Hyderabadi biryani and junk food, but avoids all sweets except the occasional tiramisu.
KHOSLA SAYS: His avoidance of sweets is good, but he needs to watch his indulgences. Since rice is a staple, he should switch to brown rice.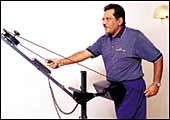 ARUN KUMAR [54]
President and MD, Hughes Software Systems
"I am trying to avoid eating out. Rich foods and alcohol is unavoidable"
DIET: Simple breakfast-fruit, toast and cereal. A home-cooked lunch and a lighter dinner. He loves French and Thai food. In addition, there is lots of exercise as well.
KHOSLA SAYS: He needs to avoid rich foods while eating out and if he can't, he should compensate for it by making the next meal extremely light. He needs to introduce dairy products and protective foods in his diet.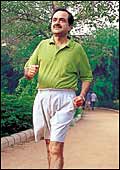 JAGDISH KHATTAR [61]
Managing Director, Maruti Udyog Limited
"I stopped having sugar in my tea and coffee some 20 years ago"
DIET: Desi CEO, Videshi diet. He rigidly follows Atkins. Lots of fruits and veggies with no rice or rotis. But what he avoids in sugar, he makes up with his indulgence in kulfi or rabri.
KHOSLA SAYS: He is eating sensibly and his diet is good. He just needs to increase his dairy intake and include nuts in his diet.

SUNIL LULLA [43]
Executive VP, Sony Entertainment Television
"I have given up trying to get into the pair of jeans I wore 10 years ago"
DIET: Lots of protein, egg whites and fruit. The rich Italian food he loves is balanced out by fish and greens. But he can't stay away from chocolates, dessert, snacks and martinis.
KHOSLA SAYS: Fish and greens are always good, but he needs to control the amount of chocolates and desserts. He needs to look at his intake of carbs and try reduce it.

MADHABI PURI BUCH [38]
Country Head, Oper. & Ser. Delivery, ICICI Bank
"I will not give up strawberries and ice cream"
DIET: Ok, so she has her diet planned around that indulgence. Light food during the week. Boiled eggs, fruit, pasta and the occasional parantha.
KHOSLA SAYS: Ice cream everyday is certainly not good. Strawberries are great. Women need more dairy products; she should have skimmed milk instead of ice cream. She compromises on protective foods; nuts and seeds are a must.

SANJIV GOENKA [43]
Vice-Chairman, RPG Enterprises
"I don't eat any fats during the week, but the weekend is a free for all"
DIET: No oil, but the man is a self-admitted foodie. He will eat any style, from Japanese to Lebanese, so there are lots of breads and rotis, with a particular fondness for sweets.
KHOSLA SAYS: Sanjiv needs to increase his intake of fruits and green vegetables in his diet. He is low on consumption of dairy products. Therefore, he needs to include milk or some other dairy product in his eating habits. He also needs to do something on the essential fatty acids front. However, too much fondness for carbs (rotis and bread) and sweets is not good.

ASHWIN DANI [62]
CEO, Asian Paints
"Favourite foods are what you are not supposed to eat"
DIET: Typical 'Gujju' food, and purely vegetarian. Plus an all-important glass of buttermilk. But there is that indulgence in Mexican and Italian food at least twice a month.
KHOSLA SAYS: He needs to consume more dairy products, nuts and natural fats in his daily diet. However, for his age his diet is good. He needs to go in for a regular intake of anti-oxidants like amla in his diet. The vegetarian bit is good, but he needs to beef up on proteins. In Italian food, he needs to switch to whole wheat pasta.