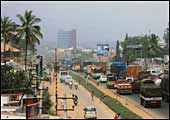 The silver lining: The gridlock is typical of Bangalore, the fact that there is a motorable road isn't
Just last year, Bangalore was the central player in the best-known urban fairy-tale in India. The state government was responsive to the city's needs (and cognisant of its importance); citizens were more satisfied (according to a poll conducted by research firm TNS) with the state of urban infrastructure than they had been anytime in the previous five years; and a citizen movement Janaagraha was creating a new paradigm in participative governance.
Circa 2004, it is evident this fairy-tale isn't a happily-ever-after story. Roads have become unmotorable, traffic unnavigable, and the state government, unresponsive. The citizen movement continues to thrive, although things would have been a whole lot smoother for it had the government been a trifle more concerned about the city. Much of this has to do with the perception that the Congress' relatively dismal showing in the elections to the Karnataka assembly held in May 2004 (it is back in power, but as part of a coalition now) had to do with its urban-centric focus, exemplified, the proponents of this theory say, by the Bangalore Agenda Task Force (BATF), a public-private partnership created by the previous government and chaired by Infosys CEO Nandan Nilekani. At the core of batf's success was the fact that it had the blessings of the then Chief Minister S.M. Krishna; ergo, progressive bureaucrats set out, helped and aided by BATF, to do their best, and retrograde ones made a show of being interested. Today, at least one progressive bureaucrat (former Bangalore Development Authority head Jayakar Jerome) is in the doghouse and while the BATF hasn't been disbanded, it is evident it no longer has the clout it once had.
Protests abound: students of the Indian Institute of Management, Bangalore staged one recently to highlight the sorry state of the road that leads up to the school. "How do you expect (executives from) major corporations to travel down this non-existent road?" asks one student. And a group of some 15 technology firms including Philips Software, hp, IBM and Motorola have come under the banner of Bangalore Forum for Information Technology and threatened to boycott IT.com, a government sponsored industry jamboree. "The government is not even attempting to solve basic issues," says Bob Hoekstra, CEO, Philips Software. The state's it Secretary M.K. Shankar Linge Gowda is unfazed. "There might be certain issues that will be sorted out," he says sanguinely. Still, given that Wipro head Azim Premji has articulated his desire to look at states that are better off "in terms of manpower and infrastructure" and Infosys Chair N.R. Narayana Murthy his to have India's largest cities directly ruled by the Union Government, the government either doesn't know the extent of the malaise or couldn't care less.
The economic aspect should wake it up soon: Bangalore accounts for almost $4 billion (Rs 18,000 crore) of India's software exports of $12.5 billion (Rs 56,250 crore); it is that $4 billion that is under threat.
-By Venkatesha Babu
---
SECOND
The Brin & Page Show
Google's founders make all the right noises on a recent visit to India.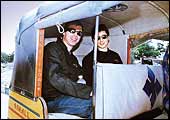 Google's Page (left) and Brin: The best way to get around India
What do you do after successfully taking the company you founded while you were still in your twenties public? Well if you are Google's founders Sergey Brin and Larry Page-Google, GOOG on NASDAQ, is worth $39.09 billion today-you do a victory lap of sorts of the company's offices around the world. And so, Brin, President (Technology) and Page, President (Products), of the Mountain View, California company that has all but changed the meaning of the word Google (from a huge number, one followed by 100 zeroes, to search) in popular lexicon, landed in India for a three-day visit in mid-October.
Everyone missed them in Delhi-this is the start of the tourist season-where they met with the President A.P.J. Abdul Kalam, whom, one of them later remarked "seemed to know more about Google than we did", and rode a CNG bus (they were impressed enough to declare that California could do with some).
The 31-year-old Ph.D drop-outs from Stanford (both are hopeful of one-day completing it; Brin, in fact, the more voluble of the two, has a bio-data that claims he is on leave from the Ph.D programme at the university, and joked that "it may be a good idea to come here (India) and finish it.") then set off for Hyderabad and Bangalore. Google has a global sales and support office in the first and a R&D centre in the second and although the Bangalore office employs a mere 10, the company is clearly global enough (it employs 2,200 people in 20 offices across four continents) to figure in the Lou Dobbs list; Dobbs, for the uninitiated, is a CNN anchor who has given his name to a listing of companies that have outsourced work out of the us. "We are not really into outsourcing, but we are not just an American company," explained Brin. "We are truly global and have substantial traffic from outside the us."
The duo also described their visit to India, particularly Bangalore, as a hiring expedition detailing that they were looking for "extraordinary talented entrepreneurial people who want to make a big change in the world". However, Brin admitted that the company could be late in on the India party. "We would have preferred to do it sooner. But there are only so many things we can do at once. It is a fast growing business." Still, it isn't as if the company has to look very hard. It claims it receives over a thousand resumes for positions in its Bangalore centre every week. "We are interested in hiring thinkers, creators and innovators," said Krishna Bharat, Principal Scientist and Head of the centre. "There is no constraint (on the number of people we will hire) and the size of the office," added Manoj Varghese, Google's Head of hr who is based in Hyderabad. "We are looking for good people and will hire the best."
In search of these, and the India-experience Page and Brin rode an autorickshaw in Hyderabad, caroused with employees in Bangalore and said practically the same thing at press meets they addressed in the two cities.
-Venkatesha Babu and E. Kumar Sharma
---
The Foreign Hand
BSNL sees an alien-tinge to Reliance's local calls.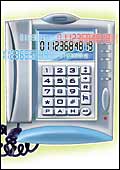 Just when it looked like the Indian telecom sector had finally run out of controversies comes this: Bharat Sanchar Nigam Limited (BSNL) has accused Reliance Infocomm of pilfering "several crores of rupees" in access deficit charge (ADC), which is due to it. The ADC is essentially a kind of cess on international and national long-distance calls. The ideal way to view it is as a notional loss suffered by BSNL, which originated and terminated all such calls before the sector was thrown open to private competition. BSNL claims it was the revenue from such services that subsidised its efforts to keep rentals low in rural areas, provide free calls and the like. The Telecom Regulatory Authority of India, TRAI, obviously buys this argument; it instituted in January 2003, ADCs ranging from Rs 0.80 per minute (on national long-distance calls) to Rs 4.25 (on international long-distance calls); BSNL is the biggest beneficiary (it is expected to collect more than Rs 5,000 crore as ADC this year).
The issue came to the fore last fortnight when BSNL alleged that Reliance has been routing international calls terminating on its network as domestic calls. Although the exact amount of losses is yet to be calculated by BSNL, Reliance argues that it cannot be more than Rs 20-30 crore. BSNL complained to the Department of Telecommunications (which has served a notice to Reliance) and to TRAI (which says it has no wherewithal to launch an investigation) and also started disconnecting Reliance calls at various points of interconnections in states like West Bengal, Maharashtra, Gujarat and Tamil Nadu (there are 400 such points across the country). Its back the wall, Reliance, paid up some Rs 60 crore to BSNL as an "interim arrangement" on October 14, pending the final settlement of the dispute. "Reliance has admitted its fault by paying up money," says N.K. Mangla, bsnl's Director (Commercial & Marketing).
The BSNL-Reliance row has brought another grey area in India's telecom policy into focus. India is that rare country where the ADC co-exists with the Universal Services Obligations fund. The USO gets 5 per cent of the revenues of private players paid to the Consolidated Fund of India. According to private telecom operators, the ADC is unjustified on many counts: one, it increases the cost of telecom services for consumers. Another, by paying ADC directly to BSNL (which doesn't account separately for the money), private telcos are financing their competitor which could use the money bankroll its predatory tariffs. "Ideally, the money should go to the USO fund," contends Mahesh Uppal, Director, Telecommunications and Computer Information Systems. Clearly, we haven't seen the last of telecom tangles.
-Sahad P.V.
---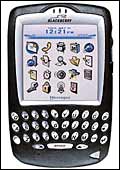 As this magazine goes to press, the most successful mobile application ever is set to see light of the day in India. This is Research In Motion's Blackberry, a wireless e-mail solution that has loaned its name to a range of eponymously named devices. Bharti Tele-Ventures is set to launch the product after months of hush-hush testing involving not just the company, but a large audit and consulting firm. Wipro Infotech has designed and is managing the back-end of this technology for the company and the product itself is expected to retail at between Rs 15,000 and Rs 35,000. The launch should help Bharti put one over rivals such as Reliance and Hutch when it comes to value-added offerings and customised corporate services. Watch this space.