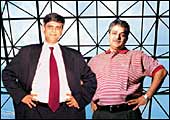 Remember Bobby Parikh, Mukesh Butani, and Rajeev Dimri, the former Andersen Consulting and E&Y big guns who had studiously maintained a low profile over the past few months? Well, they're back and how. The trio (Parikh, left and Butani are pictured above) have joined hands to form BMR & Associates (yes, you guessed right, the name comes from their initials), a boutique tax consulting firm. Like the name, the choice of specialisation isn't hard to understand: all three are tax specialists (Parikh was once head of the indirect tax practice at E&Y, and Butani and Dimri have both served as national tax directors at the same firm). BMR currently has 10 partners and is hiring aggressively. ''We will offer value-added services with time,'' says Butani, who is also keen to point out that the firm has already roped in two non-Andersen partners. Great, it won't entirely be an old boys club then.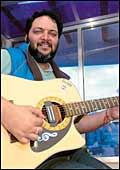 Cool Blues
He is from that hallowed institution, Indian Institute of Management, Ahmedabad, so it was only a matter of time before he became chief executive. And he plays the guitar, so it is only apt that he head Levi Strauss. Things are rarely as definitely blue and white as they have been in the case of Shumone Jaya Chatterjee, the 38-year-old head of marketing of Levi Strauss' Indian operations, who has just been elevated to the top post (predecessor C.S. Suryanarayan has moved to the company's Singapore ops). Chatterjee heads a corporate band called (what else?) Riveted that plays a fusion of Baul (a kind of Bengali folk music) and rock, but is as hard-nosed a CEO as they come. "Our goal is clear," he says. "To treble turnover in three years." That must be music to Levi's ears.
Veni, Vidi, Vici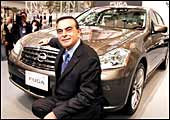 He is known as 'le costcutter' and is the first gaijin in recent memory to receive a favourable mention in Japanese corporate lore (not to mention the Manga comic medium, where he has been immortalised) after he successfully turned around the ailing Nissan Motors. Ostensibly in India to source components and find out a bit about the market, Carlos Ghosn, CEO of Nissan Motors, and soon-to-be CEO of Renault, addressed a meeting attended by some of Indian Auto's biggest names. The audience included Hyundai's B.V.R. Subbu, TVS' Venu Srinivasan and gm's Aditya Vij. "It was the most informative talk on the industry I have attended in ages," gushes Subbu. "No wonder he is so good." With speculation rife that Ghosn's visit was to actually look at manufacturing cars in India (Nissan recently entered the market with an imported offering, the SUV X-Trail), this may well have been the canny Ghosn's way of getting up close and personal with the competition.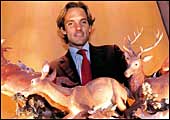 Idol Worship
There are idols, statues, and figurines. And there's the Lladro stuff. The 50-year-old Spanish ceramics company specialises in sculptures and has become synonymous with limited-edition-art, marrying aesthetics and mass production into one commercially viable whole. Three years ago, the brand entered India; now, with a range of global and local favourites, it hopes to make a killing this festive season. "I am here to find inspiration and a market," says David Lladro, 30, one of the sons of Vicente Lladro, one of the brothers who founded the company. The inspiration may be Indian, but the products continue to be hand-crafted in Valencia.
A Friend Indeed

Retired us senator Larry Pressler first visited India as a Rhodes Scholar in 1965. Vietnam put paid to that doctoral thesis and Pressler served 18 months in the jungles of South-East Asia, but his love affair with India never ended. "There are times I feel I am more famous in India than I am in the us," laughs the man behind the Pressler Amendment, which proved a major setback to Pakistan's military ambitions and made him the darling of the Indian establishment. Now on Infosys' board, Pressler insists that "outsourcing helps both countries". Pity he cannot author another amendment.