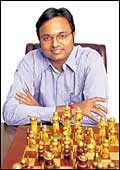 The right move: Chess Management Services' Karti Chidambaram
Routine ho-hum business can be risky for no reason other than the laws that govern the activity. This is what a company in Chhattisgarh discovered, to its alarm. It was blissfully drawing ground water for its needs, and liberally too, without so much as measuring the quantity. It was work as usual-till it very nearly found itself at the legal mercy of the local community.
Faced with an objection, the firm would've been in a bind. This, for the simple oversight of not installing a water meter to show that it was drawing less water than the state's permissible limit. Before anything could happen, though, the firm got pre-emptive legal advice from Chess Management Services, a law-specialised business advisory run by Karti Chidambaram, who is also the son of current Finance Minister P. Chidambaram.
Need For Legal Eagles
Chidambaram has been out to revolutionise how business complies with the law for quite some time now. Some four years ago, he started myvakil.com, offering online legal services. A case on legal risk management later, two years ago, he started Chess Management Services. The potential was too tempting to pass up. "The difference in the services we provide is that it is proactive in nature," says Chidambaram, "we teach companies to avoid unnecessary court cases by ensuring total legal compliance.'' Failure to comply with the law is a business risk, of course, but companies often fail to see the non-legal risks they run that could tip them over into a legal mess.
"Typically," says V. Sivakumar, a lawyer who worked with Chess Management and Kochhar & Co. before setting up his own practice, "most companies have in-house legal departments that are only into fire-fighting-issuing 'show cause' notices for non-payments, challenging fines, etc." These, he adds, "end up as extensions of accounts departments"-too used to the daily grind to think beyond their templates, and with no broader area expertise.
Vinod Surana, Partner at Surana & Surana, another law firm, agrees. Most legal departments are barely aware of the latest legislation on corporate governance, whistle-blowing and much else. The reason? "It is difficult and tedious enough to manage the compliance within the 200 known laws that come within the ambit of the Factories Act, ESI Act and so on," says Surana, "to worry about the constant inflows of new amendments relating to environment issues or sexual harassment, for instance."
KNIGHT IN ARMOUR
» Businesses often break the law without intending to. They just don't know better
» Getting a legal prophylactic makes fine business sense. It's good risk management
» Legal compliance audit services are now available that add that sheath of protection
Lack of process standardisation is often at the core of legal risks. "We have been grappling with this situation across our factories and attempting to set up some standardisation, but we are still not satisfied with the kind of checklists that we have set up,'' admits a senior executive at the Rs 850-crore Rane Group, an auto ancillary business. Shasun Chemicals, the world's largest maker of the drug Ibuprofen, meanwhile, proclaims itself satisfied with the recommendations of Chess Management, the "external examiner", as the legal department spokesperson calls it. It pays to have an outsider look in: this is the logic that ensures cooperation between the external and internal legal professionals.
Divergent points of view are common. Sai Chandravadhan, General Manager, Chess Management, relates an incident of a company willing to pay a pesky little Rs 250 fine for fire safety negligence to an inspector after a fire broke out. Chess stopped the move, advising the company that leaving the charge uncontested would be a clear admission of negligence, which would free its fire insurer of any payment obligation. Oh, said the company. It's all about foresight.
Audit Discipline
The way Chess Management does it, the legal compliance audit is a five-step process. The audit checks survival issues which could call for crisis management, routine systems that could cause trouble and management policies that might be risk-laden, before running a review of the functioning of critical processes, and, as the last step, instituting transparency at all levels of operation. As the audit proceeds, management involvement needs to keep going up, especially since the transparency part involves such collar-heating matters as business conduct, ethics, information sensitivity (even insider trading) and whistle-blowing.
It is trickier in practice than it looks on paper. While awareness of this sort of legal compliance audit is growing, most companies still prefer to keep the legal gaze peripheral. Many want to stop with the due diligence bit, or allow scrutiny only of specific problems that already stand identified. The idea of a full checkup still bothers many.
Multinationals tend to be more receptive to the audit, in the experience of Surana, whose firm uses an audit similar to that of Chess outlined above. Indian companies? They reluctantly admit to a fear of finding themselves riddled with compliance risks, "which is a fair start" as Surana sees it. After all, getting a legal prophylactic is sensible business.
"Indian companies are more interested in doing a legal compliance audit when they are going to merge with somebody else or when they need overseas investors," observes Dorothy Thomas of Kochhar & Co., "The valuation goes up if there is 100 per cent compliance.''
There are other global pressures, too. Overseas clients, for example, do not want anything sourced from any vendor using child labour. "We have to be proactive at every level," says Chidambaram, "and anticipate changes in law, locally and internationally." The business process outsourcing (BPO) industry, for instance, needs to prepare itself for future legal wrangles that could possibly involve work standards and employee unionism. As awareness of business' relationship with the law grows amongst people at large, so might litigation. The world's freest markets also tend to be highly litigious. Complacency is too risky.