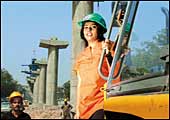 Hardhat buzz: Civil engineers like Punj Lloyd's Dhananjayan are back in action
It's back. Classic dusty-at-the-site engineering, blueprints rolled under the arm and calculus buzzing around in heads under hardhats. It's back. It's civil. And it's tangible. Engineers, as a tribe, were in danger of banishment to midnight computer cubicles, with their output etched in silicon. Now, they're getting back under the clear light of day-building bridges, erecting towers, spanning flyovers, laying roads and electrifying cities. In short, doing the heroic things people grew up hearing them do. "The post-independence kind of demand for civil and electrical engineers is back," explains Vinayak Chatterjee, Chairman of Feedback Ventures, an infrastructure firm.
Project Pride
If a career in engineering sans the 'computer' prefix has been so unfashionable, blame state control of infrastructure and the pain any good brain registers at the prospect of joining the public works department (PWD) or state electricity boards (SEBs). Now that India is getting serious about giving the urbanscape a 21st-century makeover, however, the face of civil engineering is fast becoming E. Sreedharan of Delhi Metro fame. The heroism is back. And so is the pride. This is good news for engineering, the discipline.
And as new projects get ready to hit the ground, demand for engineers is rising fast. Sanjeev Bikhchandani of Naukri.com has an observation to make. "Last financial year, the number of such jobs varied between 500 and 1,000 at any given point of time," he says. "There has certainly been an increase, and as it seems, to the extent of 200 to 300 per cent." Says K. Raghunath, Executive Director (HRD), Punj Lloyd: "It was the NHAI's Golden Quadrilateral project that kick-started it all." His company has doubled its intake of engineers-including some 50 from the Indian Institutes of Technology (IITs) and regional engineering colleges (REC, that is, some of which are now called National Institutes of Technology, or nits).
A more pragmatic approach to projects, coupled with public pressure, is giving the profession new optimism
Shalini Dhananjayan, 24, for example, was recruited on campus by Punj Lloyd at Pune's National Institute of Construction Management and Research, and is keen on the pride in being able to say, "That bridge was built by my company". She doesn't have to spend too much time on-site either, thanks to such technologies as the Prima Vera Project Planner, which allows remote tracking of projects.
Much excitement, though, comes from watching the plans take shape. "Nothing compares to the real experience of working at a site," says Jaidev Moka, 26, a civil engineer armed with an M.Tech in Building Science from Roorkee, and currently working with IVRCL. His classmates wanted to go abroad. But he wanted to create India's own landmarks. "Civil engineering is the father of engineering," Moka says, sounding almost Roark-like in his dedication to the group housing project in Hyderabad he is currently on.
If the dreams are beginning to get grandiose, it is understandable. "Earlier there was no market value for civil engineers and they would work at any salary," reveals Ashok Reddy, Director, IVRCL, "but due to the infrastructure boom, these engineers can pick and choose blue-chip companies." The project-building industry has begun to witness some churn even at senior levels, and attrition alone has made IVRCL hire some 400 civil engineers afresh.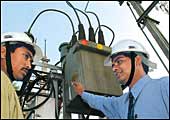 Been there, done that: Tata NDPL's Manish Karan (C) and IVRCL's Jaidev Moka (R)
Action, And More
"Everything needs civil engineering," says Ramesh Kapoor, 64, Director, Unitech Limited, a Delhi-based builder, in jocular exaggeration. He has been a civil engineer for four decades. When he graduated from Bangalore College of Engineering in 1963 with dreams of "serving the civil society", his skills were in big demand. But by the time he did his PhD from Roorkee in 1972, things were changing; and then came the IT wave. Now, again, the national thrust on big-time infrastructure is preparing Kapoor for action.
The younger lot, of course, is more than pleased by the new consciousness-spurred by comparisons with China-that is taking hold. Manish Karan, 24, is an electrical engineer from bit, Bangalore, and is all excited by the coming of private sector builders. "With the public sector," he complains, "everything is time-bound and not performance-related." A more pragmatic approach to big projects, coupled with the urgency of public pressure, is giving his profession a new optimism. Something even bordering on the sort of 'modernity' idealism that older generations miss so much. "In 2020 India, electricity will play a major role, and I want to be there for it," says Karan, pointing to the success of Tata NDPL in delivering power reliability. Young engineers have played a major role. "These are bright, fresh engineers with 65 per cent and above marks from the nits," says Abhay Saini, General Manager, (HR), Tata NDPL, which has hired 188 electrical engineers of late, and is on a hiring spree in anticipation of more action. It is reminiscent of the good old days of 'nation-building'. Literally, though.
---

Trainer Pervez Mistry: Sculpting body-beautifuls
Want to make a living getting people onto a fitness trip? "The first prerequisite is that you must be proud of your body, and like yourself-irrespective of how you look. Add to this a natural inclination for physical activity, and you can then leave it to the professional courses to make a trainer out of you," says Pervez Mistry, a certified personal trainer and post-rehab specialist. You could either do a BSc in Physical Training (available in Delhi and Patiala), or opt for a certification course like the one offered by Reebok. You could even specialise, say, in aerobics. The high point is becoming a personal trainer for somebody rich and body-conscious, which could earn you in the region of Rs 50,000 a month.
---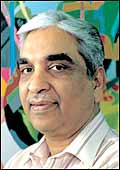 I am a 26-year-old engineer with an MBA in marketing. Prior to joining my B-school, I worked with a farm equipment manufacturing company for a couple of years. I was doing well but decided to quit and start preparing for my MBA. But now after graduating I feel that this was a wrong move on my part since all the companies I apply to reject me, citing lack of experience as the reason. All this is quite unsettling for me. Also, I have always believed in transparent honesty with employers, and I expect to be dealt with on the same footing. What should I do?
Frankly, it's not lack of experience that's keeping companies from hiring you-fresh MBA graduates are as much in demand as experienced ones, depending on the job profile. Besides, you do have a couple of years of experience behind you. So it could be that you are not targeting the right places or that your interview performances are not up to the mark. It would do you good to introspect and solve the problem rather than blame employers. You mentioned that you did well in your previous company; you could even look at going back to it if nothing else works out.
I am a 27-year-old post graduate in international business management with specialisation in export-import management from a tier-II university in Bhopal. While I was studying, I got a few job offers. However, since I wanted to complete my studies, I didn't take up any of them. Now that I have graduated, I am finding it difficult to get a job with any of the MNCs situated in the city since they all want experienced people. I can't understand what is wrong. How do I improve my chances of getting the job I want?
You need a dose of realism here. By limiting your choice to MNCs, you are making things difficult for yourself. Firstly, you are in Madhya Pradesh, which has very few MNCs. Secondly, after graduating from a tier-II university, you are competing with graduates from all the top institutes in the country. Not wanting freshers is just a polite excuse that companies use, so don't believe that. You would do well to start looking at local companies as well and if possible, even at profiles other than those in export-import. Lastly, think seriously about relocation.
I am a 32-year-old mechanical engineer with over eight years experience in precision tooling and gauging at various companies in Pune. Since I've always worked as a resident engineer in small-scale industries, I have not been able to grow much and neither do I see a possibility for growth in the near future. I have good contacts with importers of cutting machinery and have even tried to exploit them to secure a job at an MNC. However, I have been unsuccessful in my attempts. Also, while I want an MNC job, I do not want to deviate into some other line of work. What should I do?
You don't always get what you want. Evaluate the facts-you are an engineer and have worked for almost a decade in the small-scale industry sector. You want to stick to precision tooling and take up an MNC job. It is time you thought practically. You must realise that it would be wiser to look at Indian engineering companies in Pune, which are large and offer growth potential as well, rather than limit your choice to MNCs. Also, you cannot remain specialised forever if you want to grow. Start looking at other functions that will utilise your skills and experience.
I am a 23-year-old economics graduate. I passed my higher secondary examination with commerce since I wanted to pursue financial management as a career. However, while I want to do an MBA in finance or a CFA course now, I am apprehensive of getting admission since I did not have mathematics as a subject in class 12. I have always been a good student but I feel not having studied mathematics could pose as a barrier to my getting admission to any of the good B-schools. Is there a solution I can work on?
Lots of students without a background in mathematics are getting into top B-schools. However, you do need to master the subject if you want to do well in management and that is something you need to evaluate. If you have some aptitude for maths, you could take tuitions to develop it. Alternatively, you could pick up books that could give you ample practice on the plus-two curriculum. And if you want to concentrate only on the admission test, join a tutorial class that focusses only on MBA entrance exams.
---
Answers to your career concerns are contributed by Tarun Sheth (Senior Consultant) and Shilpa Sheth (Managing Partner, US practice) of HR firm, Shilputsi Consultants. Write to Help,Tarun! c/o Business Today, Videocon Tower, Fifth Floor, E-1, Jhandewalan Extn., New Delhi-110055.
---
Sell-Out Nerves
Worried your BPO unit's up for sale?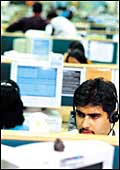 BPO mantra: Some serious advice, for a change
Work life is never without surprises. You get yourself a 'global career', you become part of the world's most dazzling diversification story, you join the grand effort to put 'imagination' to work, and then one day you wake up at risk of facing a decidedly de-glam future: life in a headset at just another business process outsourcing (BPO) cubicle farm.
That would be your story if you work at GECIS India-currently rumoured to be on sale. So what should employees do at times like these: stick around or jump ship?
Stay put, advise some. "There can be some ambiguity in the minds of the employees and management," concedes a headhunter at an international firm. "However, a survivor is always better regarded than someone who opts out during the tide." But then, much depends on your own job-risk assessment. "In case of GE, employees can expect plenty of opportunities and should, in fact, look out for changes," advises R. Suresh, Managing Director, Stanton Chase India. His reasons? A takeover by some dull BPO value-digger could jeopardise your ambitions. Pre-emptive change might be the better choice.
---
Media Projection
It's a skill that even CEOs need to acquire.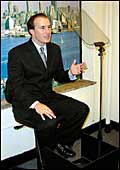 Media Training Worldwide's Walker: More than just style
Yes, yes, the 'CEO cult' is fast fading. But no chief executive officer (CEO) can deny how much extra market cap there is in getting across nicely to the world at large. More than enough value, by most estimates, to pay for a few training bills on media projection. Hoping to bill India's CEOs for such skills is T.J. Walker, President of the New York-based Media Training Worldwide, who has joined forces with Mumbai-based communications consultant Ravi Shyam.
Walker's media-maxing tips range from what to wear on TV (no white shirts, no light ties, no jazzy colours either) and how to sit in the studio (leaning forward adds stature), to how to get out the specific sound bites of your choice. Says Walker, who has helped honchos at Thomas Cook and Actis: "Successfully dealing with the media is often no different from succeeding in any other part of your business; it requires planning, strategy, hard work and allocation of resources." These don't include wired jackets, presumably.