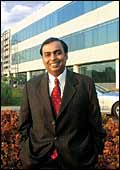 RIL's Mukesh Ambani: No. 1 once more
What's common to john chambers and Mukesh Ambani? The network, some would say, for the internet in Chamber's case, and for telecommunications in Ambani's. Chambers is President and CEO of the $22-billion (Rs 1,01,200-crore) networking giant, Cisco Systems. Ambani is Chairman of the Rs 99,000-crore Reliance group of companies, with fingers in such diverse lip-smacking pies as polyester, gas, power, refining and petroleum retailing. And of course, information and communication. But there's a much more recent, direct connection between the two. Last fortnight Ambani, who is in the process of fuelling one of the most exciting telecom revolutions to take place anywhere in the world (which will eventually result in the Reliance service being used by over 40 million users in 5,000 towns and 1 lakh villages courtesy a fibre optic backbone of some 1.2 lakh kilometres), was awarded the World Communication Award as "The Most influential person in telecommunications in 2004". Therein lies the direct link with Chambers: The Cisco boss pocketed this award in 2003 (sponsored by leading telecom publication Total Telecom, whose readers chose the most influential person in telecom).
RANK
1

RELIANCE INDUSTRIES LIMITED


If RIL is ranked right up there with a market cap of Rs 66,000-crore, it shouldn't come as a surprise, not when there's so much value that's set to be unlocked
Further comparisons may appear affected, but you can't help but notice that both Chambers and Ambani have grown along with their businesses, from insignificance to revenues that today put them head and shoulders above the rest in their respective industries. Chambers took over in 1995 when Cisco was a relative fledgling with annual revenues of $1.2 billion (Rs 4,116 crore at the then exchange rate); today Cisco is doing almost 20 times that figure. Ambani for his part reminisces about the period when he joined his father, the late Dhirubhai, in the business in 1979-80, when Reliance Industries Limited (RIL) went public. "Revenues then were just some Rs 80-90 crore," says Ambani, at ease in the second-floor boardroom in I Block of the Dhirubhai Ambani Knowledge City, the headquarters of Reliance Infocomm (45 per cent owned by RIL) spread over 140 acres on the outskirts of Mumbai. "Since then we've doubled Reliance's revenues every three-four years pretty consistently," says the Chairman of the Rs 99,805-crore group. "The challenge now is to double what we've achieved in 25 years in the next five years."
KEY FINANCIALS
AVERAGE MARKET CAP FOR H1 2004-05
Rs 67,036.30 crore
TOTAL REVENUES IN 2003-04
Rs 75,556 crore
EPS IN 2003-04
Rs 39.34
PE RATIO AS ON SEPT. 30, 2004
13.17
ROCE 2003-04
18.5 %
If the Ambani brothers do achieve that goal, they would be close to a Rs 2 lakh crore group by 2009. Some 40 km away from the Knowledge City, in the heart of Mumbai City at Reliance Centre, Anil Ambani, Vice Chairman & MD, is clearly in tune with his brother's ambitions. "We will be making investments of Rs 50,000 crore in the next five years-Rs 10,000 crore in our various businesses right from power to infocomm to gas to petroleum marketing to gas transportation," says the younger Ambani, even as he brushes aside with disdain allusions to the widely-speculated "differences" that exist between the brothers. "We're clearly focussed on growth, which is reflected not just in the blueprints for our newer businesses, but also by the string of acquisitions we've made, including those of Trevira (which makes Reliance No. 1 in the world in polyester) and of flag Telecom (the largest cross-border deal in telecom)."
So, if Reliance is ranked right up there in the BT 500 with a market cap of Rs 67,036.3 crore, it shouldn't come as a surprise at all-not when there's so much value that's set to be unlocked over the years ahead. Consider: The group has licences for putting up 5,849 outlets for retailing petroleum products. Some 75 such fuel stations have already been set up; 400 will be put up every coming quarter. By March 2005, Reliance should have some 1,500 outlets up and running, and the entire roll-out is scheduled to be completed in three years. In gas, Reliance has so far made 11 discoveries, totalling in-place volumes of close to 20 trillion cubic feet. A plan for producing 40 million cubic metres per day has been drawn up, customers identified for two times that volume, and plans for transportation via pipelines are awaiting the government's go-ahead. In power, besides setting up a 3,740-mw gas-based power project 50 km from Delhi in up, Reliance Energy is also putting up wind power projects, transmission infrastructure and distribution systems at a total outlay of Rs 25,000 crore. And Reliance Infocomm, after garnering some 9 million subscribers in the first phase of its rollout-of the wireless service-is now preparing to target 1.5-2million enterprises with its broadband service. The third phase will follow a year later, when Reliance will take broadband into homes, a market Mukesh Ambani estimates at 40-50 million customers.

RIL Vice Chairman Anil Ambani: Focussed on growth
Those are big plans to be sure, in typical Ambani style: Of building size and scale with an eye on the distant future. As Rajiv Memani, CEO & Country Managing Partner, Ernst & Young India, puts it: "What differentiates Reliance from the rest is its visioning as well as its ability to implement that grand vision. They're like China in their strategy, which is to put up large-scale businesses in a short period of time, create availability, and then challenge global benchmarks as well as the pricing paradigm."
That vision manifests itself nicely in the gas discoveries. The Chairman puts the discoveries in the Krishna-Godavari basin (kg-d6), of 14 trillion cubic feet, into perspective. "About 100 million cubic metres of gas is used annually in India. Our discovery of 14 trillion cubic feet triples that number." He also expects large-scale substitution to happen-14 trillion cubic feet is also equivalent to 2.3 billion barrels of crude oil-as natural gas is considered efficient and environment-friendly. Of course, it all makes great commercial sense too, with Reliance projecting incremental revenues of Rs 10,000 crore annually based on its gas discoveries in KG-D6.
RIL is like China in their strategy, which is to put up large-scale businesses in a short period of time
Amongst the many benefits of size and scale is pricing power. If Reliance Infocomm has been able to change the rules of the game with its mobile service-remember the "Monsoon Hungama" offer in July 2003, which helped Reliance rake in 1 million customers in 10 days by offering a phone for as low as Rs 501-the Ambanis are planning to rewrite the rules with its other offerings too. For instance, Reliance Energy hopes to generate power from its up project at just Rs 2 per unit, which is at least 10-20 per cent lower than the lowest power tariffs prevailing in the country. Of course this will be possible because Reliance will be using its own gas to generate power. That gas, meantime, is also set to be priced aggressively vis-a-vis competing quotes for liquefied natural gas, and could work out 50 per cent cheaper than LNG, at under $3 (Rs 138) per million British thermal units. Of course, exact pricing will differ, depending on the tenure of the contracts customers get into. In petroleum retailing, Anil Ambani points out that there are opportunities to work on price by offering attractive rates to, say, trucking companies buying in bulk. Currently the Ambanis are wrestling with the pricing for broadband to homes, which will provide customers movies, music and information on demand, along with interactive television with hundreds of channels-all through one pipe.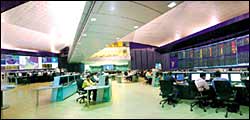 Dhirubhai Ambani Knowledge City: The Ambani brothers dream of making Reliance a Rs 2-lakh-crore group in the next five years
Clearly, Reliance is a much more service-oriented conglomerate today than, say, five years ago, when it was virtually a pure-play polyester, polymers and petroleum manufacturer. But, even as the consumer interface becomes most obvious in businesses like infocomm and petroleum retailing, Mukesh Ambani stresses that the group is "progressing to become service-oriented in all its businesses. We see huge potential to deliver to customers services with a difference, using technology". Even the apparently commoditised businesses of polyester and polymers provide Reliance scope to hone its service-delivery capabilities. RIL is investing in building intellectual property in polyester, in an alliance with Dupont, and launching new products. "Polyester could be used to make jogging suits, industrial materials and fabric, and car furnishings; polymers could be used to create new packaging material. The idea is to help customers create new markets with our products, thereby developing new revenue streams that add to the commodity revenues," adds Ambani, who is looking forward to the day when 30 per cent of a car will be made of polymers instead of steel.
For a company that started off With Vimal and then kept integrating backward, today's service-orientation is a culmination of a long journey
For a company that started off as a retailer with the Vimal brand, and which subsequently kept integrating backward, today's service-orientation is a culmination of a long journey. But there's still many miles to go before the Ambanis' plans of offering a customer the entire gamut-power, information, communication, gas, petrol, diesel, polyester-pan out. Mukesh Ambani points out that the strategy is to focus on one particular activity at a time-currently it's Infocomm's time. From 2008, it will be oil and gas. "That way we ensure continuous growth, and also prevents us from getting de-focussed." Yet, question marks still linger: For instance, analysts are cautious about possible delays in the implementation of the petroleum retail ramp up, and in the gas production and transportation blueprint (Reliance has yet to get a go-ahead from the government for setting up pipelines to transport gas). The infocomm plan too is showing, as one analyst puts it, "execution fatigue". The consumer broadband rollout seems still some time away. Also, although the Monsoon Hungama proved a bonanza in terms of customer acquisition, it also brought along with it huge bad debts (which have been written off, but could delay Reliance Infocomm's journey into the black).
The Ambanis, for their part, are no strangers to adversity, and their experience in project implementation will provide them with enough learnings to see them through the rough patches. The hurdles notwithstanding, it's simply impossible to ignore the huge value that's slowly but surely being unleashed from the colossus that is Reliance.