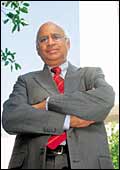 S. Ramadorai, CEO & MD, TCS: Focussed on operations
The sky above the air India building, a towering landmark in South Mumbai's commercial district, is abuzz with the thunderous roars of low-flying Sukhoi-30s, the state-of-the-art fighter planes of the Indian Air Force. The Sukhoi-30s are going through their paces over the azure Arabian Sea, preparing for an air show scheduled for the weekend to commemorate 70 years since the first civil flight of former Tata group Chairman, the late J.R.D. Tata, from Mumbai to Karachi. The year 2004 also happens to be his birth centenary. Clearly, the air show is a matter of great pride and achievement for the Tatas and Air India (which was also founded by JRD).
As the fighter aircrafts continue to paint crazy patterns on the skyline, there's a slightly different drone of excitement building up on the 11th floor of the Air India building. No, this has little to do with the air show or Air India. The 11th floor is the corporate headquarters of Tata Consultancy Services (TCS), Asia's largest it services company founded by JRD in 1968, and steered since then (and until recently) by handpicked-lieutenant Fakir Chand Kohli. The flutter on the 11th floor is because TCS has just declared its first ever financial results since offering shares to the public in August. TCS has scored over a billion dollars in revenues for the first-half of 2004-05, revenues for the second quarter are up 44 per cent over the previous year's corresponding period, and earnings have spurted 52 per cent. That's an impressive performance by any yardstick-as impressive perhaps as the manoeuvres of the fighter planes that continue to rattle the window panes of the TCS headquarters.
RANK
2

TCS


TCS has scored over a billion dollars in revenues for h1 2004-05, second quarter revenues are up 44 per cent and earnings have spurted 52 per cent
But an A+ report card on its own means little on its own, now that TCS is a listed company, and watched as keenly by investors as the Sukhoi aircrafts by the public. Comparisons with rival, industry beacon and the darling of investors, Infosys, are inevitable. Although TCS' earnings growth is marginally higher than Infosys' 48.64 per cent for the second quarter, the Bangalore-major steals a march when it comes to revenue growth. However, in absolute terms, TCS continues to be numero uno. Clearly, though, investor perception of Infosys is superior, if valuations are any indicator: The current price/earnings ratio for Infosys is 36.38 (as on September 30, 2004) as against 29 for TCS.
It's still early days yet, however, to draw any conclusions, and TCS for its part is still grappling with all that comes along with an initial public offering: Pesky analysts quizzing the management on esoteric ratios, and peskier journos asking for guidance for the full year's growth projections. Guidance? "We are not getting into that game," is TCS' contrarian response to that persistent request. CEO and MD S. Ramadorai just can't understand the fuss being made about guidance. "There is no mandatory requirement for financial guidance even in the overseas market; wasn't Coca Cola one of the first companies to declare they won't be issuing guidances," he pointed out to BT.
KEY FINANCIALS
AVERAGE MARKET CAP FOR H1 2004-05
Rs 48,116.42 crore
TOTAL REVENUES IN 2003-04
Rs 7,122.73 crore
EPS IN 2003-04
Rs 35.41
PE RATIO AS ON SEPT. 30, 2004
29
ROCE 2003-04
57.5%
Indeed it is TCS' prerogative to decide whether it wants to "guide" punters or not, and Ramadorai and the top brass is clear they're focused totally on operations, which will eventually benefit the long-term investor. "Trading multiples and the like don't necessarily reflect the true value. Ultimately we know that we will get the right value (for the scrip)," quips Ramadorai.
But then again stockmarket performance is eventually linked to operations and growth, and if TCS is trading at a discount to Infosys, it's because its revenue growth and operating margins are lower than the Bangalore firm. The reason for the lower margins could be the company's large presence in the domestic market, where billing rates are obviously much lower than those prevailing overseas. Nearly 12 per cent of TCS' revenues currently come from the domestic market. In the case of Infosys and even Wipro, just about 1 per cent of total revenues come from the domestic market.
The TCS brass is quick to defend its domestic focus. "Look, we can beat the hell out of competition in margins if we choose to, but that would mean sacrificing the India business, which we are not prepared to do. For one, we believe India is heading towards being a sustainable market. For now the challenge is to balance the India business with the rest," says Phiroze Vandrevala, Executive VP, TCS. N. Chandrasekaran, Executive VP, TCS, sheds more light on the India strategy. "Domestic projects like the ones we have done for the National Stock Exchange, State Bank of India and the Reserve Bank of India's gross settlement system have given us phenomenal domain expertise."
TCS' attrition rate for the last 12 months stands at 7.9 per cent, the lowest in the industry which has an average attrition rate of about 15 per cent
But it's not just the domestic strategy that's pulling down margins. TCS's share of onsite revenues in total reveues is pretty high, at 62.5 per cent (for the first half). For Infosys that figure is just under 51 per cent. And it's a pretty consistent trend: In 2004, Infosys and Wipro had onsite revenues of roughly 55 per cent of total revenues. For TCS the figure stood at 63 per cent. TCS has, however, been working towards moving work offshore and onsite contribution is down from about 70 per cent of total revenues in fy02. "There is always opportunity to move work offshore, especially since customers want work moved offshore. The share of onsite work will continue to fall, but at the same time our focus is on delivery and we will do what it takes to deliver to the customer, it all depends on the type of engagement," explains Chandrasekaran.
Moving work offshore is clearly an imperative if margins are to improve. The management has also identified other areas where costs can be pushed down. The trick lies in striking the right balance between a fast-growing business and cost management. "Obviously we have a target on margins. But any sustainable improvement in margins has to come from an upgrade of competency. We have to manage costs ruthlessly and also manage utilisation. I am adding over 4,000 people a quarter and so I am adding wages. We need to manage costs bottom up, I can't just take Rs 100 crore out of costs overnight can I?" questions S. Mahalingam, CFO, TCS.
Margins may be an issue, but analysts are quick to hand out the bouquets along with the brickbats. One area where TCS scores is on the share of revenues from fixed price contracts. TCS earns about 56 per cent of its sales from such contracts as against Infosys' 34 per cent. "This is a positive for TCS since it means that the company has long-term relationships with clients," says one researcher.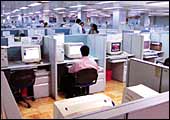 TCS earns 56 per cent of its sales from fixed price contracts as against Infosys' 34 per cent, a positive for the company according to analysts
Another positive is TCS' lower dependence on the North American market. While the us contributed 62.2 per cent of TCS' total sales in fy04, Infosys saw the same market contribute 71.2 per cent of revenues. Clearly, the former has a more derisked model in terms of geographical spread.
The Road Ahead
The key issues facing the Indian it services industry today are wage inflation, attrition and competition from multinationals. The sector is also probably heading for a manpower crunch, given the mammoth requirements to service its unprecedented growth. Research firm Gartner predicts a 15 per cent rise in wages in the current year itself. Clearly, a manpower problem is brewing and the recruitment numbers of TCS and Infosys for the second quarter of the current fiscal (between them they have recruited 9,000 professionals) are enough indication of what is to come.
TCS has recruited about 4,000 people in the second quarter alone, taking the total head count up to 36,696. The company's development centres are currently spread across 15 locations in India. Apart from its India centres, TCS has development operations in 12 locations in the us and seven outside of the us in geographies like UK, Latin America, Uruguay, Hungary, China, Japan and Australia. The wide geographical spread of the company's development centres is a strategy that should hold it in good stead particularly in the light of wage inflation in India.
As for development centres within India, TCS is now building its showcase campuses (something the other tech majors already boast), two in Mumbai in the suburbs of Andheri and Thane and one in Chennai, which will span 70 acres to "consolidate its presence in these regions", says Ramadorai. "I am sure we will require even more space once these have come up, but it's a nice problem to have," smiles S. Padmanabhan, Executive VP (Global HRD), TCS.
One strength that the company never fails to point to is its attrition rate. TCS' attrition rate for the last 12 months stands at 7.9 per cent, the lowest in the industry, which has an average attrition rate of about 15 per cent (competitor Infosys has announced an attrition rate of about 10 per cent). Says Vandrevala. "We may not be the sexiest place but we are solid and steady."
One segment where TCS is yet to catch up with its peers is in the area of business process outsourcing. After an initial hiccup-Intelenet, the BPO firm started as a JV with HDFC, TCS is now getting its BPO strategy together. The company sold its stake in Intelenet to HDFC (which subsequently sold a stake in the entity to Barclays) and recently made an acquisition to get a foothold in the BPO space. TCS acquired Phoenix Global Solutions (pgs)-a provider of technology-business solutions to global insurance companies. "Intelenet was largely a voice-based business, but pgs is a BPO, which now gives us a presence in the transaction-processing space. We are serious about the BPO business," says Ramadorai.
It's clearly a battle that is being fought on many fronts-competition, both multinational and Indian, wage inflation, rupee appreciation, and attrition in addition to the travails of being a newly-listed company. But there is no mistaking the intent when Vandrevala concludes the meeting with this magazine with a flourish. "We are in leadership position and we intend to stay there." If TCS does, investors too will stay put with the company stock.