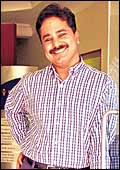 G.V. Prasad, Executive Vice Chairman & CEO DRL: Working on risk mitigation strategies
For more than half of its 20-year existence, Dr. Reddy's Laboratories (DRL) has been true to the third word in its moniker, laboratories. The Rs 2,000-crore company's growth strategy has had research at its core. DRL is India's first pharmaceuticals company to seriously get into R&D and to have out-licensed three molecules to MNCs; it's the first Asian pharma stock to be listed on the NYSE; it's also the first Indian (maybe even Asian) company to have successfully launched a (generics) product, in the anti-depressant category, in the us market with a 180-day marketing exclusivity.
It's arguably the most aggressive Indian company to have chosen the path of building a pipeline of patent challenges under Para IV (a provision under the us Hatch-Waxman Act, which allows pharma companies to launch generic products before the patent of the product expires). DRL has the second largest (after global major Teva) patent challenge pipeline in the industry, with 49 abbreviated new drug applications (ANDA) filings so far in the US, of which 37 are pending approval. Twenty-five of these are patent challenges that together address a branded drug market valued at $22 billion (Rs 1,01,200 crore).
RANK
25

DR. REDDY'S LABS


It has the second largest patent challenge pipeline, with 49 ANDA filings in the us, of which 37 are pending approval
Yet, it is this very pipeline that is also cause for worry. The Hyderabad-headquartered DRL (in which Chairman Anji Reddy and his family have a 27 per cent stake) may have built a capacity to file up to 20 ANDAs for the us market and 10 to 15 product registrations for Europe annually, but drug discovery is not only a very long-term play, it is expensive too. So in the short and medium term, DRL is still investing in building a repertoire of specialty drugs through a combination of product acquisitions, organic pipeline and deals to build the pipeline. The problem is that its only product in this space so far, Amlodipine Maleate (AmVaz), was hit by the Negative Appeals Court decision and, at least for the moment, there aren't any signs of any more niche product approvals coming its way.
KEY FINANCIALS
AVERAGE MARKET CAP FOR H1 2004-05
Rs 6,085.71 crore
TOTAL REVENUES IN 2003-04
Rs 2,008.10 crore*
EPS IN 2003-04
Rs 24.91
PE RATIO AS ON SEPT. 30, 2004
29.58
ROCE 2003-04
15.75 %

* (as per USGAAP)
Assorted Troubles
If that was not worrisome enough, DRL's high-risk high-reward strategy can often involve huge expenses on patent litigation and research. Its R&D spend moved up to 10 per cent of revenues in fy04 (from 8 per cent in fy03) and the sales, general and administrative (SG&A) expenses as a per cent of revenues were up to 32 per cent in fy04 (from 28 per cent in fy03). In addition, legal expenses incurred in q1 of 2004-05 were to the tune of $4 million (Rs 18 crore). Add to that a couple of negative rulings on patent challenges, delays in launch of generic products and heightened competition for some of its existing products, and it could make for a not-so-pretty sight.
Little wonder then that the stockmarket isn't exactly excited about the DRL stock. On the market, it's not intangibles like future potential or opportunity that work, but positive news flows about tangible business prospects. In their absence, DRL's market capitalisation has slipped and its rank on the BT 500 plummeted from 10 to 25. Says Rajesh Vora, VP, ICICI Securities: "In the past year, investor confidence has eroded and it does not look like it will change in the next year or so, in the absence of any new product launches that can change the complexion of its profitability."
Back at the DRL headquarters in Hyderabad's Ameerpet, Executive Vice-Chairman and CEO G.V. Prasad blames it on the most recent hit that the company has suffered-a negative court ruling in a suit filed by Pfizer on AmVaz, for which DRL filed a new drug application. It was an innovation (change of salt) on what could be called (very loosely) a generic version of Pfizer's Norvasc, indicated for the treatment of hypertension and angina. "We're also hit by delays in some generic launches and increased competition for existing products like Fluoxetine (an ingredient in Eli Lilly's Prozac) and Tizanidine (a drug indicated for the management of increased muscle tone associated with spasticity)." Fluoxetine, which enjoyed marketing exclusivity for 180 days in the US, is now facing competition and its marketshare is down to less than 50 per cent now.
Challenging patents is a high-risk strategy with long gestation, and it is only around 2007-08 that the results will show
This being the run-up to its second quarter results (expected later this month), Reddy, Prasad and other DRL executives are bound by the 'quiet period' stipulation and cannot comment on specifics. Prasad confines himself to saying that the company is aware of the concerns and is working on what he calls "risk mitigation strategies". These aren't spelt out in detail. But what the company intends to do is to build partnerships and alliances in the generics and specialty spaces.
The aim is to share risks and costs with partners. Says Prasad: "We see this as a temporary problem and in the short-term will look at cost management for improving the bottomline and focus on accelerating the product launches for building the topline." He'll also keep his fingers crossed for favourable outcomes of ongoing litigation-over the next six-12 months, such tidings are expected for three of its blockbuster patent challenges: Zyprexa (generic name: Olanzipine, for management of psychotic disorders), Plavix (generic name: Clopidogrel, for reduction of atherosclerotic events like myocardial infraction, stroke and vascular death), and Zofran (generic name: Ondansetron. For prevention of post-operative nausea and vomiting).
From Molecules To Money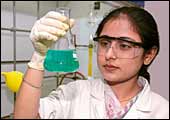 Discovery of drugs is a long-term play and it is expensive too. So, DRL is still investing in building a stable of specialties
But then, it is not just hope DRL is banking on. In a room across from Prasad's third-floor corner office, in a sparingly-furnished glass cabin, sits a man for whom molecules have to translate into money. Vishar Subramanian Vasudevan, DRL's CFO and one of the company's oldest employees, explains the company's financial conservativeness. "We follow the most conservative accounting norms, particularly with regard to revenue recognition items and the way we capture amortisation or ESOPs, for instance," he says. While the company follows USGAAP, it always tries to ensure that its gross margins are at over 50 per cent of revenues so that the cash position is always better than the net profit. Its current cash position at $167 million (Rs 768.2 crore), he feels, is quite healthy and can help the company acquire brands and pipelines.
Although DRL is focussing on ANDA filings, including patent challenges, this is a strategy that the company has been ramping up only in the past two years. Patent challenge, besides being a high-risk strategy, has a long gestation period-three to five years-and it is only around 2007-08 that the results of these would start to show. In the mid-term, therefore, DRL's strategy is to maximise its revenues from active pharmaceutical intermediates (APIs) or bulk drugs and its existing branded formulations like Omez (anti-ulcerant), Redotil (anti-diarrhoea) and Dutas (to deal with prostrate).
In R&D too, the company is making efforts to go up the value chain: instead of out-licensing molecules in phase I, it is now developing molecules and delivery systems till phase II. Out-licensing after this phase can yield greater return. Besides, in the specialty space, after the AmVaz episode, the company has shifted focus to niche therapeutic segments. Recently, DRL paid $11 million (Rs 50 crore) to buy Trigenesis, a us company specialising in dermatology drugs. Yet, such moves can at best be medium-term hedges for a company whose strategy is to grow through drug development and patent challenges-both expensive as well as risky pursuits.