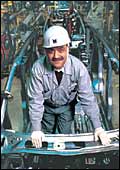 Maruti's Jagdish Khattar: Reinventing the auto major
The buildings owned by the Life Insurance Corporation (LIC) of India used to be the plushest in any Indian city till a few years ago. Jeevan Prakash, a faded red and white building on Delhi's Kasturba Gandhi Marg, is one such LIC property that lost prominence to the neighbouring Statesman House and DLF Universal. But Maruti Udyog Ltd. (MUL), India's largest car-maker, prefers to retain its 11th-floor corporate headquarters in Jeevan Prakash. Jagdish Khattar, Managing Director of the Rs 9,751-crore MUL, sits in an office as spartan as that of a small stockbroker's in the nearby Vandana building. He sits behind a desk at one end of the barely 300-sq. ft. room; at the other end are two sofas and a small centre table where he receives his guests. Dozens of bulge bracket merchant bankers and investment gurus-among them the legendary Mark Mobius of Templeton Asset Management-have visited his office, but Khattar, 61, has never felt awkward receiving guests here. He took this correspondent for a tour of his office and diligently switched off the lights in his room before stepping out. The flooring outside is a patchwork mosaic of tiles-among the beige-coloured tiles are three or four brown strips in no particular pattern. "When some tiles were damaged, we decided to carry out the repair job with whatever was available. The alternative would have been to change the entire flooring," the former IAS officer informs. A few yards from there is the marketing department where senior directors and GMs sit with their teams. Neither the directors nor the GMs have cabins. "No ostentation. That's our corporate philosophy," says Khattar with a hint of pride.
RANK
13

MARUTI UDYOG LIMITED


Thanks to CEO Khattar's cost-cutting overdrive, Maruti was able to increase its operating margin from 0.8 per cent in 2002-03 to 4.7 per cent in 2003-04
If Maruti is penny-pinching, it is not without reason. Since the company incurred a loss of Rs 269 crore in 2000-01 (for the first time since it was set up in 1983), Khattar has been on a cost-cutting and productivity improvement overdrive. This is beginning to pay off. Manufacturing costs rose by around 10 per cent but Maruti was able to increase its operating margin from 0.8 per cent in 2002-03 to 4.7 per cent in 2003-04. And if today Maruti ranks 13 in BT 500, it's because the company has doubled its average market cap from Rs 5,912 crore in H1 2003 to Rs 12,408 crore in H1 2004. Khattar says life has been difficult for him since Maruti went public as the company's actions are closely tracked now. However, he has no cause for complaint. Riding a strong rebound in the economy last year (GDP grew at 8.2 per cent in 2003-04 compared to 4 per cent in 2002-03) and fuelled by the availability of cheap finance, the Indian passenger car industry grew 24 per cent in the last fiscal and the first-half of this one. Maruti, which has a marketshare of 54 per cent in the nearly 8,00,000-unit Indian car market, is keeping pace with this growth and probably also outpacing it by a bit.
KEY FINANCIALS
AVERAGE MARKET CAP FOR H1 2004-05
Rs 12,408.22 crore
TOTAL REVENUES IN 2003-04
Rs 9,751 crore
EPS IN 2003-04
Rs 20.52
PE RATIO AS ON SEPT. 30, 2004
17.27
ROCE 2003-04
23.34%
To retain its position, though, Maruti will have to keep a close watch on the changing dynamics of the market. The A segment, the entry-level category where Maruti 800 is monarch of all it surveys, has seen a 21.6 per cent decline in sales from 87,608 units in April-September 2003 to 68,675 over the same period in 2004. But while people are buying fewer Maruti 800s (it will be slowly phased out and Alto's basic model will take its place), there is an increasing demand in the highly-competitive B segment where Maruti's Alto, Zen and Wagon R, Hyundai's Santro Xing, Fiat's Palio and Tata's Indica are jostling for marketshare. The A and B segments together account for 80 per cent of the Indian car market in volume terms (7.81 lakh units in 2003-04) and here, Maruti commands a share of 63.4 per cent, a tad below last year's figure of 64.1 per cent. However, the competition will certainly hot up in this segment; existing players are planning new models in this category and Toyota and Honda are eyeing an entry into it. Hyundai has already launched Getz with prices starting from Rs 4.5 lakh, while Maruti's new hatchback Swift, priced in the same range for the entry model, will hit the roads in mid-2005.
Maruti has no presence at all in the premium D segment which grew three-fold from 5,225 units in 2002-03 to 17,610 units in 2003-04
But MUL is missing out on the action in the C (Accent, Ikon, Corsa and Esteem) and D segments (Toyota Corolla, Hyundai Sonata, Skoda Octavia, and Mercedes Benz C Class). Both have been growing at a much faster pace than the A and B segments that are Maruti's forte. Maruti has no presence at all in the premium D segment which grew three-fold from 5,225 units in 2002-03 to 17,610 units in 2003-04. The mid-size or C segment, where Maruti has two models-Esteem and Baleno-also expanded more than 50 per cent from 93,174 units in 2002-03 to 1,42,016 units in 2003-04. But Esteem is a 10-year-old model while Baleno hasn't found favour with car buyers. Here the clear leaders are Tata Indigo, Honda City, Hyundai Accent and Ford Ikon. However, Khattar claims that the new variants of Esteem, launched in August this year with a price cut of about Rs 40,000, have received good response from the market. "There's an order backlog of six weeks," he says. Analysts, however, believe Maruti is better off chasing the mass market rather than the low-volume high-growth premium segment. "Do you want numbers (volumes) or growth percentage?" asks Ashish Jagnani, an analyst with HDFC Securities.
Reinventing Maruti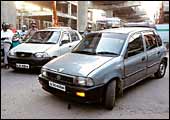 The A and B segments together account for 80 per cent of the car market and Maruti commands an aggregate share of 63.4 per cent
MUL, which currently has nine models, is now drawing up a strategy to transform itself from a small car player to a complete carmaker. "We have very aggressive plans for launching bigger cars... maybe one new model every year," says Khattar. The big car plans will take off once the new 2.5-lakh-units-a-year capacity car assembly plant comes up at Manesar in Haryana in 2007. A diesel engine manufacturing facility and an R&D unit are also on the anvil. Japanese parent Suzuki and Maruti will invest about Rs 6,000 crore over the next five to seven years on the three new facilities and on upgrading the existing three plants (capacity: 5,00,000 units a year) in Gurgaon.
Vendor Base
Maruti has already rationalised its vendor base; the number of suppliers are down from 370 four years ago to 216. This will help improve quality and generate economies of scale for component manufacturers, and in turn, reduce costs. "We are trying to replicate our success in reducing costs at the vendors' end," says Khattar. The company's Challenge 50 programme-conceived in 2002 and aimed at improving productivity by 50 per cent in three years to catch up with the benchmark set by Suzuki's Kosai plant in Japan-is also on track. Observes the CEO of a rival carmaker, "Maruti has been extremely successful in cutting costs and improving productivity, which is why they have done well despite falling behind in technology." MUL has also revamped its dealership network; at least a dozen dealers were shown the door for non-performance or financial irregularities. "It was a tough nut to crack earlier as dealers used political influence to stall such attempts," says Khattar.
All these measures, he hopes, will give MUL the wherewithal to take on the competition and maintain its position at the top of the Indian auto heap. But he may have to keep a close eye on changing customer preferences as well.