June 200

November 2001

August 2002

Four to come: For some time it looked like M.S. Banga's growth gambit was working. Now, it emerges, the Chairman will have to try harder
It's election day in Maharashtra. Streets and offices in Mumbai's financial district are deserted as hundreds line up to exercise their franchise or take that much-needed break at home. As anxious politicos go into last minute huddles with key advisers, a group of middle-aged men are in the midst of a brainstorming session that has nothing to do with politics.
Deep inside Lever House-the Backbay Reclamation headquarters of Hindustan Lever Limited (HLL), a stone's throw from Mantralaya (state secretariat)-the management committee meeting of the Home & Personal Care Division of the FMCG major is in full swing. The agenda: How to revive the flagging fortunes of the country's largest FMCG company.
RANK
5

RELIANCE INDUSTRIES LIMITED


Impeccable pedigree and consistent growth meant HLL shares were passed down in families for generations. Then the rules of the Indian FMCG market changed
Sure, the Indian subsidiary of the $47-billion (Rs 2,16,200 crore) Anglo-Dutch conglomerate, Unilever, still figures among the country's 10 largest corporations. But it's the only one with the unenviable distinction of having seen its market capitalisation plummet. It hit an all-time low following the declaration of this year's Q2 (June) results (See What Ails Hindustan Lever). Despite stagnating sales over the last two years, HLL had managed to cling on to its profitability through some nifty cost cutting. But something had to give. Its bottomline crumbled this June, plunging 43 per cent to Rs 256 crore. The markets were swift and decisive in their disapproval: HLL's share price hit a seven-year low of Rs 104 on August 17, 2004.
KEY FINANCIALS
AVERAGE MARKET CAP FOR H1 2004-05
Rs 28,368.49 crore
TOTAL REVENUES IN 2003-04
Rs 10,598 crore
EPS IN 2003-04
Rs 6.71
PE RATIO AS ON SEPT. 30, 2004
18.69
ROCE 2003-04
23.34%
Fifty-year-old Arun Adhikari, who is part of HLL's apex five-member national management committee, gives an indication of the prevailing mood inside Lever House. "We've recognised the changed competitive environment and put in place steps that will revitalise growth. There might be a sharp drop in profits, but it's only temporary," he reassures. The soft-spoken Adhikari is Managing Director of HLL's Household & Personal Care Division and responsible for close to 70 per cent of the company's topline.
Talk alone may not convince investors. Once one of Corporate India's crown jewels, the bluest-among-blue chips, Hindustan Lever was an essential component of every savvy investor's portfolio. Impeccable pedigree and consistent growth meant HLL shares were passed down in families, often for generations. Then the rules of the Rs 40,000-odd-crore Indian FMCG market changed.
Turnaround men: Can S. Ravindranath (L), MD, Food business and Arun Adhikari, MD, Household & Personal Care Division revive HLL's flagging fortunes?
David Versus Goliath
Aggressive regional brands like Cavincare, Nirma and Ghari started eating into marketshares across key categories like soaps, detergents, shampoos and toothpastes. Faster, nimbler and more driven, they offered better value propositions and enticed customers away despite having smaller marketing and promotion budgets. At first the giant was dismissive, and by the time it woke up to the threat, it was too late. Arch-rival Procter & Gamble's perfectly-timed price cuts earlier this year dealt the final blow. HLL was under pressure like never before in its 73-year history.
Industry watchers say it's sheer complacency (arrogance would be too harsh a word) that's largely responsible for HLL's current predicament. Used to growing at rates of 30 per cent in the days when Keki Dadiseth was Chairman, managers thought their days in the sun would never end. The warnings signs-and there were plenty-were either not picked up or, worse, ignored. "Its systems are very robust, but working in such a structured environment can blunt the instincts and reaction times of managers," feels the marketing head of a Mumbai-based FMCG company.
Earlier this year, HLL carried out a complete overhaul. Key management positions were rejigged and five business units were compressed into two
Given their penchant for long-term strategic plans, it's not that the top brass hadn't foreseen the growth crunch. Project Millennium-a team of HLL's best and brightest-was set up way back in 2000 to identify new exciting businesses that could power future growth. But new ventures like Ayush ayurvedic products, HLL Network (the erstwhile Aviance) or Sangam, its e-tailing business, are yet to really take off. The food and beverages business, which was touted as a Rs 5,000 crore per annum opportunity, ran into trouble when the management failed to read the market correctly. HLL hastily exited low-end tea brands like A1, Lipton Tiger Tea mixture and Ruby Dust, "defocussed" from the commodity atta business in North India and got its fingers burnt. Concurs Harrish Zaveri, analyst at Mumbai-based Edelweiss Securities: "Call it bad luck if you will, but growth in foods has been very feeble and that too in fits and starts."
Then there was its Power Brand strategy. Following in the footsteps of parent Unilever-which pared its core portfolio down to 400-HLL whittled down its 100-brand portfolio to just 30.
KING OF SUNLIGHT
1885:

Lever Brothers launches Sunlight Self Washer, a packaged laundry soap, in Bolton and Wigan in England. Prior to that, consumers bought unbranded bars of soap from their local grocers and cut them into the required sizes. It is a runaway success and Lever Brothers is on its way.


1888:

Lever Brothers begins exporting Sunlight to India.


1930:

The company merges with Margarine Unie of The Netherlands to form Unilever. Margarine Unie had a strong presence in India, to which it exported vanaspati.


1931:

Unilever sets up the Hindustan Vanaspati Manufacturing Company to manufacture vanaspati in India.


1933:

Lever Brothers India Limited (LBIL) sets up shop in India to manufacture soaps.


1935:

Unilever sets up United Traders Limited (UTL) in India to sell personal products.


1956:

The three Indian subsidiaries of Unilever merge to form Hindustan Lever Limited (HLL). The new company deals in personal products, toiletries and soaps and vanaspati.


1958:

Hindustan Lever commissions its own research centre.


1979:

Sets up chemicals complex in West Bengal.


1993:

Feverish burst of activity. HLL buys up Tata Oil Mills Company and merges it with itself; buys Brooke Bond India and also takes over Kissan from the UB Group and Dollops ice-cream from Cadbury. Group companies Brooke Bond and Lipton India merge to form Brooke Bond Lipton India Limited.


1994:

Kimberley-Clark Lever Ltd, joint venture between HLL and Kimberley Clark is set up.


1995:

Lakme Lever Limited is formed. HLL buys up Kwality and Milkfood.


1996:

HLL merges with Brooke Bond Lipton India Limited to become India's largest food & beverages company.


1997:

HLL buys out the Lakme brand from the Tatas and also takes over the manufacturing rights of Kwality ice-cream.


2001:

International Bestfoods (IBF) is amalgamated with HLL.


2004:

HLL restructures business architecture and announces new management structure for running the company.
S. Ravindranath, Bangalore-based Managing Director of HLL's Foods business, brushes these problems away as just growth pangs. "Today we're much more nimble, focussed and ready to get into innovative value-added products while continuing to strengthen the core." Ravindranath is referring to the complete overhaul HLL carried out earlier this year when key management positions were rejigged and five business units-detergents, personal care, foods, beverages and ice-creams-were compressed into two.
The Tide Turns
Post-restructuring, the new Hindustan Lever is a sleeker, simpler organisation with faster response time. Organisational structure apart, improvements have also been made on the people and processes fronts to harness synergies and scale across various departments. Most significantly, the revamp is expected to give it more muscle when bargaining with retail and other supply-chain partners. A single point-interaction with large retail formats will enable HLL to effectively leverage its size to offer win-win propositions that competitors may find difficult to rival.
The embattled giant hopes to hit the growth path once again soon, but the days of fat, comfortable margins are clearly over. However, the management is unfazed. "To truly judge performance and growth, you need to have a much longer time perspective than just one quarter," says Adhikari.
Faster and nimbler regional brands offered better value propositions and enticed customers away from HLL
One project everyone's eagerly waiting for is the water business. Long shrouded in secrecy, Purette, HLL's water purifying business, is yet to be formally unveiled. Over two years in R&D labs and 30 product patents later, expectations are understan-dably high. HLL says it'll be the best purification device in the market despite a tight price bracket.
Mention lack of innovation and the HLL brass shoots back with a long list of revamped products like Lifebuoy, Fair & Lovely, Rin Supreme or a "quick wash" variant of Surf Excel, which consumes much less water and is already a hit in Tamil Nadu and Andhra Pradesh. For Ravindranath, the priority is to successfully launch innovative products like Lipton Ice Tea. "We are learning how to play the price piano more effectively," he chuckles.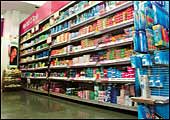 The revamp is expected to give HLL more muscle when bargaining with the trade and other supply chain partners
Then there are those projects that in Lever-speak are referred to as "channel opportunities". Project Shakti is one that's been making rapid inroads (literally). A total of 22,000 villages across 12 states have been covered in an attempt to reach out to villages with populations of as little as 2,000. By next year, one lakh villages and 100 million rural consumers will be brought aboard. Taking a leaf out of direct marketer Amway's book, HLL Direct hopes to double its marketing army to 5,00,000. Advertising spend jumped up Rs 60 crore to Rs 254 crore in the April-June 2004 quarter compared to the same period last year.
The company is feeling more confident now. Though HLL does not give earnings guidance as a matter of policy, Business Today was informed that growth was picking up in line with internal milestones. "We shall first recover volumes, then value and finally profit growth," says Adhikari.
"Sure. There's bound to be an upturn. The question everybody's asking is: when and to what extent?" says an FMCG analyst with a Mumbai-based research house. That's the question on everybody's mind. For now though, its status quo for the stock recommendation: Neutral. Peel the jargon away, and it means wait and watch.