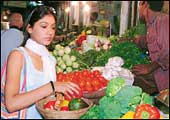 A lot on her mind: Ms. Bharat is worried about prices, employment and income, and that will soon hurt marketers
Why are we playing doomsayers, you may be tempted to ask. For if the BT-Indica Research Index of Consumer Sentiment (BT-IRICS) for October 2004 stands at 158, exactly at the same level as September 2003, though off from its highs of 163 (February 2004) and 169 (July 2004), consumer sentiment looks pretty rosy if not downright buoyant, right? Actually no, and that's the real unhappy story, for some numbers, as usual, often conceal more than what they reveal.
Move away from the aggregate index figure-it measures consumer confidence across 10 major cities-of 158 and what you discover is a picture of gloom. All five variables that track future economic expectations (a year from now)-family financial status, business conditions, employment, price and real income-are down compared to September 2003, and down by anywhere between 10 per cent and 50 per cent. Even the consumer's sense of her current economic condition, though marginally up from September 2003, is tempered by a grey outlook on business conditions.
"A year ago, everything, interest rates, inflation and oil prices was looking benign," says Indranil Pan, Chief Economist at Kotak Mahindra Bank. Not any longer, with inflation hovering at over 7 per cent, oil at an all time high of over $52 (Rs 2,392) per barrel and the government artificially keeping the lid down on interest rates.
"From the macro economy, the consumer is getting a negative perception about the future," says Saumitra Chaudhuri, Chief Economist, ICRA. He is right; according to consumers, the UPA government's performance on broader economic policy and specifically its ability to control prices has been dismal, with less than a fifth giving it any positive score on these counts.
Over two-thirds of consumers polled were affected adversely by the increase in prices of cooking gas and petrol. And what's telling, in spite of inflation as measured by the Wholesale Price Index climbing down from a high of 8.3 per cent in August this year to the current 7.2 per cent, is that consumers expect prices of all essential commodities including vegetables, cooking oils and milk products to climb up further.
The oil price hike-led softening of the global economy, with the IMF scaling down growth forecast for 2005 from 4.3 per cent to 4 per cent, is sure to drag even Indian Gross Domestic Product growth down to under 6 per cent from a beginning-of-the-year projection of over 7 per cent. "The common man is very worried about rising prices, and perhaps this is impacting his perception on the economy's future," says Soumya Mohanty, Director, Indica Research.
All variables that track economic expectations a year from now are down compared to September 2003, by 10 per cent to 50 per cent
With an all-time high pessimism on jobs (merely 8 per cent consumers expect the market to turn good in the next one year) the cycle of negative perceptions will only accentuate and this will drive consumer sentiment down in the future, unless global oil prices suddenly reverse their upward course. That looks unlikely.
But amidst all this gloom, the consumption mood looks, quite surprisingly, very buoyant. It is in fact high to very high scores on discretionary spends and willingness to buy a household durable, vehicle or house that is lifting the overall index to a seemingly high-and-happy 158. What explains this consumer contradiction in being relatively less optimistic on future income, yet bullish on spends, even for big ticket products such as durables, two-wheelers and cars?
"It is only a natural reaction of the consumer (to advance her purchase) to beat high inflation and expectation of a rising interest rate," explains Kotak's Pan. His argument is borne out by the Reserve Bank of India's figures showing that growth in household savings (over 10 per cent) has been more than growth in household debt (9 per cent) for the past year, proving once again that the fundamental nature of Indian consumerism hasn't changed much. "The consumption mood is possibly upbeat because people may want to buy now, due to concerns looming large about the future," admits Pawan Goenka, Chief Operating Officer (Auto), Mahindra & Mahindra.
Seen from this perspective, the consumer's current propensity to buy more is merely a reflection of a short-lived window of opportunity, made more attractive by massive discounting and promotions by marketers pushing everything, from durables to autos. "Well, most marketers haven't held back, even though there is a hint of caution in their optimism this year," says Ashutosh Srivastava, Managing Director of media buying biggie Group M in India.
Not surprisingly, marketers across the board are focussed on reaping this current strong consumption sentiment, unmindful of the bigger and more fundamental changes that will start adversely impacting their fortunes very soon. "A late festival season this year (Diwali is in November) will affect sales positively. The consumer has more time to mentally prepare himself to buy," says V. Chandramauli, Vice President (Sales & Marketing), Mirc Electronics. Well, a long buying cycle cuts both ways, with its need for a sustained marketing push meaning increased marketing spends. Between LG, Samsung, Electrolux, Mirc, Videocon and Haier, there is almost Rs 300 crore riding on promotions this festive season. And with input costs increasing, this may well turn out to be the wrong time to burn money on promotions in the case of durables or price reductions in fast moving consumer goods. "Sustainability of some price reductions in FMCGs looks doubtful," says Satish Kumar, Managing Director of Henkel Spic India.
Though no one will admit as much, it is a fact that durable marketers today are more worried than they were last year. "They are headed for profitless growth," says Partha Sinha, Executive Vice President, Publicis India. And even while most durable and auto marketers speak about a double digit growth in volumes, everyone is cagey when it comes to discussing margins and profits. For surely, while a worried consumer may buy more purely because the promotional or finance offer is great, it takes a happy and optimistic one to pay more.
additional reporting by Supriya Shrinate
INDICA RESEARCH INDEX OF CONSUMER SENTIMENT: OCTOBER 2004
The Indica Research Opinion

A Different Story

Indica Research's Executive Director B. Narayanaswamy

The Indica Research Index is back at 158, exactly where it was in September 2003. Moreover, we now have three metrics for the pre-festival season index, for the years 2002-, -03 and -04.

The upshot is that while the composite mood is the same as it was in this period in 2003, the key elements tell a different story. (See chart "Mood Of The IRICS". It sums up 8 of the key elements; the Index uses 11).

The upshot is that:
This year has been good on income-and financial status. The mood on spending is better than it was last pre-festival season.
Next year seems like it will be horrible however. Especially on all business, price, employment and financial conditions.
HOW WE DID IT
» Total sample 1,215
» 10 cities:
Delhi (125), Mumbai (123), Chennai (121), Bangalore (121), Hyderabad (120), Kolkata (120), Ahmedabad (120), Lucknow (120), Kochi (119), Nagpur (126)
» Purely random sampling process; 600 male and 615 female; SEC A 599 respondents and SEC B 616 respondents
» Face-to-face interviews using a structured questionnaire
» The questionnaire covered three core areas: current assessment of economic situation, expectation about the future economic situation and overall consumption mood
» Besides key variables for indexing, the survey also measured explanatory measures
» Besides key variables for indexing, the survey also measured explanatory measures
» All data was weighted; each variable first indexed for Nett optimism
» Data then indexed as proportion of total score possible
» This index then weighted to arrive at All India Index of Consumer Confidence
The net result is that the mood is stunned into one of immobility. The price expectations has always been the lowest-and has sunk even more. The drop in 'income in relation to price'-the most pronounced fall-is thus understandable. The tangible increase in prices breaks down any feel-good on the improved financial conditions.
This time we also measured the items where the price increase has affected customers the most (not used in the Index though). Of course it is petrol/diesel and cooking gas that lead the pack with nearly 70 per cent mentions for both. But from our perspective, the notable fact is that it's water that is mentioned by nearly 10 per cent of the sec A and B households.
The point is not the figure of 10 per cent, so much as what it should really have been for the price of water. We should note that, ironically, marginal cost of water is the concept used in economics to explain why diamonds cost as much as they do.
So this IRICS is a quick reminder to all those who drove up the Consumer Sentiment in July to 169-by creating expectations especially on employment and prices. Someone just has to pay attention to the basics, some of which will be 'hygiene factors' in more ways than one.