Think phone-shapes are getting weird? Well, you ain't seen nothing yet. According to Kari Tuutti, Vice President (Communications Multimedia), Nokia Corporation, design and entertainment are the future of mobile telephony. Excerpts from a discussion with
Kushan Mitra:
Why choose a phone to deliver multimedia?
Frankly, the mobile phone is the first truly mobile digital companion for people. There are 1.5 billion mobile users worldwide, and almost all of them have their phones with them all the time. You don't carry your computer everywhere. (And) how many people can afford laptop computers .
But, hasn't the slow take-off of next-generation 3G services been a dampener for companies like Nokia?
The first handsets for 3g phones were not very good and mobile operators did not have the services to match up with the capabilities of such devices. But, the new generation of phones and services is amazing. Things like streaming television will drive revenue. Then there are games; last month, 15 million Java games were downloaded across the world.
Has the N-Gage proven that people want a phone, which is also a gaming device?
We have sold over a million N-Gage GD phones in the space of 10 months. Today, everyone talks of the iPod, but it took Apple 17 months to reach that number.
What about Nokia? There's one opinion that says it has lost the plot on design.
Honestly, look at some of our new designs. They are optimised for the future; yes candy-bar style phones are on their way down, but later this year we will be launching the 'Design' collection, which will showcase radical designs. And for the mainstream we shall have the Nokia 6630, which should be one of the easiest PDA-phones to use. Next year we will launch a touch-screen phone with a wide screen, which will allow users to surf the internet on a wide screen. Then, there is the series 60 software that lies beneath most of our phones, which is constantly being improved. I do not think any of our competitors has such a solid software base.
---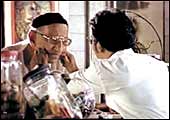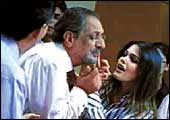 The monster.com ad (above) and the naukri.com ads: Each claims it is bigger
Seen more of job sites on the tube lately? Well, that's because India's two largest job sites (Actually, there are probably only two worth being aware of) have set out to claim the #1 spot. Naukri was the first to stake its claim, although Monster has lost no time to jump into the fray after its recent acquisition of JobsAhead. Thus, Monster is advertising 'Happy Jobs', the result, its head of marketing Dhruv Shenoy says, of research that revealed that people crave job satisfaction. And Naukri has its 'Guess, who just heard from us?' campaign which takes a humourous look at what people who have already lined up a job can do to their none-too-perfect bosses. Monster's Shenoy says the company will assess the impact of its first brush with the electronic medium and re-evaluate its media strategy. For his part, Naukri's CEO Sanjeev Bikhchandani claims the ads have trebled business. Moral of the story: the net may be the perfect medium for job advertising, but when it comes to job sites, television could well hold the edge.
---
...laggards. Regular readers of the pink brigade may have been surprised to see report after another, in mid-October, state that the us-based consulting firm meta Group, has identified one Indian it company or another as the leader in the outsourcing space. This writer, for instance, received three press releases, one each from Infosys, Wipro, and HCL Technologies to this effect. For the record, one insisted that the company in question had been named "the leader in the offshore outsourcing space". Here's the real deal: meta ranked 18 companies; eight were named leaders and nine, challengers. That won't help readers any. What will is a clarification from the consulting firm that the position of a company in its quadrant indicates its standing vis-à-vis the competition; the higher and farther to the right, the better. Now, finding who the leader should be easy.
---
How To Beat The Left
Privatisation may yet happen: just adopt the Left's West Bengal model.

PM Manmohan Singh: Testing times
The left waffles on privatisation. The Right speaks on it in several voices. And now, the Congress, the most centrist and inclusive of Indian political formations, is tying itself up in knots over the sale of these "crown jewels". The inconsistencies and the doublespeak stem from the absence of a proper policy on the sale of public sector units. This leads to the process being held hostage to the political compulsions of the party in power.
The principal objection to privatisation comes from the Left, though some fringe voices on the Right also regularly rant against it. But what is the track record of the Left in the states it rules? In West Bengal, where the Left has been in power for over a quarter of a century, the government has already sold some state PSUs. And what's more, it has come out with a clear-cut policy to govern the process. Accordingly, profitable units and those loss-making ones that can be revived with minimal investment are retained; companies that need large doses of funds infusion for revival are hived off into joint ventures with private partners; and those that are deemed totally unviable are closed down.
A policy statement like this can be a good starting point for the government in New Delhi. For one, the Left will find it difficult to run down and disown a policy authored by its own constituents. Secondly, it will signal a firm commitment by the government to push ahead with economic reforms. Prime Minister Manmohan Singh has said his government will not pursue privatisation as an ideology. But now, of course, there are reports that the government is lining up the sale of small stakes in several blue-chip PSUs and even thinking of closing down seven unviable ones. A concept paper on disinvestment talks about privatising 15 PSUs, mostly via the IPO route, to raise Rs 15,000 crore for the government's impoverished coffers.
Perhaps now is the time when the government should shed its case-by-case ad-hocism and formulate coherent guidelines on privatisation that protects the interests of all the players in the process: the buyer, the workers and the government. In addition to making the process more transparent, it will help avert Centaur-like situations in the future. More importantly, it could make the P-word more palatable to UPA's Left partners.
---
Q&A
"Indian Tech Firms Must Show Value"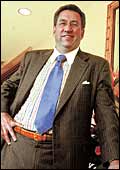 Harris Miller, President of Information Technology Association of America, which represents more than 400 it and telecom companies, was recently in India to attend a conference on cyber security. He spoke to BT's Priya Srinivasan on the US political rhetoric on outsourcing and its future course. Excerpts:
Has information security become an issue due to any specific instances of lapse or is it just a fear, given the volume of work moving offshore?
No, it's not due to any specific instance, then there would be no debate. It's just the volume of sensitive information that is moving. Imagine if I made public the financial records of Oprah Winfrey or the health records of Dick Cheney. Well it's possible and you can imagine the devastation. That's why we are starting to address it as a major concern.
How are Bush and Kerry aligned on this outsourcing debate?
Bush is not supporting any changes in laws that would prevent work from moving offshore, while Kerry is suggesting changes in the tax code, which would not encourage manufacturing jobs going offshore. He has not mentioned services at all. They both know that any major changes in policy would change the direction of the economy so all (this posturing) is pure rhetoric.
How long do you think India will retain its position as the pre-eminent offshoring destination?
Indian companies will need to show more value, which they are doing now. Pure play price advantage will be challenged as wage rates go up.
---
Manufacturing Dreams
A McKinsey report whips up high hopes.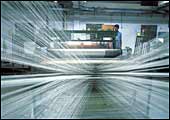 Fruits of the loom: Textiles could be a big driver
Here's another gung-ho report from McKinsey. According to the consulting firm's latest report on the Indian manufacturing sector, exports could soar to $300 billion (Rs 13,80,000 crore) by 2015 from $40 billion (Rs 1,84,000 crore) currently. What explains the firm's giddy optimism? The fact that the manufacturing sector has so far been ignored, and opportunities, if tapped, are two to three times bigger than those available in the IT/ITEs sectors, where exports (according to another McKinsey report) are projected to touch $77 billion (Rs 3,54,200 crore) by 2009. "Those numbers will be possible only if the industry took the initiative to step up production and focussed on the textiles and electronics sectors," says Ranjit Pandit, Managing Director, McKinsey & Co. (India). The report also spells out the other imperatives: An overhaul of India's infrastructure facilities and an increase in outsourcing by the US to low-cost countries (LCCs). Currently, the US buys $1,400 billion (Rs 64,40,000 crore) worth of goods from LCCs such as China and India.
Has the report warmed the cockles of Indian exporters? Hardly. Subhash Mittal, Vice-President of FIEO, an association of exporters, feels that much of the projected windfall will depend on how well the textile sector performs in the post-quota era. Another FIEO official finds the projections "feel-good and exaggerated", given that a number of issues such as labour retrenchment still stand in the way of manufacturing industries.