For the week ended October 6, 2004, the US Mutual Fund managers invested more money in the Emerging Market Funds than they ever did in the past 26 weeks. Taiwan, for instance, netted $1.35 billion (Rs 6,210 crore) in that week and was clearly the leader among the other emerging markets. Its portfolio investments showed a 3.2 per cent jump over last year.
Other developing nations too, were not far behind. Philippines, Indonesia and South Africa too witnessed substantial jumps of 5.2 per cent, 5.7 per cent and 5.2 per cent respectively. India witnessed a 1.9 per cent increase over last year in its share of the US funds attracting an investment of $276.9 million (Rs 1273.7 crore) in that week. All that good news has emerged from global investment bank, J.P. Morgan's recent report Global Emerging Markets: Market Strategy, indicating a return of interest of the US fund managers in an area which they had forsaken after the sudden Asian currency crisis of 1998.
But Adrian Mowat, Chief Regional Equity Strategist, J.P. Morgan and author of the report, is still a little iffy about the emerging markets. Not too much should be read in these investments, he says, because there is still no clear trend. Moreover, the attractiveness of the emerging markets will depend to a large extent on the global economic outlook. "If the US and Japanese economies continue to grow, then investments may start going back to these regions," he adds. Until then, though, emerging markets will make hay.
---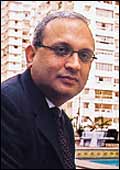 Nearly 200 days after the Securities and Exchange Board of India (SEBI) barred Samir Arora, former Singapore-based Chief Investment Office of Alliance Mutual Fund, from Dalal Street, the Securities Appellate Tribunal (sat) last fortnight gave Arora the clean chit. It was in August last year that Arora, once considered the poster boy of the mutual fund industry, was accused by SEBI of insider trading in Digital GlobalSoft and failing to notify SEBI when Alliance's holdings in five companies crossed the 5 per cent limit. That apart, he was accused of scuttling a planned sale of Alliance Capital. How does Arora, who had all along been maintaining his innocence, feel now? "I was waiting for this day," a triumphant Arora told BT. His future plans involve doing "something related to the Indian capital markets". Meanwhile, Arora should watch out for a High Court appeal that SEBI is free to go in for following the sat order.
-Roshni Jayakar
---
Patently A Mess
Crucial amendments to India's Patents Act are paralysed by conflicting interests.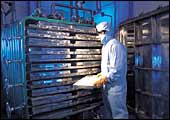 In jeopardy: India is likely to miss the pharma patent deadline
Just two-and a-half months from now-December 31, 2004 to be precise-the country will make a momentous switchover in the pharmaceuticals industry from process patents to product patents. Yet, crucial amendments to the Indian Patents Act via the Patents (Amendment) Bill 2003 stand stymied because Indian and foreign pharma companies are unable to agree on the nature of the amendments, besides which various government ministries have pitched in with their own demands.
The bone of contention seem to be Section 3 (deals with non-patentability of products) and Section 25 (deals with pre-grant opposition) of the December 3 Patent (Amendment) Bill, 2003. Ranbaxy, the country's largest pharmaceutical company, wants only those products that are novel, innovative and can be put to commercial use, to be made patentable, and not those where only marginal improvements have been made in previously known compounds. Says a company spokesperson: "Such granting of patents will reward innovators, but not beyond a point and also prevent 'evergreening' of patents."
But that's something the multinational drug companies vociferously oppose because they say that original research is expensive, risky and lengthy and, therefore, the innovator should get to reap the most from innovations. The other controversial issue is Section 25 of the Act, which under the third amendment has done away with pre-grant opposition (opposition at the stage of advertisement) and only allows for post-grant opposition. "It will result in the grant of frivolous patents and avoidable litigation in the country," says D.G. Shah, Secretary General, Indian Pharamaceutical Alliance, an association of domestic pharma companies.
Demands from various government ministries have only added to the confusion. For example, the Ministry of Chemicals and Fertilisers has raised objection to granting of patent to pharma applications filed in the Mail Box facility (it refers to the 10-year grace period offered to developing countries, where the product patent regime under the WTO comes into effect in 2005 and not 1995). "Nearly 4,000 applications have been filed using the Mail Box facility. But several of these molecules were invented pre-1995. The Ministry is of the view that since these molecules have been launched earlier, patents should not be granted to them," says a Ministry official.
Even as newer contentious issues come to the fore, the clock is ticking away for India. And it's quite likely that the cost of missing the patent deadline will be more than just a global embarrassment.
-Ashish Gupta
---
"Patent Protection Is The Key"

William M. Burns, head, Pharmaceuticals Division of Switzerland-based Roche, is keen on stepping up business with India, but wants a world class IPR regime ahead of that. BT's Ashish Gupta spoke to him recently. Excerpts:
On India's IPR regime: Only when we can be sure that our intellectual assets are fully protected will we initiate collaborations with Indian institutions and companies.
On outsourcing R&D to India: It's a major issue for discussion at our headquarters, but R&D must be strongly backed by patent protection and data exclusivity.
On product patent and drug prices: Entry of a product patent regime per se does not imply an increase in prices, it depends on the market situation.
On investments in India: Roche plans to invest around 75 million Swiss francs (Rs 271.35 crore) in the coming five years for clinical development in India.
---
ON THE ROAD DEPARTMENT
Calling London
FM P. Chidambaram shows how it is done in a day-long hardsell of India to Europe Inc.
October 8, 2004. Dorchester Hotel (Central London). 8.30 a.m.

FM P. Chidambaram: India is the place to be
India's finance minister Palaniappan Chidambaram walks out of the lift and towards Park Suite, thus named because it overlooks a swathe of green, Hyde Park. He is dressed in a deep-blue three-piece suit and is sporting a light-blue tie, not his trademark white veshti and white long-sleeved shirt. Park Suite is the venue for Passage to India, a series of interactive sessions between the minister and India-bound investors organised by Morgan Stanley and its Indian JV J.M. Morgan Stanley.
Over the next nine hours, Chidambaram, one of India's top-most lawyers before he became Finance Minister and an MBA from the hallowed Harvard Business School is at his most persuasive, selling India to Europe Inc. Beginning with a breakfast meeting with David Walker, Chairman, Morgan Stanley International, and Nimesh Kampani, Chairman, J.M. Morgan Stanley, the minister has five closed-door meetings with groups of 25-30 CEOs and senior executives from European companies (think Rio Tinto, Gas de France, P&O), Non-Resident Indians, bankers (Standard Chartered CEO Mervyn Davis is there), fund managers, private equity investors, and assorted busy bodies. Chidambaram's refrain is the same in every meeting: India is a great place to invest in; the fm's team, comprising D.C. Gupta, Secretary, Ministry of Finance, G.N. Bajpai, Chairman, SEBI, Ashok Lahiri, Chief Economic Advisor, and R. Banerjee, Joint Secretary, Ministry of Finance provides the appropriate backing vocals.
Not surprisingly, the concerns raised by potential investors were similar. Would the emergence of the communist parties, as a key ally, impede the process of economic reforms, asks one. What is the government planning to do as far as disinvestment of public sector companies is concerned, asks another. And where is the government's position on a foreign bank acquiring an Indian one, questions still another. The minister responds to each in turn. He assures investors that the coalition at the Centre would still focus on economic reforms. "The government will attend to the requirements of political economy without comprising on our commitment to economic reforms," he says. "The space for private sector can only grow in India, as the country offers huge opportunities for investment in infrastructure industries including power, telecom, seaports, roads, airports and the petroleum and mining sectors." That prompts the usual query regarding India's targeted foreign investment and the usual answer about the sky being the limit. "A roadshow of this type is useful in clarifying the government's stance and gives investors and companies an opportunity to interact with the minister and make their own assessment of the new government's policies," says Lord Raj Bagri, Chairman, Metdist.
In the afternoon, over tea, the minister meets with portfolio managers of financial institutional investors (FIIs) such as T. Rowe Price, Boyer Allen Asset Management, Threadneedle, Cheyne Capital Management, Sloane Robinson and Gartmore Investment Management. The latter choose to play the Devil's advocate? Isn't the fiscal deficit cause for concern? Will there not be a major surge in inflation? Won't interest rates head north soon?
The last session begins at half-past-four and sees Chidambaram meeting with Europe's opinion leaders. Lord Meghnad Desai, Professor, Centre for the Study of Global Governance at the London School of Economics is there; as are Martin Wolf, Associate Editor, Financial Times, Christopher Smallwood, Economic Adviser to Barclays and Nicolas Maclean, Senior Fellow at the International Institute for Strategic Studies, among others. "There was both style and content," says Desai. "If this government lasts-I have my doubts (about that), though-then it will do a lot of good for the country." Nine hours after he entered the suite, Chidambaram walks out, briefcase in hand, and smile on his face. Unlike E.M. Foster's A Passage to India (it ends with a question mark on whether the English and Indian races can be friends) this Passage to India seems to have ended on a happy note.