An MBA is the passport you need to get to the rarified top echelons of the corporate world. But the individuals listed below are some of the very few who have made it to the top sans the coveted degree. This list (which was more comprehensive, but some big names were unavailable as they were holidaying in cooler climes) was compiled by speaking to some of India's top headhunters. Meet the people who've broken a different sort of glass ceiling.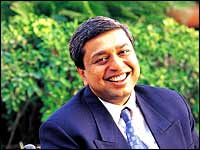 SANJIV GUPTA
42/ President, Coca-Cola India
EDUCATION: B.Tech, IIT Delhi, Class of 1984
CAREER PATH
1984: Area Sales Manager, Hindustan Lever (held several positions in HLL, including Brand Manager and Marketing Manager)
1997: Vice President (Marketing), Coca-Cola India
2002: Deputy President, Coca-Cola India
2003: President, Coca-Cola India
Sanjiv Gupta is an oddity, a non-MBA in a company teeming with marketing management grads. Coke is, after all, one of the premier marketing-driven companies on the planet. But then, Gupta learnt his marketing at Hindustan Lever, where they teach marketing as well as anyone else. And he's never really regretted not having an MBA degree. He feels: "Planning, development, execution and understanding ground realities are the critical aspects of management, and I strongly feel that experiential learning makes all the difference." Gupta didn't even miss the degree in those crucial first few years after graduation. Would he make the same decisions if he were allowed to rewind his life 20 years? "I have always been very clear about my long-term goals and (if given a chance) will still opt for the same choices I made earlier in my career," he says confidently.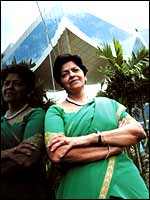 KALPANA MORPARIA
42/Deputy Managing Director, ICICI Bank
EDUCATION: LLB, Mumbai University, Class of 1974
CAREER PATH
1975: Senior Assistant (Legal), ICICI
1988: Deputy Manager (Legal Dept), ICICI
1990: Manager (Legal Dept), ICICI
1992: Assistant General Manager, ICICI
1994: Deputy General Manager, ICICI
1996: General Manager, ICICI
1998: Senior General Manager, ICICI
2001: Executive Director, ICICI
2004: Deputy Managing Director, ICICI Bank
She's a lawyer who's handled multiple responsibilities at ICICI Bank for more than two decades. During this time, she's been in charge of ICICI's legal, planning, treasury, corporate communications, hr and Special Projects departments. Has she ever missed a management degree? "I would love to go back in time to acquire one because an MBA widens your horizons," says Morparia, who had to learn her management lessons the hard way-by making mistakes. She must be a good learner: in 2001, Morparia became Executive Director in charge of the bank's Corporate Centre and was promoted to her current position last year.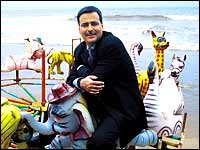 NIRVIK SINGH
41/President (South East Asia), Grey Global Group
EDUCATION: B.Com (Hons) St. Xaviers College, Kolkata, Class of 1985
CAREER PATH
1983: Trainee, Contemporary Tea
1985: Deputy Manager (Leaf Tea), Lipton
1987: Account Executive, HTA
1989: Branch-in-Charge, Kolkata, Trikaya
2002: President, Grey India
2005: President (South East Asia), Grey Global Group
What you learn on the street is far more valuable than whatever you learn in classrooms," says Nirvik Singh, President, Grey Global Group, South East Asia, who spent the first four years of his career working for various tea companies before entering the ad world in 1987. It's not just a smart quotable quote; Singh really believes in it. "When someone comes to me and asks if he should do an MBA, I tell him to use the money he has saved up to go back-packing around the world for a year. If I have to choose between an MBA and a guy who's roamed the world, I'll always hire the latter," he says. Has he ever felt out of place in the cloistered world of MBAs? Singh, who admits that an MBA might have made things easier for him early in his career, chuckles. "Listen, I went to a boarding school (Lawrence School, Sanawar) that defines the word clubby. MBA-institutes don't even come close," he says.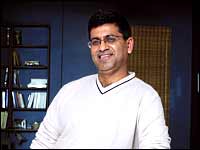 MUNESH KHANNA
42/ Managing Director, NM Rothschild & Sons (India)
EDUCATION: B.Com (Hons), DAV College, Amritsar, Class of 1983; ICAI 1985
CAREER PATH
1985: Tax and Audit Services, Arthur Andersen
1995: Sabbatical
1996: Head (Corporate Finance), Arthur Andersen
2002: MD, NM Rothschild & Sons (India)
A chartered accountant by training, Munesh Khanna always found merchant banking interesting because it was "more fun" than tax and audit services. So when Andersen established a corporate finance arm, he was the natural choice to head it. He made his mark, and when the opportunity came, he moved to his current employer. Would an MBA have helped? "Not really, because many MBAs are too textbook-ish and tend to be a bit arrogant at times," he says, adding: "From a fun perspective, though, an MBA would have been nice."
-Kushan Mitra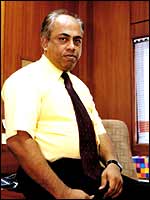 MURALI SUNDARAM
43/ Vice President (Industrial Marketing), Goodlass Nerolac
EDUCATION: BSc in Mathematics, University of Chennai, Class of 1981
CAREER PATH
1982: Sales Executive, Anabond Group
1989: General Manager (Sales), Anabond Silicones
1991: Vice President, (Marketing), Anabond Essex India
2000: Vice President (Industrial Marketing), Goodlass Nerolac
Murali Sundaram admits that he has been lucky in his career. "The reason I got my first job in 1982 was because I was their first employee," jokes this one-time sales executive, who feels that experiential learning is the best substitute for an MBA degree. "There are times when I feel I would have handled issues differently," he says when asked if he ever missed an MBA degree. "But the b-school advantage lasts only for the first five-to-six years," adds Sundaram.