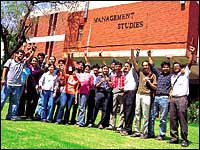 Faculty of management Studies (FMS) is just another Delhi University department. It's located in the North Campus (as the name denotes, it's in North Delhi), which you can reach after a few kilometres of tortuous drive from the heart of the city (read Connaught Place). You can easily miss the red-coloured, three-storied building (among several identical ones), standing in a narrow strip of land not larger than 2.5 acres (IIM Ahmedabad, the gold standard of B-schools, has a 63-acre campus), unless you are armed with a good city map. The FMS premises have just enough space to park a dozen cars-mostly reserved for the faculty members-an unkempt garden and an unimpressive entrance, all of which reflect a department of a fund-starved university that has many other things to take care of.
Never mind; FMS has made history of sorts this year. It has moved up three positions in the Business Today-ACnielsen ORG-MARG rankings to become the third best B-school in the country (FMS was ranked sixth in 2004 and eighth in 2003). In the process, it has pushed IIM, Calcutta (ranked third last year), XLRI, Jamshedpur (fourth last year) and Symbiosis (fifth last year) to lower ranks. FMS has also moved up a few grades in the brand equity index scale, up to 2.09 from last year's 1.35. In the process, it has become a distinct brand from an undifferentiated one. The transformation, as you may have guessed, is worth a pot of gold.
FMS has always been known as a good management school. Interestingly, it has been the only B-school from a university that has managed to be among the Top 10 in any survey worth its name. However, #3 is something else. For a university department, that's a significant achievement. For instance, FMS enjoys limited powers unlike the IIMs, which are autonomous institutes and could fight a war with the Union HRD ministry on the fee hike issue (who won or lost is a different matter). Thus, if FMS wants to introduce a new course, it has to get clearances from two university bodies-the academic council and the executive council. This can easily take a year; one course that is waiting for such an approval is net-based Marketing.
FACULTY OF MANAGEMENT STUDIES (DELHI UNIVERSITY)
ESTABLISHED: 1954
COURSES OFFERED: MBA (Full-time, 90 seats, part-time, 140 seats), MBA-MS (Management of Services, full-time, 40 seats), MBA-HCA (Healthcare Administration, only part-time, 15 seats) and doctoral programmes (seats not fixed)
FACULTY: 23 full-time professors and visiting executives from HLL, Colgate-Palmolive, Nestle, DSP Merrill Lynch, Evalueserve
STUDENT-FACULTY RATIO: 3:1
SALARY OFFERED THIS YEAR: Average (Rs 8.1 lakh); highest domestic (Rs 13 lakh); highest international (Rs 20 lakh)
MAJOR RECRUITERS: DSP Merrill Lynch, Citibank, Olam International, Coke, Pepsi, Nestle, Avigo Corporation, Deutsche Bank
There are more oddities: like a tuition fee of less than Rs 10,000 a year (the IIMs charge over Rs 1,00,000); a hostel that the school shares with the Delhi School of Economics, and other such. Still, says V.K. Bhalla, Dean, FMS, the grant from the university, and the tuition fee keep the school "adequately funded".
So what has changed at FMS? "A lot," says Kaushik Burman, who passed out of FMS this year and was a student placement secretary when he was studying there. "For one, we have seen a total change in curriculum in the last four years. Second, there has been a lot of action on developing international corporate relations (with the help of alumni)," adds Burman, who will be joining Nestle as a management trainee in June. For curriculum development, FMS has taken assistance from international B-schools like insead of France (Prashant Malaviya, an FMS alumnus and a professor of marketing at insead, was helpful), University of California, Berkley, and also from the high temple of business education, the Harvard Business School (FMS is likely to finalise a deal with HBS for a joint business research centre in India by the end of the year). The second is the development of a healthy academia-industry interface. "We have started video-conferencing with at least one distinguished alumnus every month," says Burman.
That's a change, says D.S. Brar, former CEO of Ranbaxy Laboratories and probably the most well known FMS alumnus (he was the topper of the 1974 batch). "We were quite short on industry interactions and also infrastructure. I believe that is changing now." Well, sort of. Though the building or campus does not look impressive, the institute has a decent it infrastructure. Last year, FMS went Wi-Fi, enabling 24/7 wireless internet access anywhere within the campus. All the classrooms are "smart-networked", where the teachers need to just walk in, log in, access their respective folders for PowerPoint slides and use the overhead projectors. But that's yet to impress recruiters like Pawan Bhatia, Head (HR) of Pepsi India, who visited the campus this year for placement interviews. "FMS does not rank as high as the other top-notch B-schools in facilities," he says. "Teachers' rooms were converted for interview purposes."
Bhatia, who picked up one recruit from FMS, however, has only good words to say about the students. "FMS guys can hit the ground running, they settle in quickly and are willing to stretch that extra bit." "They have a very balanced profile," adds Rajat Mehta, Director (HR), Max New York Life, referring to the fact that students from other schools tend to be a trifle more uni-dimensional. For instance, those from IIM-A prefer jobs with a high strategy-management component and those from IIM-C that involve numerical skills.
That could explain why the average salary for the Class of 2005 at FMS was, at Rs 8.1 lakh, higher than the corresponding figures at all but three IIMs (Bangalore, Calcutta and Indore), and much higher than last year's Rs 7.01 lakh. The highest domestic salary offered was Rs 13 lakh (from HSBC), while the international offer was 1.6 lakh dirhams (Rs 20 lakh) from Avigo Corporation, a Dubai-based private equity firm. That's not a bad rate of return on a tuition fee of Rs 10,000 a year. FMS, anyone?